Commentary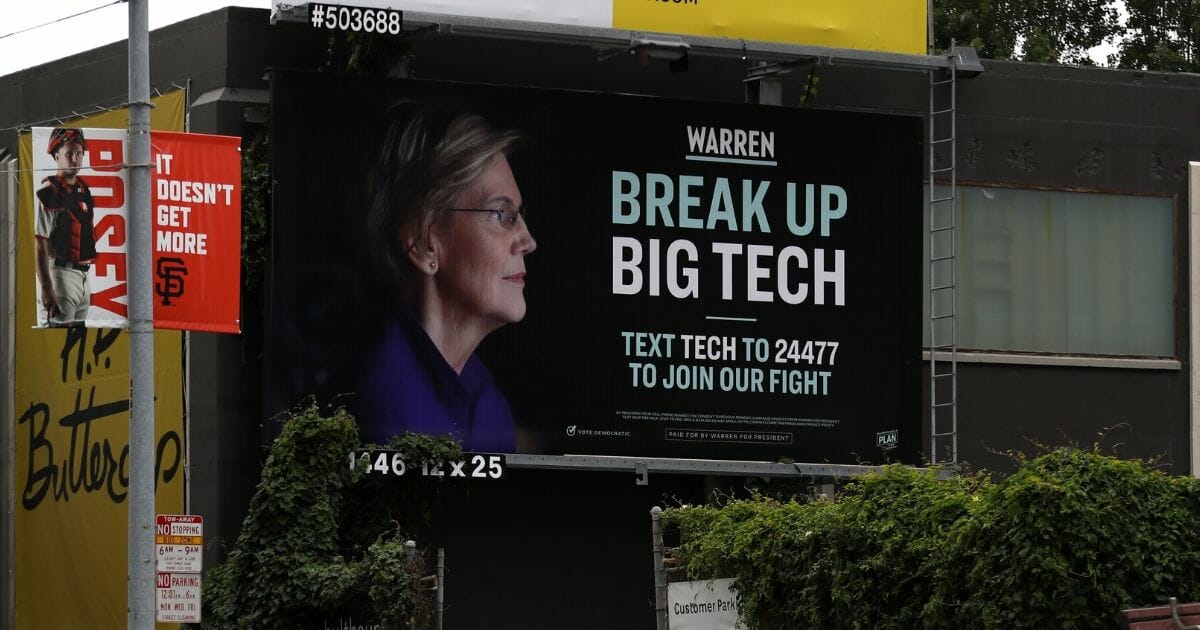 Warren Rakes In Tech Cash While Her Billboard Says 'Break Up Big Tech'
As Massachusetts Sen. Elizabeth Warren ramps up her 2020 election campaign, people can't help but notice the glaring hypocrisy between her fiery rhetoric and who she's collecting checks from.
In March, Warren published a Medium article announcing her pursuit to "break up monopolies and promote competitive markets" if elected president.
"Today's big tech companies have too much power — too much power over our economy, our society, and our democracy," she wrote.
Advertisement - story continues below
She followed up her article with campaign material, posting a massive "Break Up Big Tech" billboard in San Francisco.
A billboard from Elizabeth Warren's campaign calling for breaking up major tech companies appears in San Francisco, one of the epicenters of the tech industry. https://t.co/0cHa1gMEID pic.twitter.com/GrJfd33yY1

— ABC News (@ABC) May 31, 2019
With the launch of this billboard, her stance on the issue was solidified.
Advertisement - story continues below
"Today's big tech companies have too much power," her campaign said in a statement to The Independent. "They've bulldozed competition, used our private information for profit, and tilted the playing field against everyone else."
But this is where the situation gets hairy.
While Warren has only begun her campaign for the presidential nomination, she's already collected tens of thousands of dollars in donations from the same tech companies she says she wishes to break up and regulate, according to the San Francisco Chronicle.
Alphabet, the parent company for Google, has been a massive donor to her 2020 campaign, giving over $30,000.
Donations to Warren's campaign have also come from Apple, Microsoft, Yelp and the Chan Zuckerberg Initiative (owned by Mark Zuckerberg and his wife, Priscilla Chan), amounting to over $22,000 in total donations.
Advertisement - story continues below
This says plenty about Warren — her hypocrisy knows no bounds.
But what does it say about the big tech companies she's securing donations from? Maybe they know she won't take action like she promises? Maybe they can secure a place on her "good list" if they donate to her campaign now.
Regardless, this transaction has the word "crooked" written all over it.
Why exactly is she advocating for the break up of big tech companies while quietly taking their heaping piles of cash at fundraisers and events?
Advertisement - story continues below
Unfortunately, the world may never know.
Conversation