Sports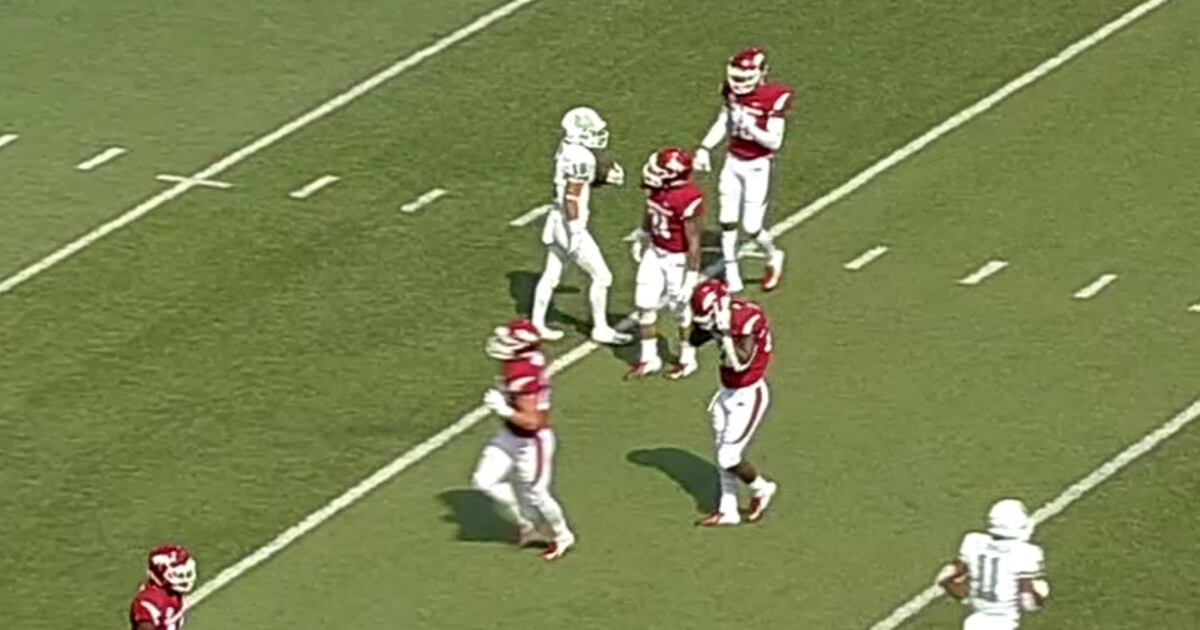 Watch: College Football Play of the Year Comes on 90-Yard Fake Fair Catch TD
Football is a game of deception, so it's always a thing of beauty when fake spikes or fake pitches are executed to perfection. And on Saturday, a fake fair catch was the latest addition to the gallery of amazing deceptions.
North Texas pulled off the highlight-worthy play in its stunning 44-17 rout of Arkansas that faked out the Razorbacks, the fans and even the broadcasters.
North Texas punt returner uses some trickery score a TD pic.twitter.com/vlMWeNH3aU

— FlurrySports (@FlurrySports) September 15, 2018
Advertisement - story continues below
Arkansas punted the ball to returner Keegan Brewer, who fielded the ball at his own 10-yard line. Brewer never gave the fair-catch signal, but as soon as he caught the ball he stood there as if the play was dead.
There was no whistle so the refs knew the play was still live, and as Arkansas began walking off the field, Brewer took off with only two Razorbacks in pursuit.
He had a convoy of blockers escorting him into the end zone for a 90-yard punt return touchdown and the Razorbacks were left befuddled as to what just happened.
The officials reviewed the play and confirmed that Brewer never signaled for a fair catch. Thus, the touchdown stood and North Texas went up 14-0 on its way to an easy victory.
Advertisement - story continues below
This wasn't an example of Brewer going rogue and it working out; North Texas had been working on this play since fall camp.
"You can't just put that in on a Wednesday and then go, 'Hey! Trust me!'" North Texas special teams coordinator Marty Biagi told SB Nation.
Is this the craziest play you've seen so far this season?
The entire special teams unit practiced the play since August until it had been perfected. It involved the UNT punt return team heading to its own sideline as if the players were walking off the field, but they were really just getting in position to set up their blocks — assuming there would be someone to block.
Biagi all but admitted that he keyed the officials in on the play so they wouldn't blow the whistle.
"I'm not allowed to tell you that, if you don't mind," Biagi told SB Nation.
Advertisement - story continues below
Even without that punt return touchdown, North Texas would have easily handled Arkansas as the Mean Green defense feasted on whomever was under center for the Razorbacks.
Three different Arkansas quarterbacks threw interceptions in the game with starter Cole Kelley tossing four of his own. North Texas led 34-10 at halftime which meant the second half was played in a half-empty stadium with the home fans heading home early.
This was North Texas' first on-field victory against an SEC team since defeating Tennessee in 1975. The Mean Green also was awarded two victories via forfeits after losses to Mississippi State in 1976 and 1977.
Things don't get any easier for Arkansas over the next month as they get into their conference schedule. They play at Auburn next week, at home against Texas A&M the following week and then host Alabama on Oct. 6.
Conversation