Commentary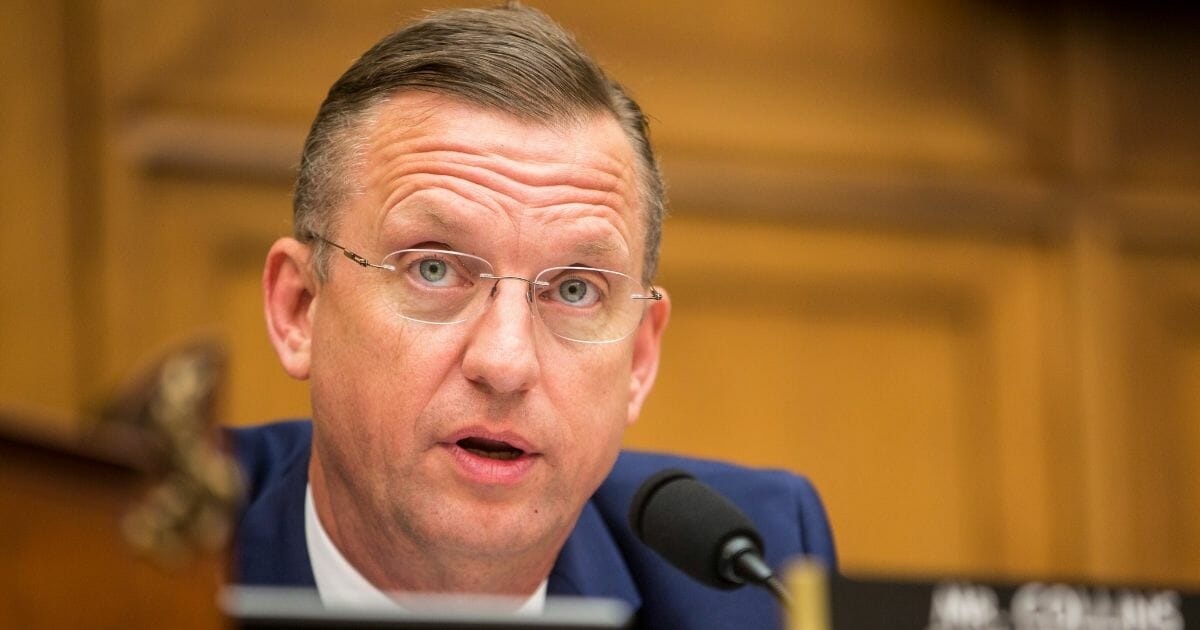 Watch: Georgia GOP Rep Shreds House Dems for Phony Impeachment Hearings
Since the day that President Donald Trump was first sworn into office, there have been Democrats in Congress calling for him to be impeached and removed from the White House.
Those calls have only grown louder and more strident over the past two and a half years.
But the Democratic-controlled House has yet to make any substantial move in that regard and continues to simply discuss the option and wield it as a potential threat against the president and those who support him.
Advertisement - story continues below
The Daily Wire reported that Republican Georgia Rep. Doug Collins — ranking minority member on the House Judiciary Committee where the impeachment process would begin — has apparently grown tired of all of the empty talk from his colleagues across the aisle.
Collins called out Democrats for — yet again — wasting more of the committee's time with a hearing to discuss the constitutional legality of the impeachment process, when everyone already knows how it works.
He then compared the whole charade to being time-warped back to a high school class of civics and government.
Instead of solving America's problems or appreciating its successes, we're spending today reciting obvious legal processes and avoiding our duty to legislate. pic.twitter.com/bMqXotnyrp

— Rep. Doug Collins (@RepDougCollins) July 12, 2019
Advertisement - story continues below
"I'm sorry, for a moment I was — you ever have one of those dreams … where you wake up and you're back in school, you're back in high school," Collins said.
Do Democrats only want to talk about impeachment without actually doing it?
"For me, it was Ms. McCall's class in North Hall High School, government, American government class, and what's the proper role of government and checks and balances, and what is Congress' role and what's the president's role and what's the judiciary's role."
"We could stop this hearing right now because the chairman just laid out all of the Congressional routes and avenues that Congress has to it. And we're gonna have a time — I'm glad the panel's here, y'all are great folks, you have scholarly work, we're gonna hear some wonderful things — but we can stop right here."
"The problem is we're just dragging this on," he said. "It's not that you want to come to impeachment — the chairman talked about impeachment, if that's what you want to do, then that's the part — we don't need to discuss 'Is this the constitutional right of Congress to do impeachment?' That is exactly what Congress' right to do! The Constitutional processes are very well addressed in the Constitution and in our processes."
Advertisement - story continues below
"But instead we come here today to have another 'almost-impeachment hearing, but not-an-impeachment hearing,' 'we want to get facts,' 'we want to do this.' No, we're just waiting on and on," Collins said while imitating his Democratic colleagues.
"I'm trapped back in ninth grade. Ms. McCall was a wonderful teacher but I don't wanna go back through it again. This is black and white, we know this problem here," he added, and then noted that the committee was just wasting time instead of working on actual legislation to fix actual problems that country had elected them to address.
"Let's actually get to actually solving real issues instead of having theoretical college discussions on what is Congress' power. If we don't know what Congress' power is now, this hearing is not gonna help us. In fact, it's ridiculous," Collins said.
The congressman suggested that everybody already knew what the process for impeachment was — they simply hadn't decided whether or how to use those processes. He again reiterated that they were wasting precious time.
Advertisement - story continues below
"It just, frankly, boggles the mind," he continued, going on to note that there were many intelligent members of the committee and knowledgeable witnesses.
"But in all due respect, we know what the Constitutional process is here, we just want to dance around it so we can keep another round of stories going that 'the Judiciary Committee is pursuing, and harassment, and doing what it needs to do to make sure this administration is held accountable because we don't like him.'"
"The economy's good; life's going better, but we don't like it because we don't like the November '16 election. That's all this is about," he said.
"So, for everybody who didn't get to the wonderful ability to be in Ms. McCall's 9th grade American government class at North Hall High School, this may be your opportunity," Collins joked. "Get your worn books out; get your study books out; this is going to be a Constitutional process of what we already know is our processes, but we're gonna have some experts tell us what those processes are."
Advertisement - story continues below
"Mr. Chairman, there's a lot of things you could be calling today; this isn't one of them. Why don't we actually take up real legislation to fix the border crisis, to fix the issues that we all talk about up here.
"Instead, we have hearings. Our body is to actually legislate; you and I have legislated before. Let's start legislating and stop the show, but as again, the popcorn's cooking, it's time, as I've always said, let the show begin," he concluded.
Congressman Collins is absolutely correct that every member on the committee is fully aware of exactly how and what Congress can do to hold President Trump accountable.
But rather than proceed down that path, the Democrats would rather dance around the subject and hold show hearings and create a bunch of additional noise that signifies nothing.
Advertisement - story continues below
And Collins is just about as tired of it as the bulk of the American people are.
Conversation