Sports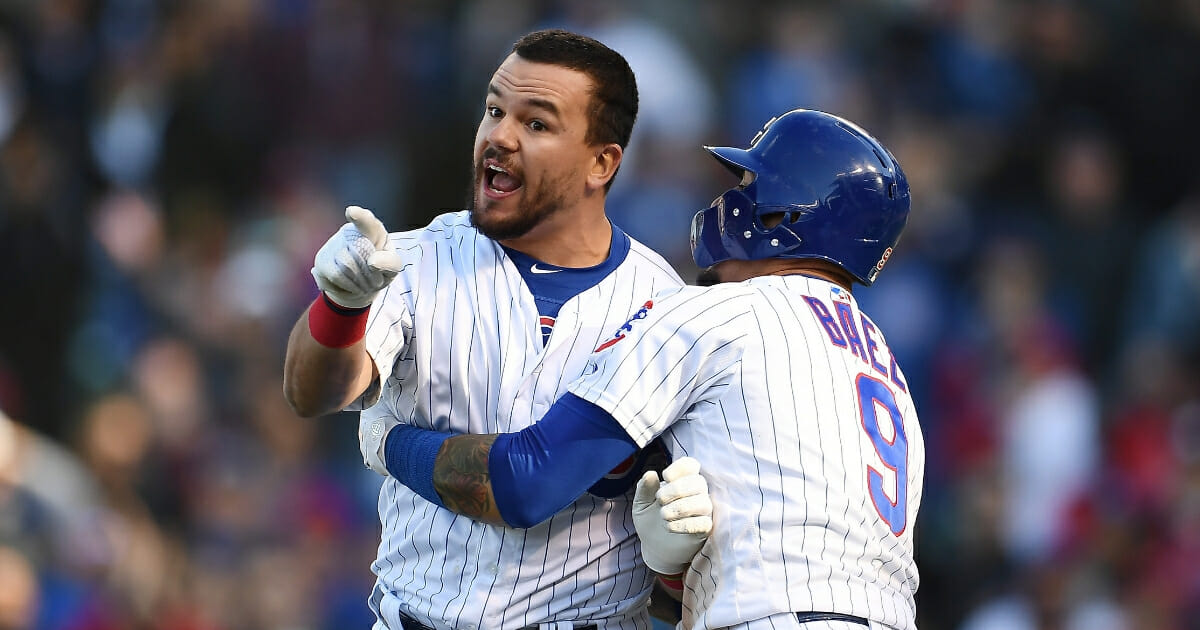 Watch: MLB Star Ejected After Game Is Already over, Loses It Against Ump
Once a baseball game is over, there's no harm in getting tossed from that game, right?
That's what Kyle Schwarber of the Chicago Cubs was likely thinking after he went berserk following his team's 6-5 loss to the Los Angeles Angels on Saturday.
Schwarber was at the plate with runners on second and third in the bottom of the ninth inning. He was facing a full count when he appeared to check his swing on a pitch that bounced before it reached home plate.
Advertisement - story continues below
To Schwarber and everyone else in Wrigley Stadium, it appeared that Schwarber held up and the Cubs would have the bases loaded.
But to third base umpire Gabe Morales, Schwarber went around with his swing which meant strike three, out three and ballgame.
Schwarber was livid with the call and threw down his helmet in disgust. He had to be held back by teammate Javier Baez as both Morales and home plate umpire Jerry Meals threw out Schwarber simultaneously with the game already over, as ESPN notes.
Kyle Schwarber got rung up to end the Cubs' rally today. He was NOT happy pic.twitter.com/L4MBtUdYTU

— Cubs Talk (@NBCSCubs) April 13, 2019
Advertisement - story continues below
After the game Schwarber watched a replay of the alleged swing and still thought it wasn't a swing.
Do you think it was a swing?
"Yeah, I took a look at it. I didn't go the first time. I didn't go the second time," Schwarber told reporters after the game, according to ESPN. "If you're not 100% sure, you can't call it."
Cubs manager Joe Maddon was also displeased at the call and he came out of the dugout for some serious finger-wagging in the faces of the umpires.
Afterwards, Maddon took things a step further by saying the check-swing call shouldn't be left up to the umpires and instead modern technology should make those calls.
Advertisement - story continues below
"You see the check swing where the hands (don't move) — to me that's not a swing," Maddon said following the game. "It's what you do with the barrel (of the bat). Everybody's worried about an electronic strike zone. I want an electronic method to control a check swing.
"That would be much more interesting. I would prefer that. Let the umpires call that game like they always do, but let's figure out a way to control check swings. I've got ideas on that, too."
Schwarber wasn't sure about his skipper's idea of an electronic monitor of check-swings, but he remained confident that he didn't go around.
"I don't know," Schwarber said when asked about his manager's idea. "I don't know how you can do that. I just didn't like the way it ended, (after) grinding out an at-bat against him. It was a big situation right there. I worked him. You've got to battle. I thought I didn't go, and he thought I did."
Advertisement - story continues below
The forgotten person in this whole scene was Baez who attempted to hold Schwarber back despite giving up nearly 50 pounds.
"Pretty big dude," Baez said of Schwarber. "He played football. I didn't play football. He kind of took me with him, but I held him pretty good. He moves to the side pretty good. He almost got by me, so I have to work on my defense."
Conversation