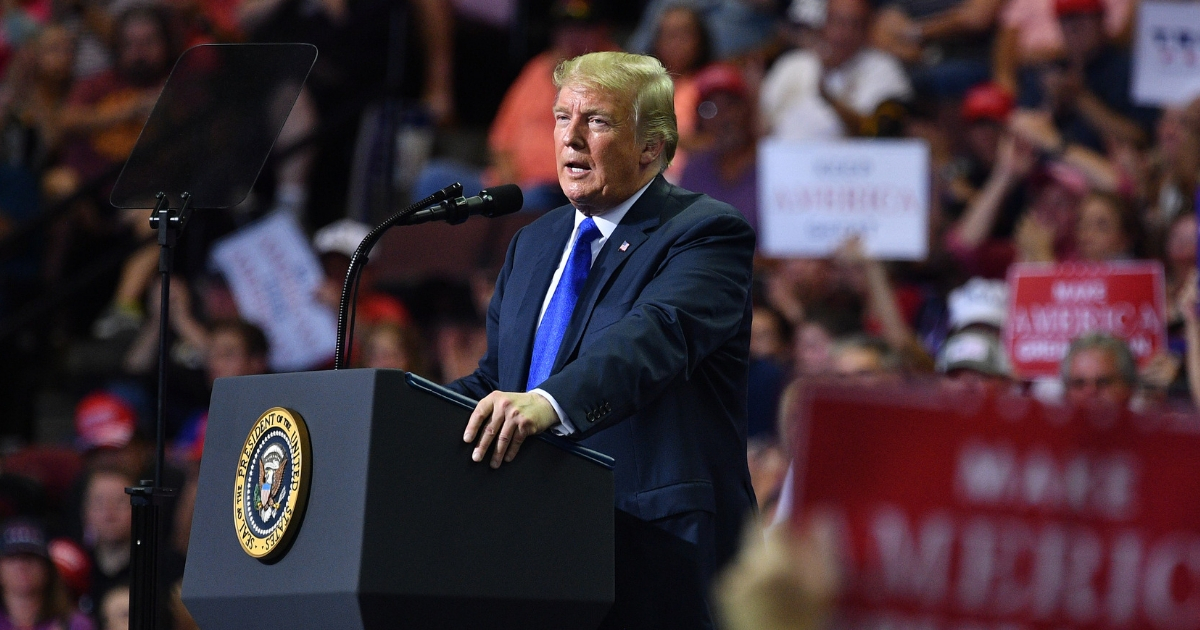 Watch: Packed Arena Erupts, Chants of 'We Want Kavanaugh'
President Trump rallied a crowd in Southaven, Mississippi, Tuesday night after talking about Supreme Court nominee Brett Kavanaugh and his accuser Christine Blasey Ford.
The crowd was so fired up that they began to spontaneously chant, "We want Kavanaugh."
The chant ensued after Trump slammed the Democrats as "the party of crime" and said that there is "nothing the Democrats aren't willing to do."
Advertisement - story continues below
He said, "You're seeing it day by day and you've seen it more in the last week than you've ever seen it before."
"No one under any circumstances is allowed to speak up if you're on this side of the equation. But guess what? We're speaking up like nobody has ever spoken up before," Trump added.
The crowd erupted in applause. The president, however, wasn't finished.
"All of the Democrats know," he said, "and all they really know how to do is obstruct, resist, demolish, destroy, and delay. They've been trying to destroy Judge Kavanaugh since the very first second he was announced. Because they know Judge Kavanaugh will follow the Constitution as written."
Advertisement - story continues below
The crowd erupted again, this time while chanting, "We want Kavanaugh!"
Do you think Kavanaugh will be the next Supreme Court Justice?
The president continued his praise for Kavanaugh calling him the "perfect person" who was "destined for the Supreme Court." He added that Kavanaugh has led a life that has been "unbelievable."
Trump then turned his attention to the accusations made about Kavanaugh and said, "So many different charges. Guilty until proven innocent. That's very dangerous for our country."
"I looked at him and I looked at the man that we appointed just before him, Justice Neil Gorsuch, who was put through the paces but nothing like what's happening now, which is just crazy," the president said.
Advertisement - story continues below
The testimony of Kavanaugh's accuser Christine Blasey Ford was also a target of the president's comments.
"How did you get home? 'I don't remember,'" he said. "How did you get there? 'I don't remember.' Where is the place? 'I don't remember.' How many years ago was it? 'I don't know.'"
"A man's life is shattered," he continued. "His wife is shattered."
He went on to say, "They want to destroy people. These are really evil people."
Advertisement - story continues below
The Senate is expected to vote on Brett Kavanaugh this week to fill the vacant Supreme Court seat. The seat has been open after the retirement of Anthony Kennedy.
Conversation