Sports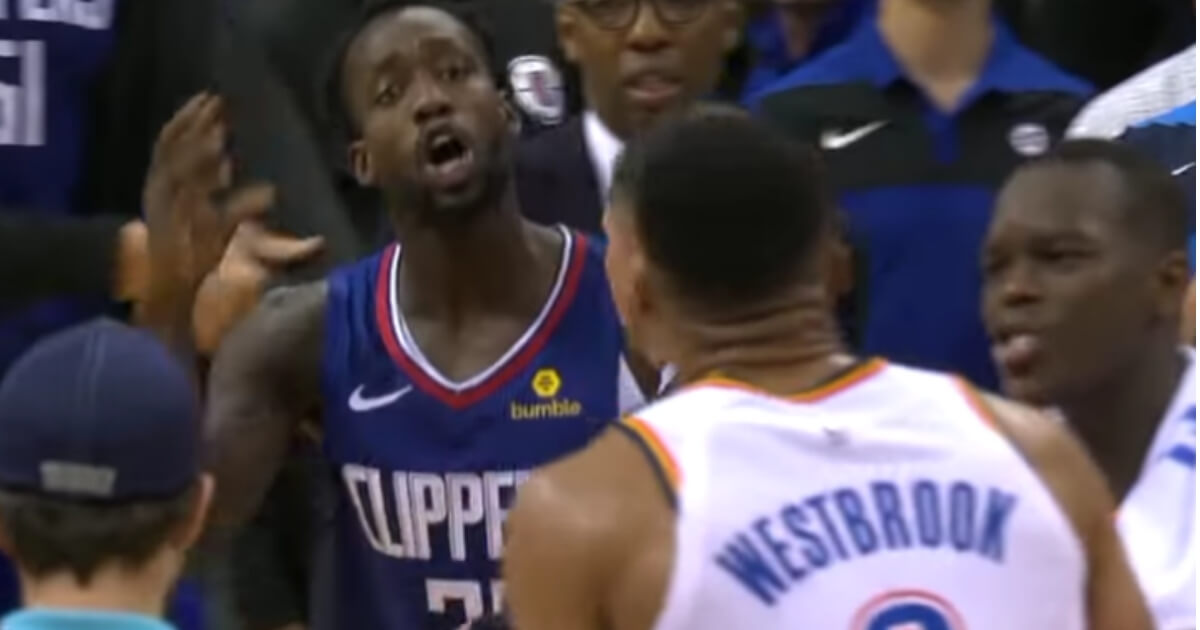 Watch: Police Step Onto Court After Flagrant Foul Causes Emotions To Boil Over
Patrick Beverley and Russell Westbrook don't like each other, and that was made abundantly clear in Tuesday night's game between the Thunder and Los Angeles Clippers in Oklahoma City.
Things got so heated between the two on the court that police came on the floor to keep the peace in case things escalated.
The two have a history that certainly played a role in this latest flare up, which occurred when Beverley dove for a loose ball midway through the fourth quarter and took out Westbrook at the knees.
Advertisement - story continues below
Patrick Beverley runs into Russell Westbrook's knee pic.twitter.com/vxVDSOPJWd

— Heart of NBA (@HeartofNBA) October 31, 2018
Beverley raised his hand immediately, acknowledging the foul, but Westbrook was not at all happy. He walked away to his bench, but during the ensuing time out, things got heated between the two.
Westbrook and Beverley were jawing at each other and had to be restrained by their respective teammates.
Advertisement - story continues below
The rancor between the players no doubt stemmed from the first round of the 2013 NBA playoffs, when a collision between Westbrook and Beverley, then of the Houston Rockets, led to Westbrook having a torn meniscus and missing the rest of the playoffs.
Should Beverley have been given a flagrant foul on the play?
During the time out, several police officers made their way onto the floor. No punches were thrown and no fight broke out, but the two were given technical fouls.
After looking at the replay, the officials upped Beverley's foul to a flagrant foul, which angered Beverley and his coach, Doc Rivers.
Police have been brought onto the court to keep Westbrook and Beverley away from each other pic.twitter.com/FAlF1fm8gD

— Jovan Buha (@jovanbuha) October 31, 2018
Advertisement - story continues below
"I didn't think it was a dirty play at all, actually," Rivers said, according to Yahoo Sports. "He dove and got to the ball first. I don't know how that was a flagrant. They have bad blood. There's nothing wrong with that as long as they keep it clean."
Beverley is known as a tough defender who plays the game hard. He says that's all he was doing on that play.
Patrick Beverley on the altercation with Russell Westbrook. pic.twitter.com/15q0ZA9DmR

— Addam Francisco (@SuaveFrancisco_) October 31, 2018
Advertisement - story continues below
"I went for a loose ball … things kind of went haywire from there," Beverly said. "Two competitors, no one is going to back down, no one did, you see two technicals … continue playing."
He didn't think it warranted a flagrant foul.
"I felt like I went for a loose ball," Beverley said. "The refs looked at it on the tape and thought it was a flagrant and I have to accept that."
Advertisement - story continues below
Earlier in the game, Westbrook mocked Beverley after scoring on him. He rocked his arms back and forth like he was cradling a baby.
? Russell Westbrook scores on Patrick Beverley then rocks the baby!

(Via @FOXSportsOK) pic.twitter.com/VAv7xSLwqm

— Ballislife.com (@Ballislife) October 31, 2018
And Beverley later returned the gesture.
Advertisement - story continues below
Pat Beverly rocks the baby at Westbrook and stares him down. ? pic.twitter.com/v1yvfXli90

— House of Highlights (@HoHighlights) October 31, 2018
While Beverley took the high road in his post game comments, Westbrook took another jab at Beverley.
Westbrook on his rock-the-baby move: "Put em to sleep, you got little kids on you." pic.twitter.com/yQPW6ln3A9

— Royce Young (@royceyoung) October 31, 2018
Advertisement - story continues below
When asked what that rocking motion meant, Westbrook said: "Yeah, you got little kids … you've got little babies .. you've got to put them to sleep … that's what happens. Little guards … you've got to rock 'em."
Ultimately, Oklahoma City has the last laugh as the Thunder won 128-110. Westbrook led the way with 32 points
Conversation