Commentary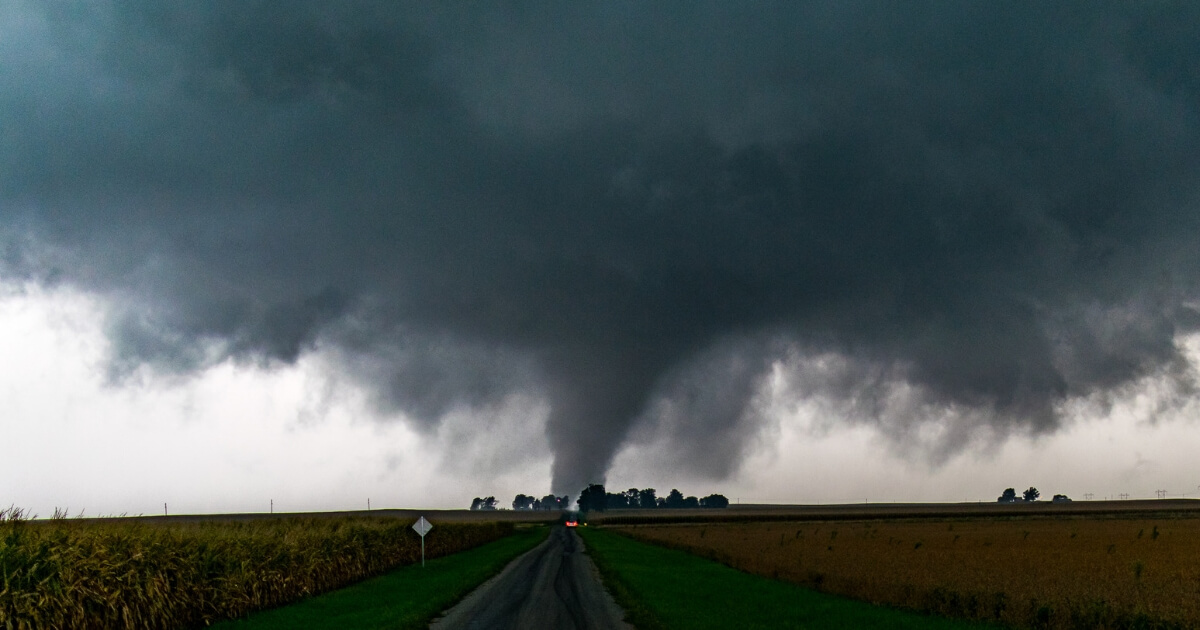 How Will Climate Alarmists Explain US Having Fewest 'Violent' Tornadoes Ever in 2018?
In August, The New York Times — "All the News That's Fit to Print" — reported that "Tornadoes on the East Coast May Be a Sign of Things to Come." And why, you may ask? Well, you probably needn't have asked.
"A tornado, albeit a weak one, touched down in New York City last Thursday, in the College Point neighborhood of Queens," the story read. "A few days earlier, a stronger tornado was spotted near the town of Douglas, in central Massachusetts. And a few days later a whirlwind ripped through nearby Webster, displacing dozens of people from their damaged homes.
"The storms were far from the region in the middle of the country known as Tornado Alley, where the bulk of the nation's tornadoes occur. In a summer already marked by simmering heat that researchers have linked to global warming, is climate change also making tornadoes more common in places where they once were infrequent?"
Advertisement - story continues below
It wasn't until four paragraphs down that a professor of earth system science at Stanford University was quoted as saying that twisters "are the kind of extreme event where we have the least confidence in our ability to attribute the odds or characteristics of individual events to an influence of global warming."
That didn't stop The Times' Kendra Pierre-Lewis from saying scientists "can simulate the broader, changing climate to see how it will affect the underlying conditions that create thunderstorms, which set the stage for tornadoes."
"We do have strong evidence that at the large scale that global warming is likely to increase the atmospheric environments that create the kind of severe thunderstorm that produces tornadoes," the Stanford scientist, Noah Diffenbaugh, said.
So, how is that working out for us? Well, unless something happens in the three days left this calendar year, we're set for a major record.
Advertisement - story continues below
"We're now days away from this becoming the first year in the modern record with no violent tornadoes touching down in the United States," The Washington Post's Ian Livingston reported. "Violent tornadoes are the strongest on a 0 to 5 scale, or those ranked EF4 or EF5.
"It was a quiet year for tornadoes overall, with below normal numbers most months. Unless you're a storm chaser, this is not bad news. The low tornado count is undoubtedly a big part of the reason the 10 tornado deaths in 2018 are also vying to be a record low."
While 2018 wraps up, it will be the first year in recorded history without any violent (EF-4 or 5) tornadoes! In another record-breaking statistic, 2018 will also go down in the books as having the least tornado-related deaths ever! #tornadoes #severewx #USwx pic.twitter.com/oWEzA5Sv35

— Beth Carpenter | TDS Weather (@B_Carp01) December 28, 2018
It's worth noting that scientists have long said that they don't have the data to predict whether tornadoes will be affected by their climate change models — although many of them seem to be ever ready to point out that they probably could be.
It's not just Mr. Diffenbaugh. Take climate scientist Kevin Trenberth with the National Center for Atmospheric Research. In a 2013 interview with Scientific American, he noted the data weren't really there but possibly could be.
Advertisement - story continues below
"The climate change effect is probably only a 5 to 10 percent effect in terms of the instability and subsequent rainfall, but it translates into up to a 33 percent effect in terms of damage. (It is highly nonlinear, for 10 percent it is 1.1 to the power of three = 1.33.) So there is a chain of events, and climate change mainly affects the first link: the basic buoyancy of the air is increased. Whether that translates into a supercell storm and one with a tornado is largely chance weather," he said.
"There is a large level of natural variability, but it is when the natural variability is going in the same direction as climate change effects that we suddenly break records. We cross thresholds and record new extremes. A small effect can translate into a large impact under those conditions. It's the straw that breaks the camel's back."
Or doesn't.
And beyond scientists, there were also the opinions of "science guys" regarding tornadoes and climate change:
Advertisement - story continues below
More severe weather. More suffering. More expense. Let's all take climate change seriously. pic.twitter.com/HGHQJLgqRr

— Bill Nye (@BillNye) May 11, 2016
So, how did the media react to this latest news? Livingston noted that the lack of violent tornadoes in 2018 "seem(s) to fit a recent pattern."
"In simple terms, there have been downtrends in violent tornado numbers both across the entire modern period, and when looking at just the period since Doppler radar was fully implemented across the country in the mid-1990s. A 15-year average as high as 13.7 in the mid-1970s will drop to 5.9 next year," he wrote.
Advertisement - story continues below
Do you think that climate change is responsible for lower tornado numbers?
If one were conspiratorially inclined, one could note that Livingston's talk of a "recent pattern" could be seen as "any sort of change in the weather is anthropocentric climate change." I'm not the tinfoil hat type, though, so I would never say such a thing.
As for HuffPost, it noted that "(s)ome of these figures could change by the end of the year, however, as severe thunderstorms threaten parts of Texas, Oklahoma, Louisiana, Arkansas, Mississippi and Tennessee. AccuWeather.com said residents in the affected areas should brace for downpours, strong wind gusts and possible isolated tornadoes through Thursday." Whether any of these tornadoes reach EF4 or EF5 is anyone's guess, but that likely won't change the record-breaking numbers set this year.
Newsweek, for the record, echoed similar sentiments and spent roughly a third of the story talking about the storm cell.
Advertisement - story continues below
No, there isn't a consensus as to whether anthropogenic climate change would cause either more tornadoes or more violent tornadoes. There hasn't been a shortage, however, of scientists willing to say that it will — and they likely won't be issuing statements regarding the 2018 numbers. I also guess that when they're called by the media to further opine on tornadoes and their relation to climate change, the numbers probably won't change their speculations. Just a hunch.
Conversation