News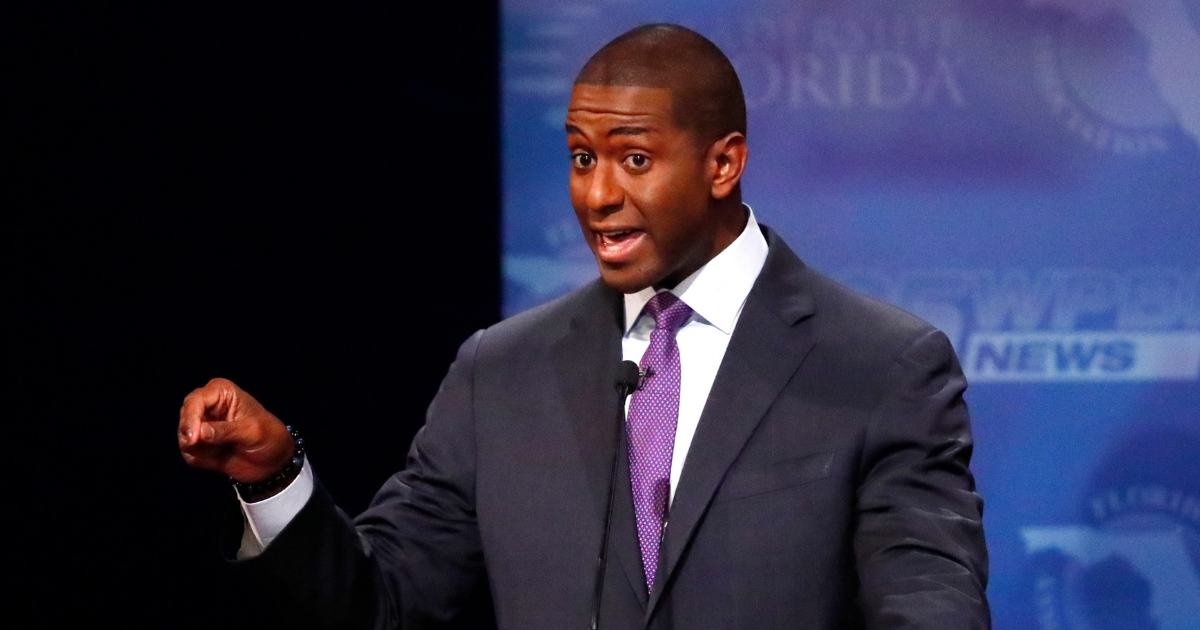 Democratic Gubernatorial Candidate Says Police Have Gone 'Too Far' If They Need To Use a Weapon
Florida Democratic gubernatorial candidate Andrew Gillum tried to dispel the persistent rumors on Wednesday that he is anti-police, contending that rather he is for "police accountability."
"We've got to navigate in my state the fact that they think I'm Mr. Break-The-Law and all this other stuff that they say," Gillum said on the Pod Save America podcast. "God knows I don't want to give life to it, but all the stuff that they say, I've got to let them know — anti-police? No, I'm for police accountability."
Advertisement - story continues below
Gillum faced backlash after reports emerged that he signed a "Freedom Pledge" by the Dream Defenders. The Freedom Pledge, which addressed a multitude of issues with law enforcement, compares police to plantation slave owners and further explicitely calls police and prisons racist.
The pledge also states that signees will "fight for a Florida that divests from prisons, detention centers, guns and police."
"Law enforcement society cannot work, and quite frankly, law enforcement can't do its job, if it does not have a trusting relationship with the community," Gillum continued. "At the time that a law enforcement official has to go to a weapon, to a gun, to a baton, to a taser, they have already had to go too far."
Republican Rep. Ron DeSantis, Gillum's challenger, brought up the pledge during the Oct. 21 gubernatorial debate. Gillum denied having any knowledge of the pledge saying he has "no idea what pledge (DeSantis) is talking about."
Advertisement - story continues below
However, Floridapolitics.com subsequently confirmed that Gillum did, in fact, sign the pledge.
Consequently, 38 elected Florida sheriffs called on the Democratic mayor to "immediately and unequivocally" withdraw his support for the pledge and the radical anti-police organization.
"By their very presence, by the very trust that they inspire in community and in society, they're supposed to be able to bring most situations to heel," Gillum said. "What I'm in favor of is repairing the breach, making sure there is good community relationship."
Content created by The Daily Caller News Foundation is available without charge to any eligible news publisher that can provide a large audience. For licensing opportunities of our original content, please contact licensing@dailycallernewsfoundation.org.
A version of this article appeared on The Daily Caller News Foundation website.
Conversation