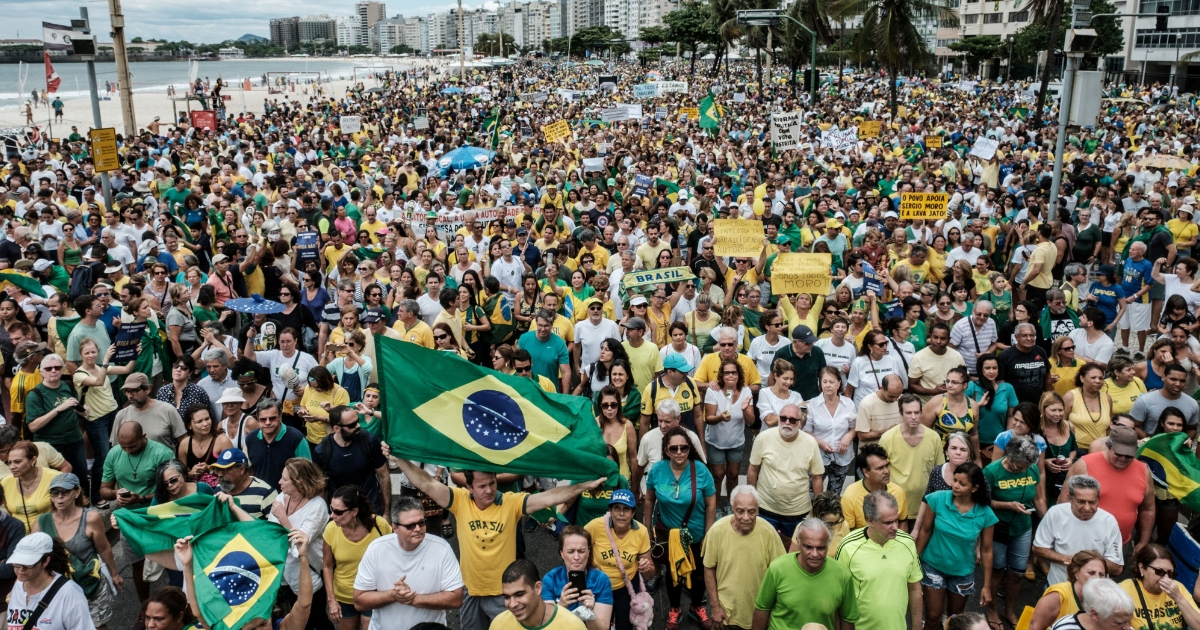 Angry Brazilian Mobs Murder Someone Almost Every Day, Authorities Say
Brazilian mobs murder or attempt to murder a person every single day according to experts and authorities who describe the violence in the country as ruthless and unhinged.
An estimated 1.5 million Brazilians have participated in mob lynchings over the past 60 years, according to research by University of São Paulo sociologist José de Souza Martins, The Wall Street Journal reported Thursday. Mobs kill or attempt to kill a person every day, according to Martins.
The country broke its own yearly murder record after an August report revealed that 63,880 were murdered in 2017, The Independent reported. Over 4,500 women were murdered, according to the report. That number reflects a three percent rise from the 2016 rate. The rate of rape also rose eight percent.
Advertisement - story continues below
Over 1,000 women were murdered because of their gender, according to the report.
Brazil has not only has the highest murder rate in the world but also the highest impunity rate, according to TheWSJ.
Roughly 7.6 percent of lynching victims in Brazil are innocent, according to Martins' research.
"We're the world champions of murder… and people are getting used to living alongside barbarity," said public prosecutor Leonardo Jubé de Moura, TheWSJ reported.
Advertisement - story continues below
A group of high school students killed 16-year-old Victor Melo over suspicions that he stole an iPhone, according to TheWSJ. Melo did not steal the phone. "Not even an animal would do something like that to its own species," Melo's father said in an interview after Victor's death.
It is not uncommon for students and the elderly to participate in lynchings and killings, and decomposing bodies of murder victims lying in the street is not unusual, TheWSJ reported.
Do you think these lynchings should be stopped?
Over 90 percent of murderers are not convicted, according to TheWSJ.
Lynchings have become so common in the town of Araioses that evangelical churches send missionaries to combat the devil that locals are convinced occupy the bodies of town members, TheWSJ reported.
"Violence runs in their veins," said 41-year-old missionary Luiz Carlos Cunha.
Advertisement - story continues below
Only 25 percent of Brazilians have confidence in the police, according to a study conducted by the São Paulo Law School. Study authors conducted 1,650 interviews to gather their results.
Roughly 400 murders occur in Latin America each day and approximately half of the murders take place in Brazil, according to TheWSJ.
Brazil's murder rate is roughly 30 times higher than in Europe, according to a June study by the Brazilian government. The economic cost of crime has also risen enormously, the report indicates.
Crime cost an equivalent of 4.4 percent of gross domestic product annually between 1996 and 2015, according to the report.
Advertisement - story continues below
Brazilian president Bolsonaro has vowed to double down on crime and lynchings. "If the government needs to hire someone to kill off criminals, I'll do it for free," Bolsonaro said, according to TheWSJ.
"These red criminals will be banished from our homeland," he also said during his campaign, Aljazeera reported.
Bolsonaro was elected as president in October 2018.
Advertisement - story continues below
A version of this article appeared on The Daily Caller News Foundation website.
Conversation