Commentary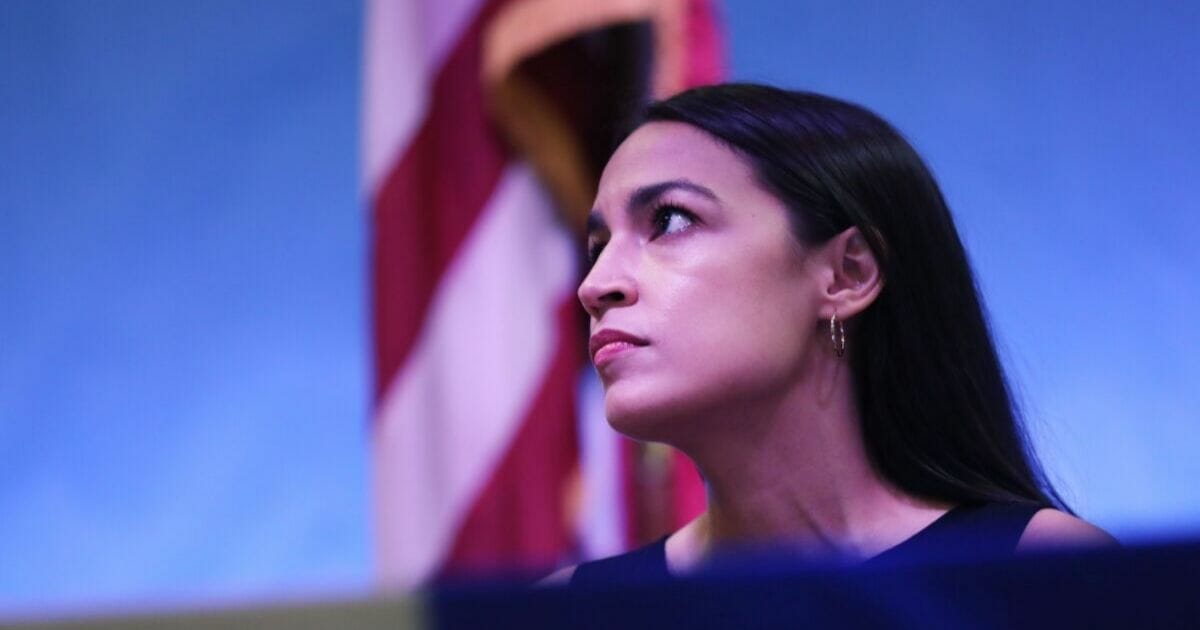 AOC 'Absolutely' Agrees that 'What's Going on with Israel' Is 'Very Criminal'
Ignorance may be bliss, but it also seems to be a prerequisite to be elected to Congress these days.
Far-left Rep. Alexandria Ocasio-Cortez of New York has made many foolish statements since pulling off a surprise election win last year. From claiming that the world would end in 12 years to forgetting the difference between red and blue states, the Democratic lawmaker's missteps have abounded, but her statement on Israel this week just might have taken the cake.
On Tuesday, Ocasio-Cortez put her foot firmly in her mouth by agreeing with anti-Israel remarks made by a liberal radio host. It's the latest in a string of comments from "the squad" of progressive freshmen lawmakers that are raising eyebrows in the Jewish community, and adding credence to the accusation of anti-Semitism from the limelight-seeking liberals.
Advertisement - story continues below
During an appearance on the "Ebro In The Morning" radio program in New York, Ocasio-Cortez repeatedly agreed with host Ebro Darden that America's Middle Eastern ally was "corrupt," engaged in an "occupation" and "very, very criminal."
"Now you look around the globe and you have multiple corrupt governments working together — you've got Israel, you've got America, you've got Russia, you've got the Saudis, right — all working in concert," Darden said, according to the Washington Examiner.
"And I bring up Israel because you've been vocal about Palestine, the occupation and what needs to go on there. And specifically, I even think people in Israel are trying to get Netanyahu as well," the host continued.
Even though Darden had just labeled both the United States and the democratic nation of Israel as "corrupt governments," the Democratic congresswoman seemed to have no problem with that statement.
Advertisement - story continues below
"I agree, I agree with that," Ocasio-Cortez said.
The radio host then went on a rant about "white supremacist Jews" before again smearing Israel.
"How do you have these individuals who are legit aligning with racism and white supremacy, but they're Jewish and it's something that most people can't wrap their brains around," he said. "But it's a real thing and what's going on with Israel and Palestine, while it's very deep, it is very, very criminal."
Once again, Ocasio-Cortez had no problem with a one-sided declaration.
"Absolutely, and I think to where we're at as a country when it comes to Israel-Palestine is very much a generational thing," Ocasio-Cortez said.
It isn't the first time that Ocasio-Cortez has stumbled when discussing the Israel-Palestine conflict. Last year, she revealed her ignorance on the issue by railing against "the occupation of Palestine" during an interview with Margaret Hoover of PBS.
Advertisement - story continues below
When Hoover pressed her to explain what in the world she meant by that, Ocasio-Cortez shifted nervously and admitted that she was "not the expert in geopolitics on this issue."
Do you think Ocasio-Cortez should apologize for her remarks about Israel?
That's putting it mildly. Yet the congresswoman's understanding of the region doesn't seem to have improved since then. In addition to making reckless statements about an American ally (and one of the only free and stable nations in the Middle East), Ocasio-Cortez has also publicly supported the pro-Palestinian Boycott, Divestment and Sanctions movement, commonly known as BDS.
The movement has been condemned by a majority of congresspeople, including many Democrats.
Advertisement - story continues below
"B.D.S. doesn't seek social justice," said Democratic Pennsylvania Rep. Ted Deutch, according to The New York Times. "It seeks a world in which the state of Israel doesn't exist."
Ocasio-Cortez hasn't said outright that Israel has no right to exist, but her eagerness to agree with anti-Israel statements doesn't make her look good. The inexperienced congresswoman seems completely clueless about how the American public may perceive her comments.
Conversation