News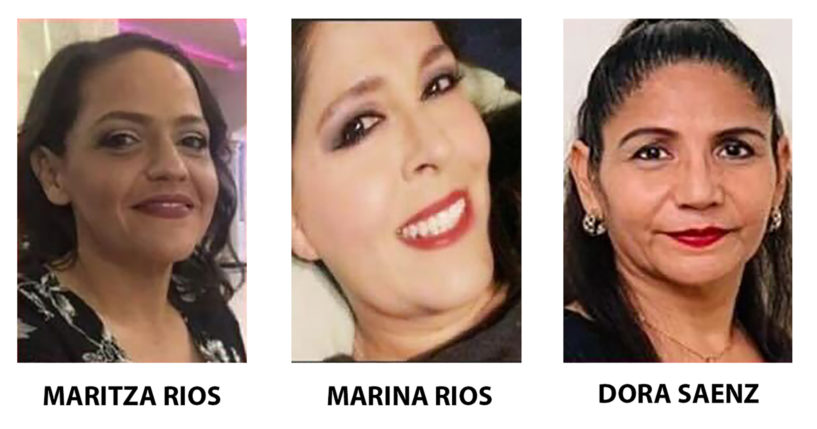 Two Texas Sisters and a Friend Go Missing During Trip to Mexico
Two sisters from Texas and a female friend are missing in Mexico after they crossed the border last month to sell clothes at a flea market, U.S. authorities said Friday.
The news comes after the abduction of four Americans in Mexico was caught on video last week. Two of those Americans — Shaeed Woodard, 33, and Zindell Brown, in his 20s — were killed.
But the fate of the three women, who haven't been heard from in about two weeks, remains a mystery.
Advertisement - story continues below
The FBI said Friday it is aware that two sisters, from Peñitas — a small border city in Texas near McAllen — and their friend have gone missing.
Peñitas Police Chief Roel Bermea said their families have been in touch with Mexican authorities, who are investigating their disappearance.
Beyond that, officials in the United States and Mexico have said little about their pursuit of the three: Maritza Trinidad Perez Rios, 47; Marina Perez Rios, 48; and their friend, Dora Alicia Cervantes Saenz, 53.
Meanwhile, the four Americans abducted last week were in Mexico for plastic surgery. They were traveling in a white minivan with North Carolina license plates and were caught in a drug cartel shootout in the border city of Matamoros.
Advertisement - story continues below
Video showed them being hauled off in a pickup truck.
The two survivors — LaTavia McGee, 35, and Eric Williams, 38 — were found Tuesday in a shack near the Gulf Coast. They are recovering in an American hospital, according to authorities.
Would you travel to modern-day Mexico?
U.S. Customs and Border Protection said the three now-missing women crossed into Mexico on Feb. 24, according to Bermea.
Peñitas is just a few hundred feet from the Rio Grande River.
The husband of one of the women spoke to her by phone while she was traveling in Mexico, the police chief said, but grew concerned when he couldn't reach her afterward.
Advertisement - story continues below
"Since he couldn't make contact over that weekend, he came in that Monday and reported it to us," Bermea said.
The three women haven't been heard from since.
Bermea said the women were traveling in a green mid-1990s Chevy Silverado to a flea market in the city of Montemorelos, in Nuevo Leon state.
It's about a three-hour drive from the border. Officials at the state prosecutor's office said they have been investigating the women's disappearance since Monday.
The Western Journal has reviewed this Associated Press story and may have altered it prior to publication to ensure that it meets our editorial standards.
Conversation