News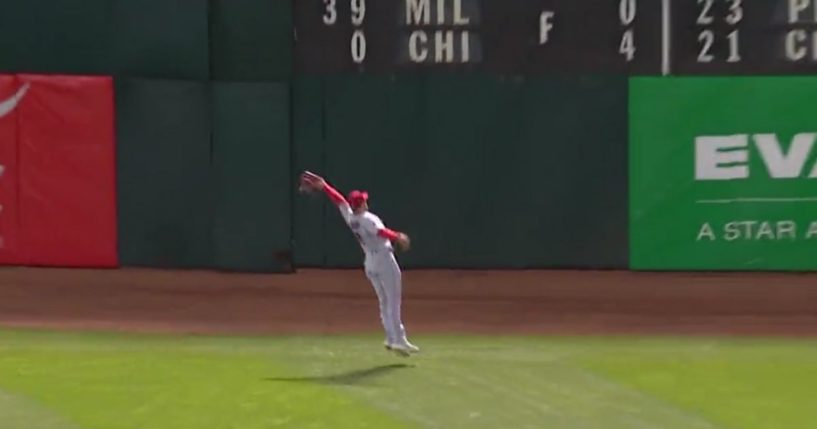 'What Was That?!' Angels Outfielder Stuns Announcers and Teammates with No-Look Catch
The ball was headed toward deep right field, so Los Angeles Angels outfielder Hunter Renfroe took a step that way.
But then the wind shifted and carried Jace Peterson's drive toward right-center instead, leaving Renfroe scrambling.
He stuck out his glove and — somehow — corralled it. A no-look grab, if there is such a thing.
Advertisement - story continues below
WHAT WAS THAT 😱 pic.twitter.com/5weADj8bGt

— Los Angeles Angels (@Angels) March 31, 2023
"There's no normal catch about it. You catch it behind your head and backwards. That's not great, but you've gotta do what you've gotta do sometimes," he said. "It was a lot of different directions. It looks like I'm out there in a circus, but caught it."
Renfroe actually regularly works on making trick catches during batting practice.
Advertisement - story continues below
"Now I'm going to use it," he joked.
His amazing, no-look grab was one for the highlight reels on opening day.
Did you watch opening day baseball?
Playing his first game with the Angels, Renfroe could only grin ear to ear after robbing Peterson with a defensive gem to start the bottom of the fifth inning in Los Angeles' 2-1 loss to the Oakland Athletics on Thursday night.
"I'm glad I caught it. Not the way you want to draw it up," Renfroe said.
Running backward toward the wall, he got twisted around and blindly reached his glove up to make the catch just in front of the warning track — without even tracking the ball with his eyes at the end.
Advertisement - story continues below
Angels pitcher Shohei Ohtani raised his arms in delight from the mound and put his hands on his head for a second as other teammates smiled.
"I'm sure he was kind of grateful I caught it and relieved as well," Renfroe said.
After rounding second base, Peterson looked back over his shoulder out at Renfroe in right — almost in disbelief.
"I thought it was going to be a hit 100%," a chuckling Ohtani said through interpreter Ippei Mizuhara. "He threw his glove out there and it found the glove."
Advertisement - story continues below
"WHAT WAS THAT" the Angels posted on Twitter with a shocked emoji face.
Rookie catcher Logan O'Hoppe said: "Hearing how he went about it in his head when he came in the dugout was even more impressive. He said he had it all the way."
"He's lying," Renfroe said.
But he acknowledged some expletives came out of his mouth.
Advertisement - story continues below
"I've never seen anything like that," Angels center fielder Mike Trout said. "From my angle, I don't know what was going on. I saw the replay from the dugout … have you guys seen anything like it? Me, either."
The Western Journal has reviewed this Associated Press story and may have altered it prior to publication to ensure that it meets our editorial standards.
Conversation