News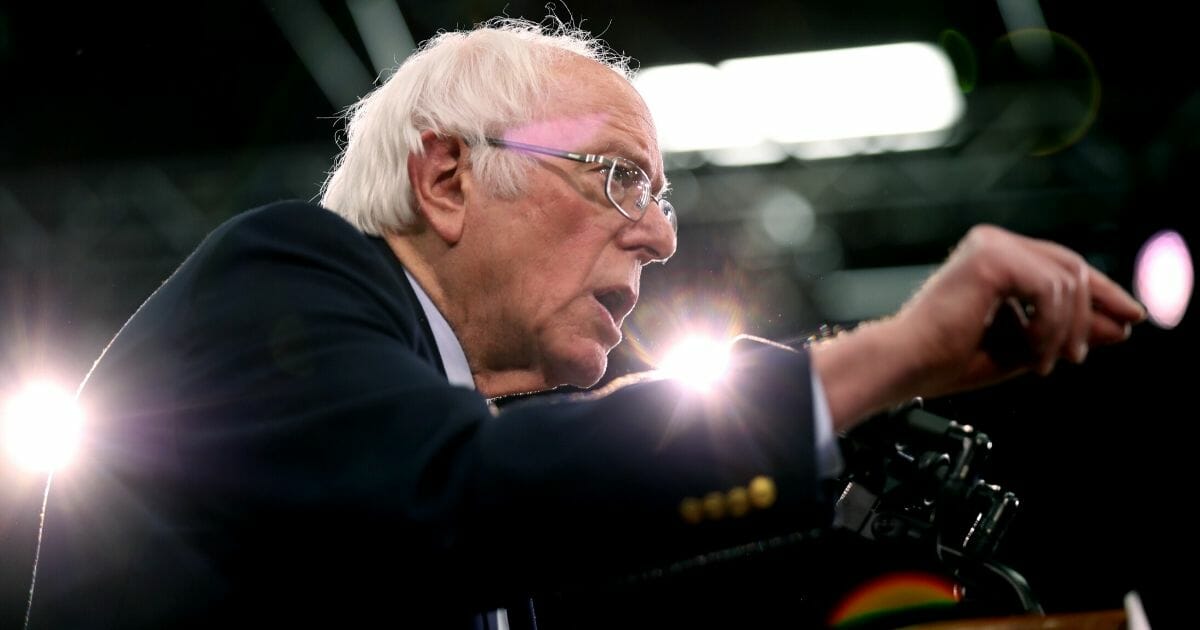 Bernie Sanders Steamrolls Biden, Warren in NH Nail-Biter
Progressive firebrand Bernie Sanders has won New Hampshire's presidential primary election.
On Tuesday, the Vermont senator seized the first clear victory in the Democratic Party's chaotic nomination fight despite a late charge from moderate rivals Pete Buttigieg, who finished second, and Amy Klobuchar, who finished third.
Elizabeth Warren finished a distant fourth, while Joe Biden came in fifth. They were on track to finish with zero delegates from the state.
Advertisement - story continues below
With 89 percent of the vote in, Sanders was at 25.8 percent, compared to 24.4 percent for Buttigieg, 19.8 percent for Klobuchar, 9.3 percent for Warren and 8.4 percent for Biden.
The significance of Sanders' win was matched only perhaps by the struggle of Biden, who spent most of the last year as the Democratic national front-runner but fled New Hampshire hours before polls closed, anticipating a bad finish.
Addressing supporters Tuesday night, Sanders claimed victory in New Hampshire and pledged that if he becomes the Democratic nominee, he will unite a fractured party to defeat President Donald Trump.
Biden's disappointment offered new opportunity for dueling Midwestern moderates, Klobuchar and Buttigieg.
Advertisement - story continues below
Sanders, meanwhile, pledged Tuesday night that if he becomes the Democratic nominee, he will unite a fractured party to defeat President Donald Trump.
Votes were still being tabulated when the Vermont senator addressed his supporters in New Hampshire.
Do you think Bernie Sanders will win the Democratic nomination?
Sanders, a democratic socialist, said his supporters form a coast-to-coast movement.
He predicted he could usher in a new era of American politics that would demand that "we finally have an economy and a government that works for all of us, not wealthy campaign contributors."
Before Sanders took the stage, his supporters jeered Buttigieg with a chant, calling him "Wall Street Pete." That's a reference to some of Buttigieg's wealthy patrons. Sanders' campaign, in contrast, is almost entirely funded by grassroots contributors who give small amounts online.
Advertisement - story continues below
Sanders struck a conciliatory tone, lauding his rivals in the Democratic contest and vowing that "no matter who wins we are going to unite together and defeat the most dangerous president" in recent history.
Buttigieg, meanwhile, said Tuesday he is ready to take his Democratic presidential campaign to the rest of the nation after a strong finish in New Hampshire.
The audience in the gymnasium in Nashua was electric Tuesday as supporters chanted, "Boot-edge-edge, Boot-edge-edge!" — the familiar phonetic of the candidate's unusual name.
"Now our campaign moves on to Nevada and South Carolina and across the country, and we will welcome new allies to our movement at every step," the former mayor of South Bend, Indiana, told a crowd of supporters.
Advertisement - story continues below
Buttigieg vowed to "end the era of Donald Trump," while keeping up pressure on his top rival, Sanders, who he said was taking a "my-way-or-the-highway approach."
The Western Journal has reviewed this Associated Press story and may have altered it prior to publication to ensure that it meets our editorial standards.
Conversation
Notice: Due to threatened de-monetization, we have temporarily removed commenting while we build a long-term commenting solution that allows you to voice your opinion freely and allows us to continue to publish the news fearlessly and cover topics that you care about. If you would like to personally partner with The Western Journal to help us continue publishing while under relentless assault by Big Tech, please visit our
subscription page
here. We encourage you to share this article and discuss with your friends.