News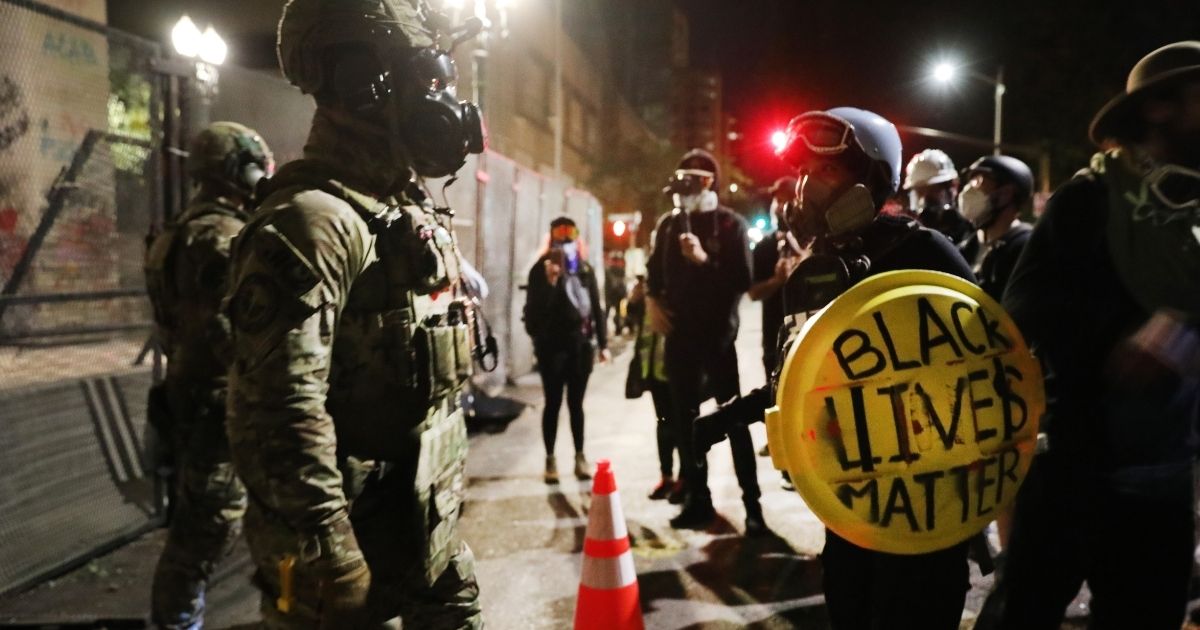 Portland's Grim Reality: 100 Days of Violence
Once hailed as one of the most livable U.S. cities, Portland, Oregon, is grappling with an uncertain future as it reaches a stunning benchmark: 100 consecutive nights of protests marred by vandalism, chaos — and the killing of a supporter of President Donald Trump.
The riots that started in late May after the police killing of George Floyd in Minneapolis have divided residents and embarrassed the city's beleaguered Democratic mayor.
The slaying of the conservative Trump supporter gunned down after he came downtown last weekend with a pro-Trump caravan of pickup trucks pushed the crisis further toward a breaking point. The prime suspect in the shooting, self-described antifa member Michael Forest Reinoehl, was killed Thursday night by law enforcement.
Advertisement - story continues below
The exact date of the 100-day milestone depends on how the protests are counted, but everyone agrees the benchmark falls over the Labor Day weekend.
Black Lives Matter protests, vigils and speeches marking the occasion are planned over three days and Trump supporters are planning another caravan rally.
The events come after officials in suburban counties refused a call from Gov. Kate Brown, a Democrat, for their deputies to assist Portland police following last weekend's violence.
During the clashes between rioters and police, some have broken windows, set fires, punctured police car tires with spikes, shined lasers in officers' eyes and pelted them with rocks and frozen water bottles.
Advertisement - story continues below
The tension reached a new high last weekend when Trump supporter Aaron "Jay" Danielson, 39, was fatally shot as he walked on a sidewalk.
Reinoehl, the suspected shooter, was killed late Thursday by a law enforcement task force sent to arrest him outside Lacey, Washington.
Do you think the Portland riots will end soon?
After Danielson's killing, Brown sent state police back into the city to help local police.
Those troopers have been deputized as federal law enforcement officers by the U.S. Marshal's Service, which means protesters arrested by state troopers could now face prosecution by the U.S. government.
The move appears to be a way to get around Portland's newly elected local prosecutor, who has dismissed hundreds of cases against demonstrators arrested for low-level, non-violent offenses.
Advertisement - story continues below
Meanwhile, Mayor Ted Wheeler is politically sandwiched between Trump and local business owners who want order restored and left-wing groups demanding his resignation for what they call his failure to rein in local police.
Wheeler announced this week he would move out of his upscale condominium complex after rioters broke windows and set fires there.
"These acts of violence distract us. And they must stop," Wheeler said on Facebook.
Some credit the violent riots with maintaining pressure on elected officials.
Advertisement - story continues below
"It's a necessary place we're in," Shanice Clarke, one of the founders of the Black Millennial Movement, said.
"I think the whole notion of folks putting their bodies on the line is a pretty powerful act — and a necessary one — especially when that tactic is sometimes the only one available to people like me."
But others say any legitimate activism has been drowned out in the chaos.
"Portland desperately needs calm," Police Chief Chuck Lovell said.
Advertisement - story continues below
The Western Journal has reviewed this Associated Press story and may have altered it prior to publication to ensure that it meets our editorial standards.
Conversation