Sports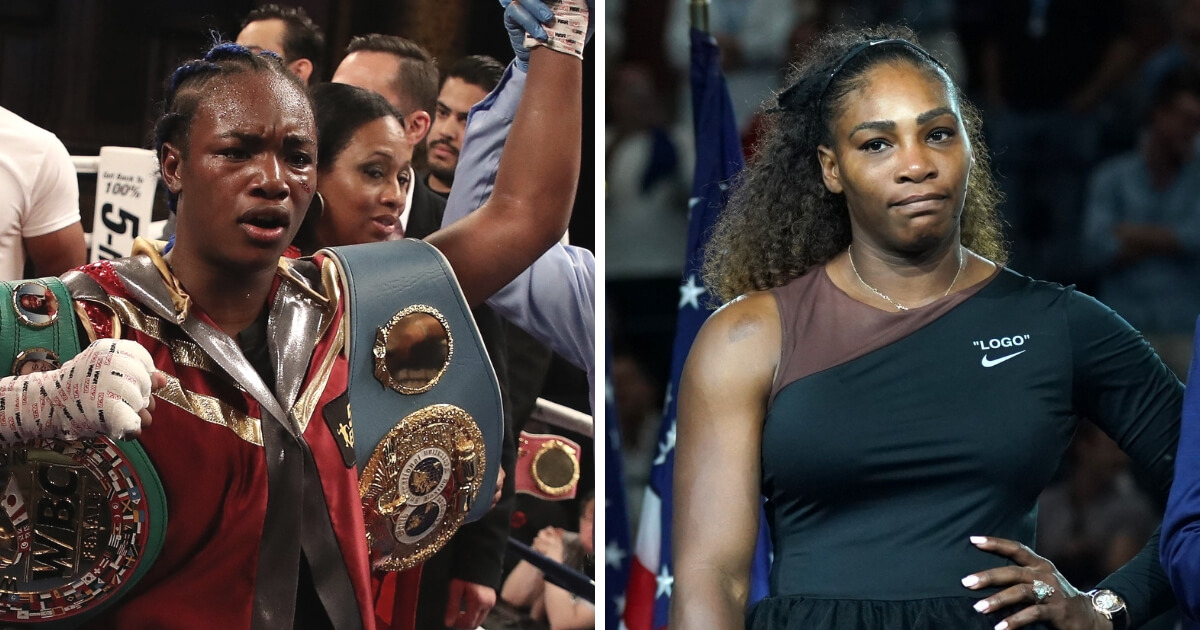 Boxing Champion Slams Her Former Idol Serena Williams - 'She Was Just Not Nice'
There was a time when two-time Olympic gold medalist boxer Claressa Shields considered Serena Williams to be her idol.
But an experience at the 2016 Summer Olympics when Shields met Williams rubbed the boxer the wrong way.
During a teleconference Tuesday to announce her next championship fight, Shields was asked about her role models in the sports world, and she revealed that Williams used to be one of them.
Advertisement - story continues below
"Well, one used to be Serena Williams," the 23-year-old said, according to the Detroit Free Press. "She used to be. I was able to meet Serena at the 2016 Olympics. She was just not nice.
"For me to look up to her like I did when I was a kid and then meet her in person and see how she's not fan-friendly" was upsetting, Shields said.
Shields won her first gold medal at the 2012 Olympic Games and then decided to pursue a second gold after seeing a photo of Williams with her two gold medals.
While she would be successful in getting her second gold in Brazil, the encounter with Williams sort of ruined her Olympic experience, she said. Shields went into detail about her first encounter with Williams in an interview on the Scoop B Radio podcast.
Advertisement - story continues below
"I was just like, 'Hey, Serena,'" Shields said about seeing Williams after a boxing session in Rio. "I promise you, there was nobody there, nobody around. … She was right there. I talk very loud, and I said, 'Hey Serena,' and she didn't say nothing. As a matter of fact, she actually just acted like she couldn't hear me and just kept walking straight."
The boxer said that was "strike No. 1, and I let that go, but I was very, very upset. Very upset. I was like, 'Dang, I can't believe my idol acted like that. I would never be like that.'"
Have you ever had a similar experience with someone you admired?
Shields then recounted that she wanted a picture with Williams during the Opening Ceremony, but noticed the tennis star was ignoring others who wanted photos.
She said Duke basketball and Olympic coach Mike Krzyzewski tried to help Shields get a photo with Williams, but she brushed him off too.
"I'm telling you, Coach K went and tapped her, and her and whoever the girls that were with her, they ignored him. She acted like she didn't feel him touch her shoulder. She looked back, saw it was him and literally walked away so fast. And I just was like, 'Who the hell does she think she is?' You know, we're all equal."
Advertisement - story continues below
Shields says she ended up blocking Williams on Instagram and no longer wants to be like her former idol. "Broke my heart," she said.
With Williams out of the picture, Shields now says her role models are Floyd Mayweather Jr., who is a Michigan native like Shields, and Andre Ward, who is also an Olympic gold medalist in boxing.
In addition to being a two-time Olympic gold medalist, Shields is also a two-division world champion. After turning pro following the 2016 Olympics, Shields has captured titles in both the middleweight and super middleweight divisions.
Shields (6-0) will put her WBA and IBF middleweight titles on the line against Christina Hammer (23-0), who is the WBC and WBO middleweight champion, on Nov. 17 in Atlantic City, New Jersey.
Advertisement - story continues below
The winner will be in possession of all four belts, making her the second-ever undisputed women's boxing champion.
Conversation