Commentary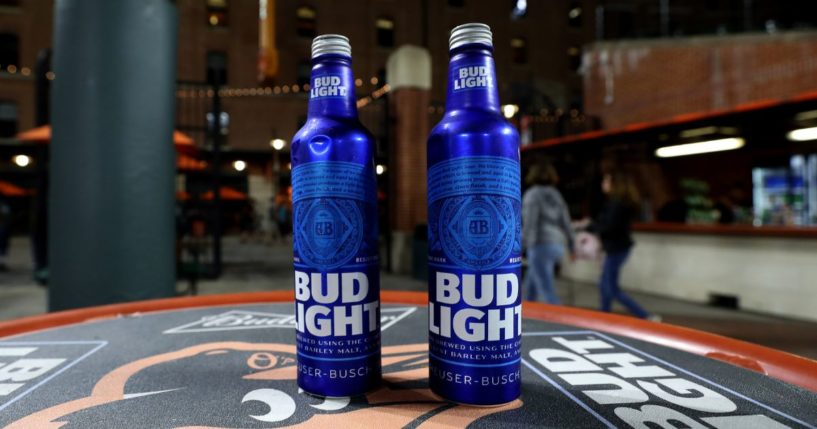 Commentary
Bud Light Issues Statement After Putting New Face on Beer Can - And It Only Makes It Worse for Company
Last week, Anheuser-Busch launched its latest Bud Light beer ad campaign featuring controversial trans activist, Biden supporter, and TikTok presenter Dylan Mulvaney. Now, after the backlash, the company put out a statement that made the whole thing even worse.
Mulvaney has become a major transgender "influencer" with a TikTok channel that boasts 11 million followers and who has been the toast of the left for several months, and now he is helping Anheuser-Busch go woker than woke.
Last month, for instance, actress and TV talk show host Drew Barrymore took a knee before Mulvaney on her syndicated talk show in a slobbering show of support for the trans personality. Barrymore was properly lambasted for her display of subservience to the radical trans agenda.
Advertisement - story continues below
The TikTok star has also been a repeat visitor to President Joe Biden's White House, and even got a chance to sit down with Biden for an interview.
Now, Mulvaney has become the face of the new ultra-woke Bud Light.
"Check out my Instagram story to see how you can enjoy March Madness with Bud Light and maybe win some money too," Mulvaney chortled on an Instagram post on Saturday.
"Happy March Madness!! Just found out this had to do with sports and not just saying it's a crazy month! In celebration of this sports thing," he wrote.
Advertisement - story continues below
Unsurprisingly, Bud Light immediately came under a cloud of condemnation for choosing the trans activist as the face of its beer promotion.
"Bud Light clearly does not understand their target audience," Students for Trump founder Ryan Fournier said Sunday on Twitter.
Would you stop drinking Bud Light over this?
Bud Light clearly does not understand their target audience.

Their beer tastes like sh*t anyways. Good luck with sales!

— Ryan Fournier (@RyanAFournier) April 2, 2023
Anti-trans activist Oli London, who has now rejected the trans movement after he was so horribly impacted by it, slammed the Anheuser-Busch campaign as well as other companies that have pledged money to Mulvaney. London shared a video of the popular influencer dancing in a bathtub while holding a Bud Light.
Advertisement - story continues below
Dylan Mulvaney is now getting paid $10000+ to be the face of brands including:

•BudLight
•Tampax
•Kate Spade
•Kitchen Aid
•Plaza Hotel
•Stella McCartney
•Crest

Mock Women= Get Rewarded #dylanmulvaney #trans #transgender pic.twitter.com/IQHb3qRnFZ

— Oli London (@OliLondonTV) April 2, 2023
.@budlight: the groomer of beers. https://t.co/a2lUEqJDCZ

— Derek Hunter (@derekahunter) April 2, 2023
Advertisement - story continues below
Many others joined to boycott bud Light and Anheuser-Busch products:
The good news is that Bud Light tastes like rain water that someone siphoned out of a tin bucket so it should be very easy to boycott

— Matt Walsh (@MattWalshBlog) April 2, 2023
Who the hell at @budlight thought it was a good idea to make a grown man who dresses like little girls their new spokesperson?

Brands have to stop listening to their woke creative teams and get in touch with their consumer demographics.

— John Cardillo (@johncardillo) April 2, 2023
Advertisement - story continues below
Two theories why @budlight thought it was a good idea to anoint a grown man who dresses like a little girl as spokesperson:
(1) These beer executives are grown men who dress like little girls
(2) They are soldiers marching to the tune of the upside-down woke ideological bubble

— Jeffrey Bentley McConnell (@jeffreybmcconne) April 3, 2023
Now, with the backlash growing, Anheuser-Busch felt the need to defend itself against the calls for a boycott. But that defense is quixotic, to say the least.
Advertisement - story continues below
The company had the very odd explanation that its trans campaign was meant to help "authentically connect with audiences." So… a fake woman is an "authentic" connection with an audience?
"Anheuser-Busch works with hundreds of influencers across our brands as one of many ways to authentically connect with audiences across various demographics and passion points. From time to time we produce unique commemorative cans for fans and for brand influencers, like Dylan Mulvaney. This commemorative can was a gift to celebrate a personal milestone and is not for sale to the general public," an Anheuser-Busch representative told Fox News.
The explanation didn't help, to put it mildly.
Conservative writer Robby Starbuck tweeted, "Message to conservative families from @budlight seems to be: We will encourage and even celebrate the erasure of men and women along with all the values you care about. They've gone totally woke. Will you ever spend your money with them now?"
Advertisement - story continues below
"This isn't a parody. Dylan Mulvaney is now the face of Bud Light," journalist Ian Miles Cheong said, shocked by the whole thing.
I'm not a huge fan of Cancel Culture, but if Dylan Mulvaney is the face of @budlight, then we definitely need to cancel Bud Light.

Who agrees?

— Evan Kilgore 🇺🇸 (@EvanAKilgore) April 2, 2023
Bud Light and Anheuser-Busch are now championing untrammeled mental illness to sell beer, and they want to make transgenderism seem glamorous and acceptable. No wonder there is a backlash.
Conversation