Commentary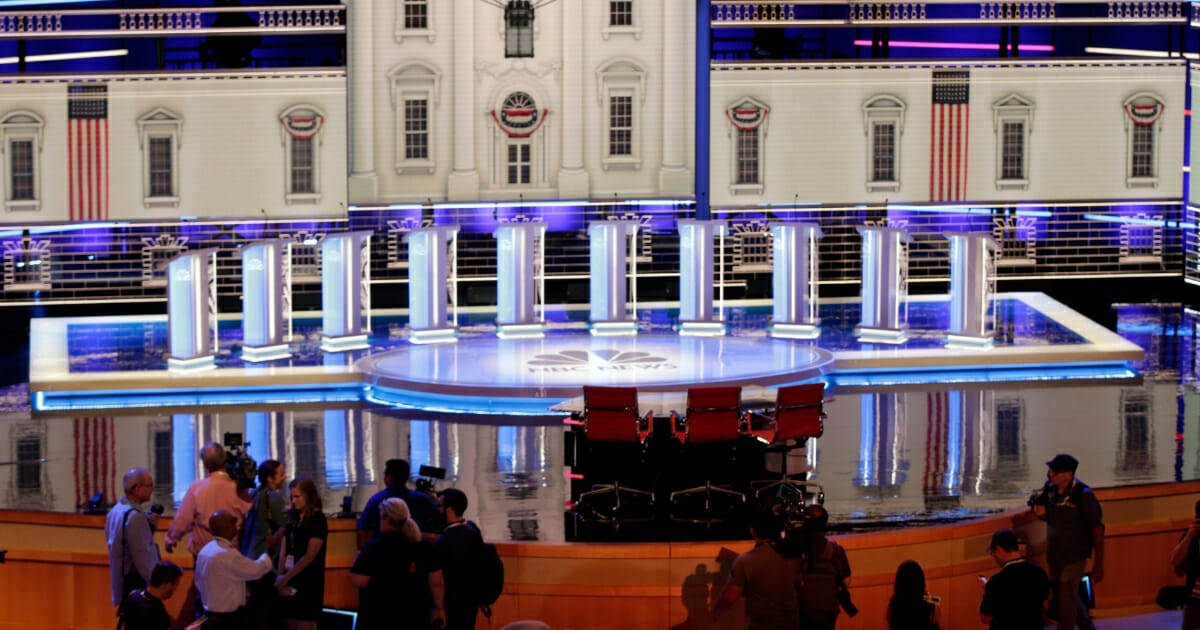 Here's Your Cheat Sheet for the 2019 Democratic Debates
Wednesday night will mark the first time America is able to get an extended look at the exhaustive list of Democratic presidential contenders.
Because Democratic presidential candidates have come out of the woodwork in 2019, 20-candidate debate field is so large that the Democratic National Committee split the first presidential debate in two by holding the rounds on consecutive nights. It should also be noted that some Democrats who've declared their intention to run didn't meet the criteria to appear in the debates.
The DNC announced the debates — which will be held in Miami — can be watched on NBC, MSNBC and Telemundo, and each round will air from 9 to 11 p.m. ET.
Advertisement - story continues below
The first round on Wednesday night is an interesting mix of candidates that includes high-profile senators and lawmakers, along with a former Housing and Urban Development secretary and a governor.
Here is the Wednesday lineup: 
Sen. Elizabeth Warren – Warren is the highest-polling candidate on night one. As a matter of fact, she's the only candidate polling in the top five who's appearing on the first night. Ducking away from controversy, the Massachusetts senator has focused on rolling out policy visions since her campaign's launch, targeting Wall Street and the banking industry.
Sen. Amy Klobuchar – The Minnesotan says she's running on her Midwestern values. On her campaign's website, she says she wants to focus on climate change, political and geographical divides and the changing economy. She also advocates for ending government shutdowns and divisive politics.
Advertisement - story continues below
Beto O'Rourke – A former Texas congressman, O'Rourke grabbed many of the headlines early in the race. He gained prominence by running a closer-than-expected but losing race against Sen. Ted Cruz. His focus is on enacting gun control, ending wars, fighting climate change and making sure women have the right to have abortions.
Rep. Tim Ryan – The Ohio lawmaker is probably the lowest-ranked candidate on night one as far as name recognition is concerned, though he's held office since 2003. His focus is on "rebuilding the American Dream." According to NPR, that includes blue-collar jobs, health care issues and public education. He'll need to make waves at the debate to land in any headlines Thursday.
Will you be watching the Democratic debates?
Gov. Jay Inslee – Washington's governor since 2013 and a U.S. lawmaker before that, Inslee brings a mix of experience to the field. His primary focus is on climate change and creating green jobs. Unfortunately for him, he has a lot of work to do, because according to a CNN poll from March, 73 percent of Democratic voters weren't familiar with him whatsoever.
Mayor Bill de Blasio – One thing this candidate isn't lacking is name recognition. As mayor of New York, de Blasio has spent much of his campaign time railing against the Trump administration, specifically on immigration and climate issues. It's not wrong to assume de Blasio will attempt to make a splash in the first debate in order to boost his dismal polling numbers.
Rep. Tulsi Gabbard – The Hawaii congresswoman — who's also the first female combat veteran to run for president, according to the Miami Herald — wants to focus on ending foreign wars and spending the money on America instead. In a June 21 tweet, she said going to war with Iran is "highly likely" unless the president "swallows his pride & returns to the Iran nuclear agreement he tore up."
Advertisement - story continues below
John Delaney – A former congressman from Maryland, Delaney is another relatively unknown candidate in the field, though he's spent nearly two years campaigning in early voting states. Some liberal circles weren't thrilled when he went against the grain in opposition to "Medicare for all." In April, he (unsuccessfully) called on everyone to unfollow the president on Twitter.
Julián Castro – The former HUD secretary under President Barack Obama, Castro is focused on welcoming immigrants to America, lowering student debt and more respect for veterans. According to Vox, the candidate also wants to remove lead from water supplies and increase access to affordable housing. Given his low polling numbers, he'll need to break out Wednesday night to stand a chance.
Sen. Cory Booker – The New Jersey senator has shown he's all about getting media attention. His campaign is focused on LGBTQ rights and criminal justice reforms. According to his campaign website, in 2019 Booker reintroduced a bill that would legalize marijuana on a federal level. He has also joined many Democrats in calling for President Donald Trump's impeachment.
Here is the Thursday night lineup:
Advertisement - story continues below
Sen. Michael Bennet – Another unknown in the large field of Democratic candidates, Bennet has represented Colorado in the Senate since 2009. He's focused on fixing what he perceives as a broken political system in Washington, for which he blames Senate Majority Leader Mitch McConnell. He's also against spending American money on foreign wars.
Andrew Yang – With dismal polling numbers and virtually zero name recognition outside of the tech sector, Yang, a startup investor, is running on a "universal income" model that would provide each American adult with $1,000 per month for simply existing. The plan, in his eyes, would combat the rise of automation.
Sen. Bernie Sanders – No introduction is needed here. The Vermont independent is all about socialism and is strongly anti-Trump. He recently made headlines by announcing he would end all student loan debt, a tactic — some called it a "bribe" — to boost his already impressively large millennial base.
Rep. Eric Swalwell – The California lawmaker is laser-focused on gun control, specifically a ban on what he calls "assault weapons." Swalwell also has called for a national gun buy-back program. He barely made the cut for the debates after finally hitting 1 percent in three national polls in April. He'll have a tremendous amount of work to do if he wants even a remote chance at advancing his position in the crowded pack.
Advertisement - story continues below
Marianne Williamson – What Democratic debate would be complete without a "spiritual guru" on the stage? Williamson, who barely registers in any poll, is running on a "Think. Love. Participate." ticket. According to The Atlantic, she wants to create a federal "Department of Peace." Though she has no political experience to speak of, she unsuccessfully ran in 2014 for a Los Angeles-area House seat.
John Hickenlooper – The former governor of Colorado grabbed some attention with a warning to Democrats about getting too close to socialism, saying the move would mean an election victory for Trump. One of the few centrists in the pack, Hickenlooper believes pragmatists know how to get big things done.
Sen. Kamala Harris – The California senator is campaigning on her vision to be an "advocate for the voiceless and vulnerable." The message relates to her accusation that Trump is only looking out for the wealthy and that everyday Americans aren't being heard. That's presumably why her campaign slogan is "for the people." According to Real Clear Politics, Harris is polling in fourth place nationally, making her a strong contender.
Sen. Kirsten Gillibrand – The New York senator has managed to make the news but has struggled to gain any traction in national polling. Without a doubt, her primary campaign focus is on women's rights and families. The pro-immigration senator has been vocally against Trump's approach to securing the border, invoking the word "racism" on her campaign website. She also wants to create a public finance system to get rid of "dark money" in Washington.
Advertisement - story continues below
Joe Biden – The certified leader of the pack. The former vice president and Delaware senator hasn't really had to do much since announcing his intentions, as he dominates the polls virtually without even trying. He recently claimed he would "cure cancer" if elected, which was met with criticism from all sides. Biden remains the favorite to grab the nomination, which would set up a marquee general election battle between him and Trump.
Mayor Pete Buttigieg – He used to be a virtually unknown mayor of the small city of South Bend, Indiana. But 37-year-old Buttigieg was able to secure a huge boost in name recognition over the past few months, thanks in part to a Fox News town hall. If elected, he would be the first openly gay president. Buttigieg is focused on health care, racial justice, climate change and higher education.
The first round of Democratic presidential debates will undoubtedly weed out the wannabes from the pack and give all of them, no matter their polling numbers, a chance to steal the spotlight.
And at this point, some of them need that light very badly if they hope to stand a chance at gaining any ground.
Conversation