Sports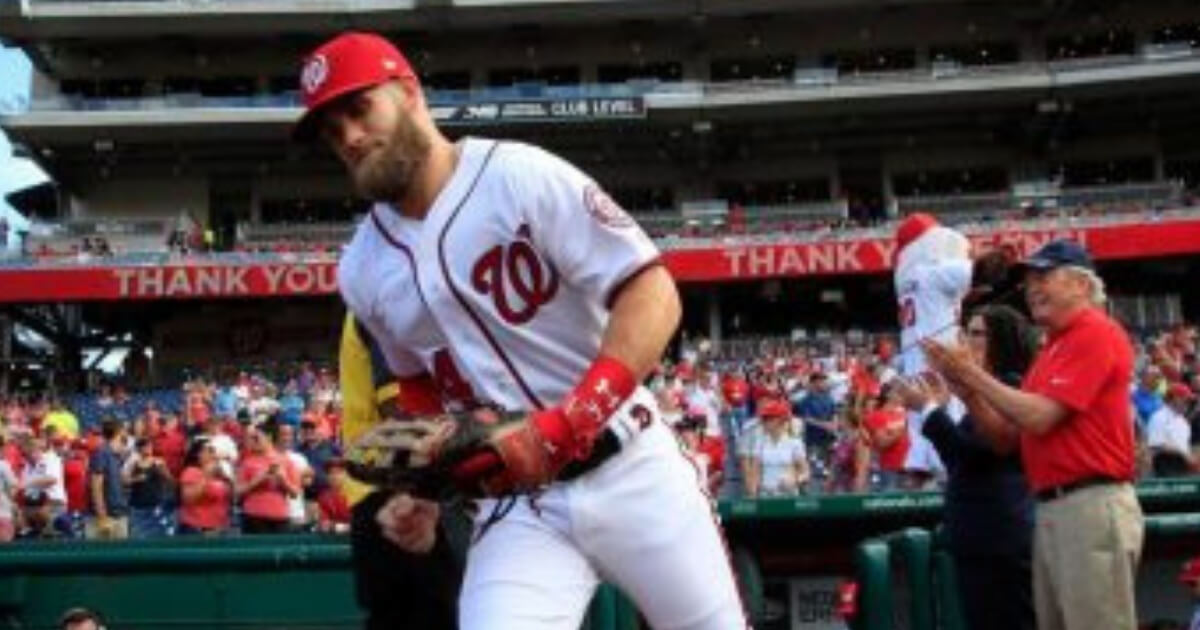 Bryce Harper Gets Emotional Before Potential Final Home Game in Washington
More than 3½ hours before the start of what many expect to be his last game at Nationals Park as a member of the Washington Nationals, Bryce Harper stood at his locker and let his eyes linger on that familiar white jersey with the curly red "W" on the front and his last name on the back.
Then Harper, who can become a free agent at season's end, put on his full uniform, right down to the stirrups — the only player ready that far ahead of the Nationals' home finale against the Miami Marlins on Wednesday.
"It's definitely crazy walking in today and knowing this could be my last game at Nats Park in my white jersey. It's definitely something that you're not sure how you're going to react, and not sure what it's going to be like," said Harper, greeted by a standing ovation for his first at-bat, which ended with a flyout to left.
Advertisement - story continues below
"I knew I wanted to get here and put the 'uni' on right away, and just cherish that moment, if it's going to be the last time or not," he said. "I can't really stand here and say it's going to be 'farewell' or anything like that, because nobody knows. Nobody knows what this offseason holds."
The Nationals, who failed to make the playoffs, close the season with a three-game series at Colorado.
Washington is the only big league club Harper has played for.
"This is my home. This is my city," said Harper, the only NL player with 100 RBIs, 100 runs and 100 walks in 2018. "Being able to come here — of course I root for the Golden Knights and I root for Duke and I root for the Cowboys and things like that — but I'm a Washington National."
Advertisement - story continues below
They drafted him No. 1 overall at age 17 in 2010, then called him up to the majors at 19. He was the NL Rookie of the Year in 2012, then a unanimous selection as NL MVP in 2015.
A team that lost 100 games in a season twice before Harper came aboard won four NL East titles with the slugger (although never won a playoff series).
Is this Bryce Harper's final season with the Nationals?
He sparked raucous celebrations at his home stadium when he won the Home Run Derby during All-Star weekend this July.
"It's like I'm standing here like a 35-year old, but I'm only 25. So it's the first time going through something like this, of course. I've never done it in my life — possibly playing my last game somewhere, anything like that, and it really means something to me," Harper said.
The outfielder joins Los Angeles Dodgers infielder Manny Machado as the jewels of the upcoming free-agent class.
Advertisement - story continues below
Asked what it would take for him to return to Washington, Harper said: "I've got to know if I'm in" the team's plans.
"Everybody knows what could possibly happen," he added. "I could be out of here or I could be back."
Needless to say, folks such as Nationals manager Dave Martinez and Harper's teammates would prefer the latter.
"He's got an unbelievable future ahead of him. Hopefully it's here with the Nationals. We all hope for that," said Martinez, the rookie skipper whose team entered Wednesday with an 80-78 record. "What he's meant for the city — if you take a look around the stadium and see how many number 34's kids wear and fans wear, that should tell you everything."
Advertisement - story continues below
First baseman Ryan Zimmerman, the first player drafted by the Nationals after the franchise moved from Montreal for the 2005 season, believes Harper would like to remain.
"I don't think that's in question, at all. If you talk to him about D.C. and this organization, how comfortable he feels here and what kind of team I think he feels we're going to have, I don't think it's a matter of him wanting to stay. It's about economics," Zimmerman said. "But he's earned the right to go out and make as much money as he possibly can. … He deserves to get every penny that he can get. Hopefully it's here. Who knows?"
As Harper wrapped up his lengthy and wistful pregame session with reporters, outfielder Adam Eaton shuffled into the clubhouse.
Eaton sounded genuinely surprised to see the slugger dressed to play at that hour.
Advertisement - story continues below
"Did we have a doubleheader today?" Eaton teased. "Hey, yo, you ready to go or what?"
Until it's been determined, Harper's 2019 destination will be the talk of baseball.
The Western Journal has reviewed this Associated Press story and may have altered it prior to publication to ensure that it meets our editorial standards.
Conversation