Commentary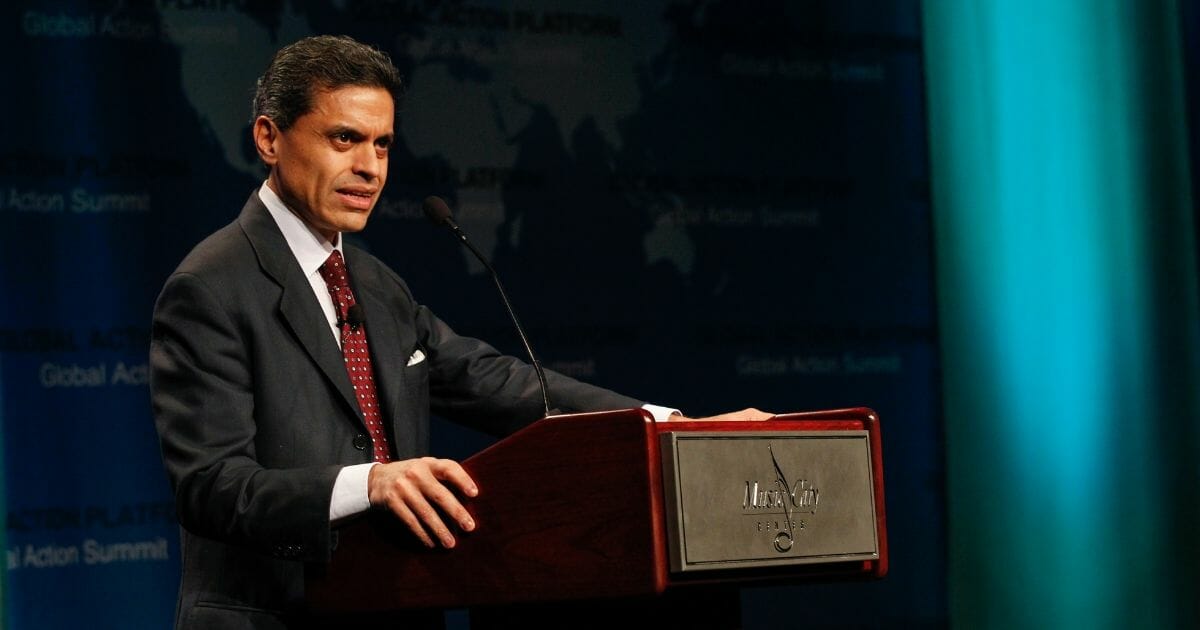 CNN Analyst Admits Trump is Right About Immigration: 'It Pains Me to Say This'
Stop the presses and mark the date on the calendar, because history has just been made: A liberal CNN analyst just admitted that President Donald Trump might be right about something.
On Sunday, Fareed Zakaria begrudgingly admitted that the president had a point about the broken asylum system, which is part of the ongoing immigration problem. The Indian-born journalist is no fan of conservatives and certainly not of Trump, making his statement a bit of a surprise.
"It pains me to say this, but he is right, that the United States faces a crisis with its asylum system," Zakaria said.
Advertisement - story continues below
The commentator's use of the word "crisis" to describe the immigration problem is also noteworthy, considering how much of the establishment media have refused to use the term and even mocked Republicans for worrying about the border. CNN's own Don Lemon, for example, declared that there was no crisis during a recent rant.
But it seems reality has hit Zakaria square in the face. The host of "Fareed Zakaria GPS" pointed out what conservatives have been saying for months: Asylum was never meant to be a catch-all for every migrant who wanted to enter the United States, and is now being abused by migrants who are after economic benefits.
"A much larger fix is needed. The criteria for asylum need to be rewritten and substantially tightened," the CNN journalist admitted, according to The Daily Caller. "These looser criteria coupled with the reality that this is a safe way to enter the U.S. have made the asylum system easy to abuse."
Advertisement - story continues below
As we've already covered, there are indications that some migrants are using false stories or even traveling with children who are not theirs in order to leverage the asylum system and cross the border. The situation has become so bad that even CNN has finally acknowledged it.
"Since 2014 the flow of asylum seekers into the United States has skyrocketed," Zakaria explained. "Last year, immigration courts received 162,000 asylum claims; a 240% increase from 2014. The result is a staggering backlog with more than 300,000 asylum cases pending and the average immigration case has been pending for more than 700 days."
Should the U.S. revamp its asylum system?
Why? The reason is likely that foreigners figured out that the asylum system was a sort of "backdoor" in America, despite the fact that it was intended to be used in relatively rare cases.
"Some applicants for asylum have suspiciously similar stories using identical phrases. Many simply use the system to enter the U.S. and then melt into the shadows or gain a work permit while their application is pending," Zakaria said.
"Asylum is meant to be granted to a very small number of people in extreme circumstances, not as a substitute for the process of immigration itself," he added. "Yet, the two have gotten mixed up."
Advertisement - story continues below
And while frequently hysterical Democrats like Alexandria Ocasio-Cortez have attacked the use of detention facilities and called for the dissolution of ICE, the CNN journalist pointed out that this emotional rhetoric ignored the underlying problems which still needed to be solved.
"Democrats have spent most of their efforts on this topic, assailing the Trump administration for its heartlessness," he said, according to Fox News.
"Fine. But that does not address the roots of this genuine crisis," Zakaria continued. "If things continue to spiral downward and America's southern border seems out of control, Trump's tough rhetoric and hard-line stance will become increasingly attractive to the public."
In other words, leftists like AOC can cry all they want, but that does nothing to actually fix the border crisis. Illegal immigrants are still coming en masse, the border is being overwhelmed, and handing out endless benefits as so many liberals want to do is not a tenable solution.
Advertisement - story continues below
It's significant that a top CNN journalist has named the crisis for what it is. Trump has once again out-maneuvered the shrieking left, and all he had to do was tell the blunt truth about what was happening along the border.
Conversation