News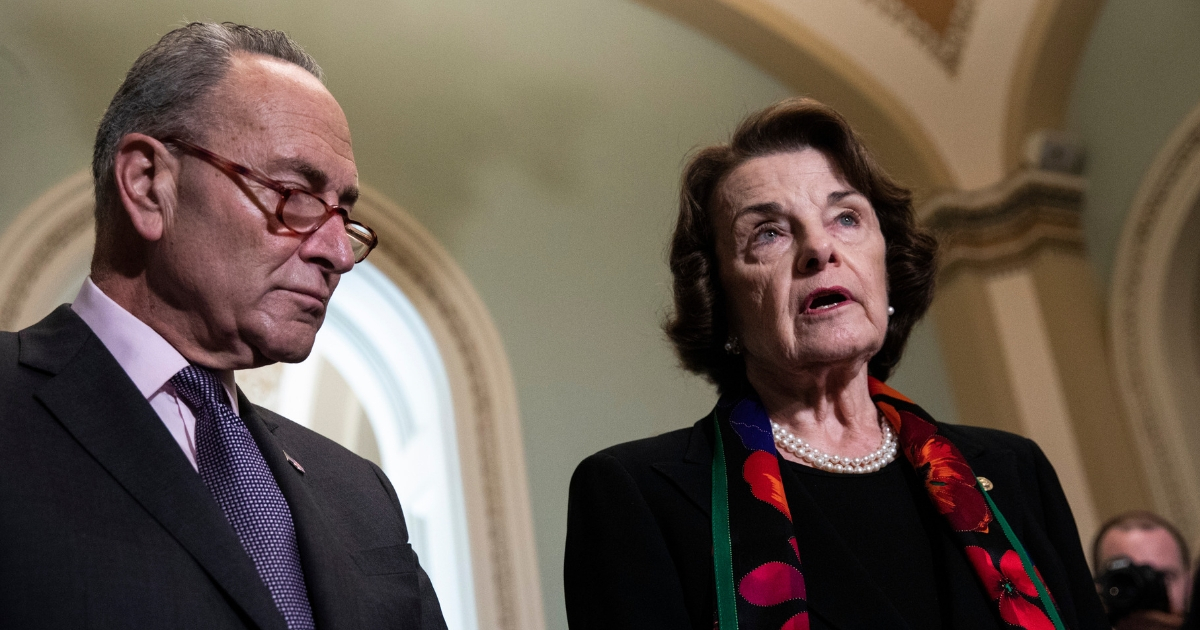 Democratic Senators Complain About FBI Investigation as Report Comes Back Clean
Senate Democrats came out in force Thursday against the FBI investigation into Supreme Court nominee Brett Kavanaugh following the report's lack of evidence to corroborate Christine Blasey Ford's claim of sexual misconduct.
Calling the report a "product of an incomplete investigation," the Senate Judiciary Committee's ranking member, Sen. Dianne Feinstein of California, scolded the White House for supposedly tying the FBI's hands.
"The most notable part of this report is what's not in it. As we noted by the White House, the FBI did not interview Brett Kavanaugh, nor did the FBI interview Dr. Blasey Ford," Feinstein said. "It now appears (the White House) blocked the FBI from doing its job."
Advertisement - story continues below
"We had many fears that this was a very limited process that would constrain the FBI from getting all the facts," Senate Minority Leader Chuck Schumer of New York said, reiterating Feinstein's remarks. "Having received a thorough briefing on the documents, those fears have been realized."
Happening now: @SenSchumer and @SenFeinstein react to the staff briefing on the FBI's update to Judge Kavanaugh's background check. https://t.co/No9vIXCfbZ

— Senate Democrats (@SenateDems) October 4, 2018
Two of the rumored 2020 Democratic presidential hopefuls also quickly denounced the FBI report.
Sen. Elizabeth Warren of Massachusetts called the investigation "a complete sham," while Sen. Kamala Harris of California argued that the report "is entirely incomplete and insufficient."
Advertisement - story continues below
Sen. Ron Wyden of Oregon called the investigation a "whitewash" and accused the Senate of "committing gross negligence" if Kavanaugh is confirmed to the Supreme Court.
Meanwhile, Sen. Richard Blumenthal of Connecticut referred to the investigation as "a cover-up" that was "straitjacketed by the White House."
It's not the Republicans. It's the FBI. You asked for an investigation. Don't knock it because it didn't get the political results you wanted. Nice try!

— Rich Boland (@RichBoland01) October 4, 2018
Senate Majority Leader Mitch McConnell predicted the reactions at the beginning of the week, saying Democrats would not be satisfied with the FBI's investigation regardless of the outcome.
"The Democratic leader and the ranking Democrat on the (Senate Judiciary) Committee both said recently that an FBI investigation can be completed in less than a week," McConnell said Monday. "I'd bet almost anything that after it runs its course in the next few days, we will then be treated to a lecture that anything short of a totally unbounded fishing expedition of indefinite duration is too limited or too arbitrary or somehow insufficient."
Advertisement - story continues below
Content created by The Daily Caller News Foundation is available without charge to any eligible news publisher that can provide a large audience. For licensing opportunities of our original content, please contact licensing@dailycallernewsfoundation.org.
A version of this article appeared on The Daily Caller News Foundation website.
Conversation