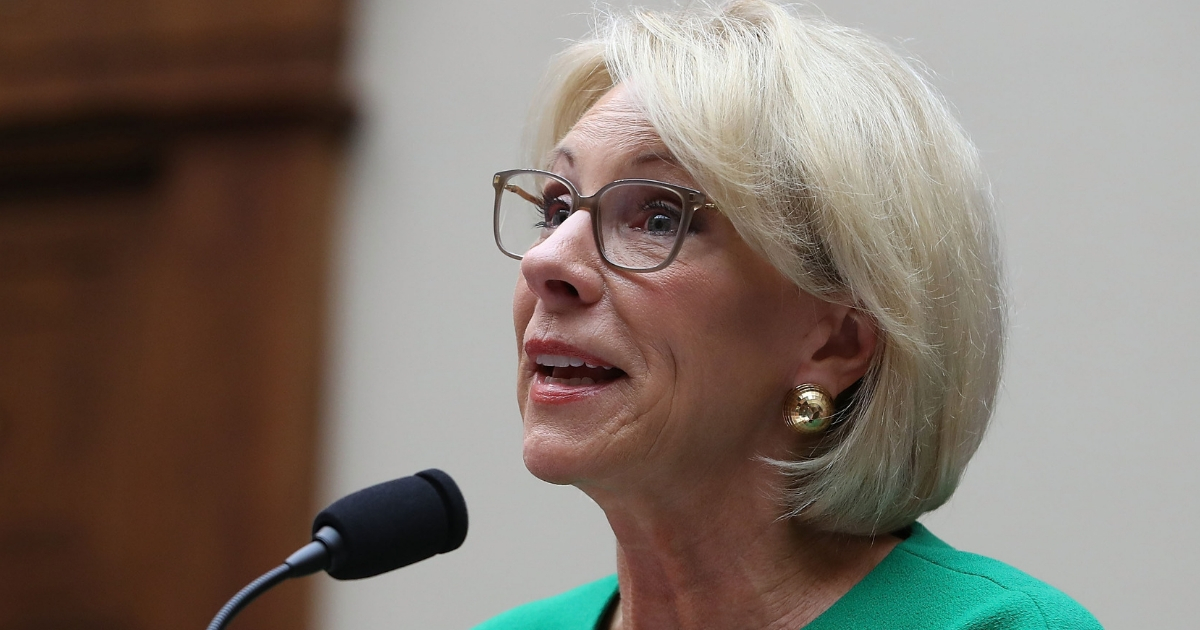 DeVos Warns Rising Student Debt Is 'Looming Crisis'
U.S. Secretary of Education Betsy DeVos warned of the rising student debt as a "looming crisis" in remarks given at the annual Federal Student Aid Training Conference in Atlanta Tuesday.
"Our higher ed system is the envy of the world, but if we, as a country, do not make important policy changes in the way we distribute, administer, and manage federal student loans, the program on which so many students rely will be in serious jeopardy," DeVos said in her speech at FSA, according to a transcript from the Department of Education.
The FSA is a part of the DOE that is responsible for the student loans given by the government, The Associated Press reported Tuesday.
Advertisement - story continues below
DeVos added since the FSA's establishment in 1965 to 2007 saw the student loan balance grow to 500 billion dollars.
The balance went to one trillion dollars between 2007 and 2013. America's student loan balance is currently $1.5 trillion.
"As for FSA's portfolio today, too many loans are either delinquent, in default, or are plans on which students are paying so little, their loan balance continues to grow," DeVos said.
"Ultimately, 43 percent of all loans are currently considered 'in distress.'"
Advertisement - story continues below
DeVos blamed former President Barack Obama's administration for taking over federal student loans in 2010.
The move in 2010 stopped private banks from giving out subsidized student loans, according to The AP.
Do you think rising student debt is becoming a crisis?
A little over 50 percent of Republicans and 82 percent of Democrats supported the government overseeing student loans, Reuters reported in 2010.
"When the federal government loans more taxpayer money, schools raise their rates," DeVos said. "FSA financing accounts for 80 percent of the actual tuition and fee revenue received by schools."
The majority of the loan growth is due to students taking on more debt rather than the increased number of borrowers, DeVos's speech said.
Advertisement - story continues below
The average amount of debt owed by public and private nonprofit university students was close to $29,000 in 2017, according to nonprofit education research and advocacy organization The Institute for College Access & Success.
DeVos wants solutions that address "core principles" like "innovation" people being able to go after education that suits their needs and more accessible information for policymakers, students, parents and taxpayers, according to the press release.
A version of this article appeared on The Daily Caller News Foundation website.
Conversation