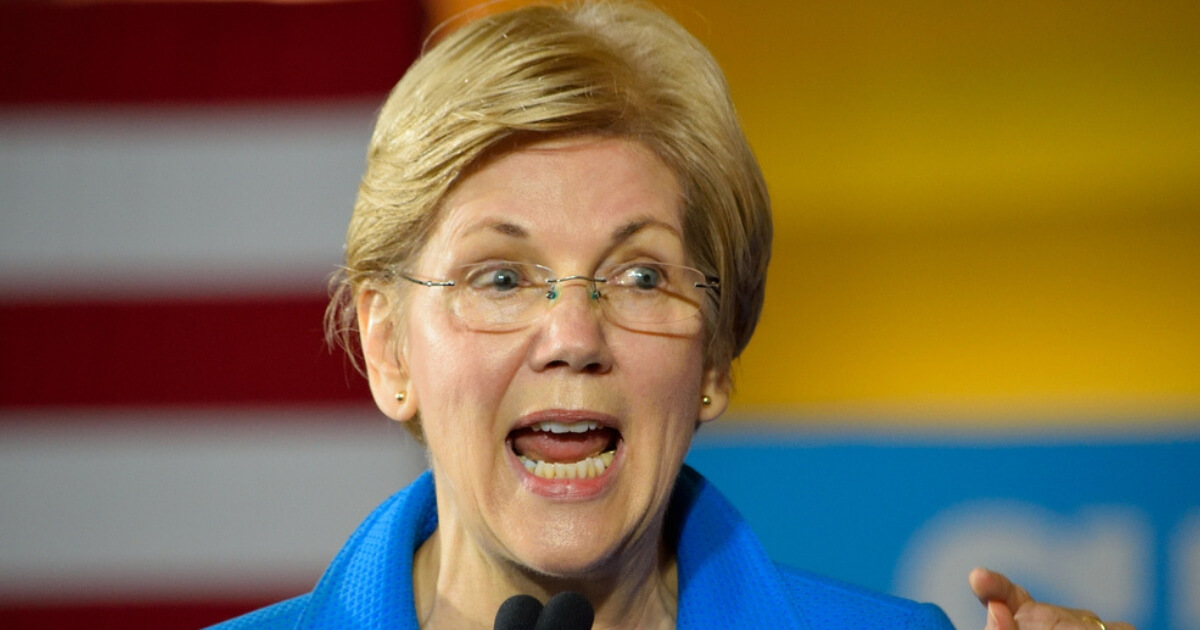 Elizabeth Warren Drastically Changes Stance on 2020 White House Run
Massachusetts Democrat Elizabeth Warren, who this summer she had no political plans beyond defending her U.S. Senate seat, on Saturday made her first public comments that she is considering running for president in 2020.
Warren was speaking at a town hall meeting in Holyoke, Massachusetts as she portrayed Republican support for Supreme Court nominee Brett Kavanaugh in stark gender war terms as "powerful men helping a powerful man make it to an even more powerful position," The New York Times reported, citing a video of the event.
"I watched that and I thought: time's up," she said. "It's time for women to go to Washington and fix our broken government, and that includes a woman at the top."
Advertisement - story continues below
She continued, "So here's what I promise: After Nov. 6, I will take a hard look at running for president. I think we can turn this country around."
It's time for women to go to Washington & fix our broken gov't. That includes a woman at the top. Today at a town hall in Holyoke, Marty, a Springfield teacher, asked where things stand with me running for President in 2020. I told him: after Nov 6th, I'll take a hard look at it. pic.twitter.com/JBRPMFsERf

— Elizabeth Warren (@ewarren) September 29, 2018
Warren has long been considered a possible 2020 candidate, although CBS reported that in August she said she was "not running for president in 2020. I am running for the Senate in 2018. The important fight coming up right now is the midterm election."
Warren's comments Saturday were used by her Senate foe as a reason for calling upon her to end her re-election campaign.
Advertisement - story continues below
"I am calling on her to drop out of the Senate and pursue her real interest," said Republican candidate Geoff Diehl, according to the Boston Herald.
"This is what we've been saying all along, that she wanted to run for president," he said. "She's been lying to the people of Massachusetts."
Would Elizabeth Warren be the front-runner among Democrats if she decided to run for president?
Warren, who has claimed she has Indian heritage, has been mocked by President Donald Trump as "Pocahontas." He referred to her Saturday during a West Virginia rally, according to The Hill.
"Pocahontas is now considered a conservative in the Democrat party … Pocahontas, Elizabeth Warren she's considered like a conservative person," Trump said. "They've gone crazy. They've gone loco."
During her town hall meeting Saturday, Warren reminded her audience of her implacable hostility toward Trump.
Advertisement - story continues below
"Donald Trump is taking this country in the wrong direction. Working people have taken one punch to the gut after another. And I am worried down to my bones about what Donald Trump is doing to our democracy," she said. "Washington was broken long before Donald Trump ever got there. But it has gotten a whole lot worse."
The roster of potential Democratic presidential candidates is long, with no front-runner having come forward as of yet. Former Vice President Joe Biden is often mentioned as a possible opponent to Trump, as is Sen. Bernie Sanders. The Vermont independent lost the Democratic nomination in 2016 to Hillary Clinton.
Sens. Cory Booker of New Jersey and Kamala Harris of California, who have both been building a national profile over the past two years, were both active in the Senate Judiciary Committee's protests against Kavanaugh's nomination.
Eric Holder, who served as attorney general under former President Barack Obama, on Friday indicated he is considering a run for the White House, ABC reported.
Advertisement - story continues below
New York Gov. Andrew Cuomo, who turned back a primary challenge form the progressive wing of New York's Democratic Party, has said — like Warren — that he is not seeking the White House in 2020. However, speculation remains rampant that Cuomo will seek to run in 2020 after winning his third term as governor in November, according to the New York Post.
Conversation