Sports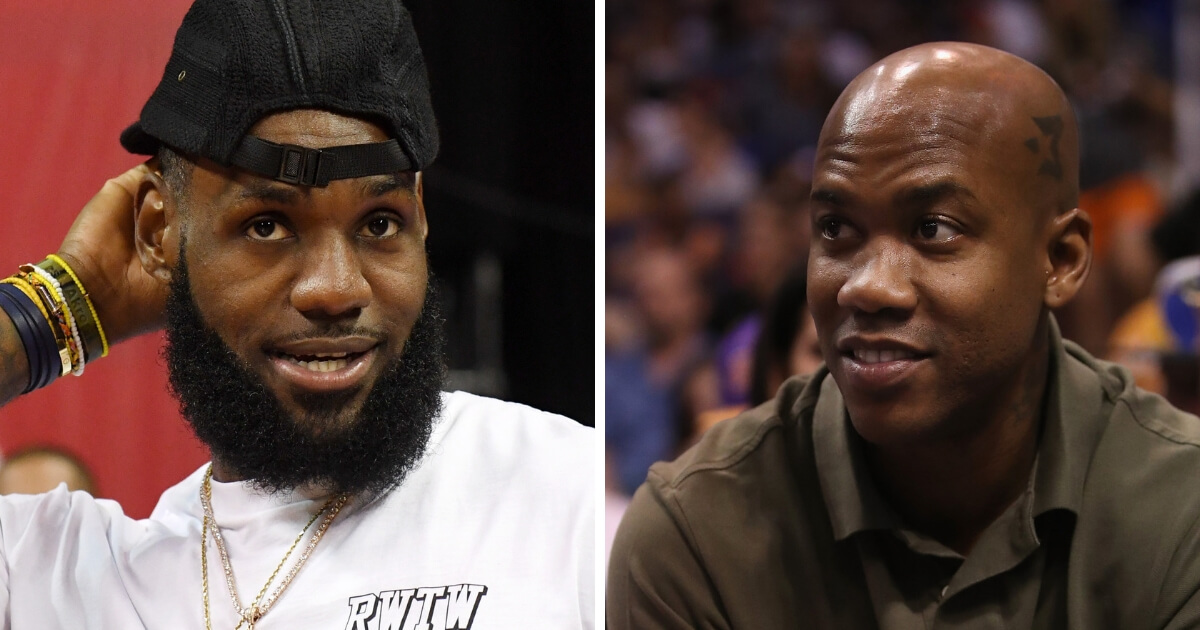 Ex-NBA Star: Duke Freshman 'Is Way Better Than LeBron, It's Not Even Close'
In the great big barbershop that is ex-athletes trying to comment on current prospects, Stephon Marbury just delivered a whopper so big about Duke freshman Zion Williamson that everyone on NBA Twitter got their fix on National Cheeseburger Day.
Marbury said Sunday on Instagram Live that Williamson is "way better than LeBron (James), it's not even close."
"Zion is going to destroy the whole planet. Remember I told you that. … He don't have to touch a basketball and he's better than LeBron James," the two-time NBA All-Star declared.
Advertisement - story continues below
Stephon Marbury already thinks Zion Williamson is BETTER THAN LEBRON ? pic.twitter.com/Ljh6eD8y6t

— Overtime (@overtime) September 17, 2018
Williamson, like James, is a linebacker-sized athletic powerhouse who throws down monster dunks and makes highlight reels.
That, sadly, is where the comparison ends. If spectacular dunking ability were predictive of NBA glory, Harold Miner, Dee Brown and Jeremy Evans would be in the Hall of Fame.
Marbury, piling on, also said that Michael Jordan was better than James because LeBron "can't shoot."
Advertisement - story continues below
Which, excuse me as I type this with one hand after punching a wall thanks to remembering Game 5 of the 2018 first round when LeBron ripped the Indiana Pacers' throats out, is a steaming pile of lies.
Jordan, for his career, shot 49.7 percent from the field and 32.7 from 3 while scoring over 30,000 points.
Is Zion Williamson's ceiling as high as Stephon Marbury says it is?
LeBron has scored over 30,000 points, and because the ball does not generally put itself in the basket, he had to do it by making shots, something he's done at a 50.4 percent clip, including 34.4 percent on 3-pointers, for his career.
Marbury, for what it's worth, is no authority on knowing how to shoot, having hit 43.3 percent of his shots for his career and 32.5 percent of his 3's. At his career pace he'd have had to play another 700 games or so to get to 30,000 points. (He retired from Chinese Basketball Association in February a few weeks before his 41st birthday.)
Twitter, predictably, pounced on his comments.
Advertisement - story continues below
Just wanna know what kind of Drugs Stephon Marbury was using when he said Zion Williamson was "Way better " than LeBron James . Drugs are killing you guys , please wake up

— SithLord™❣ (@LD__30) September 17, 2018
When I read Stephon Marbury tweet abt Zion Williamson being better than MJ and Bron! pic.twitter.com/CbC8MkcBGS

— ©️?️?️©️H Big?™️ (@LamarBigs) September 17, 2018
When I see Zion, I literally see Blake Griffin, one of many high school/college phenoms y'all told me would be better than LeBron/Jordan/Kobe https://t.co/3KgdbUaZk1

— Quenton S. Albertie (@qshironalbertie) September 18, 2018
The last comparison, between Williamson and Blake Griffin, might prove apt, as Williamson's ceiling is "what if Blake's knees never betrayed him?"
Advertisement - story continues below
Make no mistake here, Williamson is a generational talent. He'll be a very good NBA player, especially if he plays a lick of defense.
But "better than LeBron and it's not close"? C'mon, man.
Marbury hasn't exactly been shy in his use of hyperbole before, either.
When his cousin Sebastian Telfair came into the league, Marbury told everyone who would listen that Bassy would be a superstar too.
Advertisement - story continues below
Telfair's career stats: 564 games, 7.4 points per game and 39 percent shooting, including one of the worst seasons shooting the ball in modern NBA history by a non-rookie in 2007, when Telfair started 30 out of 71 games for the Celtics and shot 37.1 percent from the field, helping Boston to go 24-58 and set into motion the events that led to Ray Allen and Kevin Garnett joining the team to win the title the next year.
So maybe let's not put too much stock in "Starbury" as a talent evaluator.
Conversation