Sports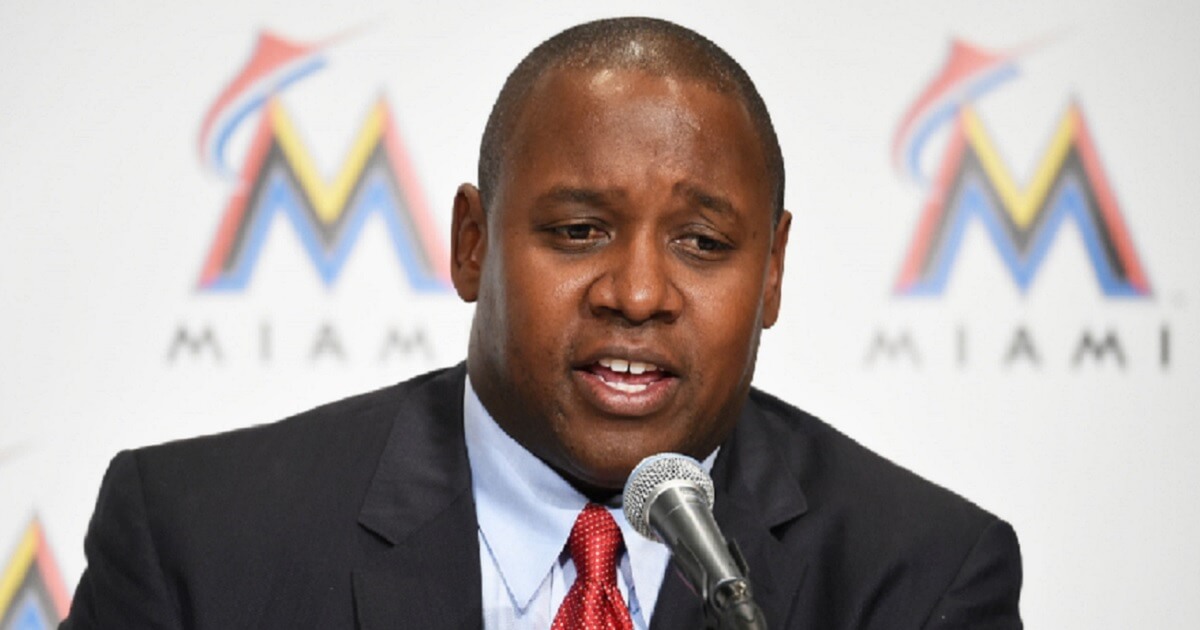 Exec of One of MLB's Worst Teams Begs Fans: 'Give Us a Chance'
The Miami Marlins have a home market full of Cuban-Americans, as a demographic perhaps the biggest baseball fans in the world.
The Marlins also have management so ludicrously inept they'd have trouble selling air conditioners in Miami — in July.
Against this backdrop, the Marlins had a meet-and-greet with fans at their newly remodeled Marlins Park on Saturday, getting a chance to show off to the public and drum up some interest in the local big-league ball club.
Advertisement - story continues below
And according to The Associated Press, the outfield grass was "a worn-out mess," with signs informing those souls from the public who came to "FanFest" that the grass would be replaced "soon."
Which would be understandable in, say, Boston or Cleveland, where rain, snow, and abject winter misery make every homeowner rend garments and gnash teeth when they have to get the lawn presentable again for the HOA after the spring thaw.
But this is Miami, and the dreadful state of grass that hasn't had baseball played on it since September is not a good look, even if the neglect is somewhat understandable with a monster truck rally coming to the stadium next week. The fact remains that you've got to put up good optics for the people who are there in the here and now.
All of the above left Michael Hill, the team's president of baseball operations, just one step removed from holding a cardboard sign and a tin cup outside the stadium saying "will work for gate receipts."
Advertisement - story continues below
"I would tell our fans to just give us a chance," Hill said, according to the AP. "So many people have written off the Marlins and really haven't taken an opportunity to take a deep look at what we're building. When you have a lot to do, it's going to take time and we understand where we're at. But we've been able to add a tremendous amount of talent over the last 18 months."
This, of course, is a bit disingenuous, insofar as the past 18 months included a massive talent fire sale in which Giancarlo Stanton went to the Yankees and JT Realmuto ended up on the Phillies.
Is Miami still a viable MLB market?
But Hill does, on the other hand, have some semblance of a valid point. The Marlins have stocked a farm system previously described as "barren." And it is in the brave new world of baseball's salary structure, where players who are still under team control on rookie contracts or within the salary arbitration period, are seen almost league-wide as far more valuable than the unrestricted free agents who populate the rosters of far richer teams.
It's just hard to tell fans that when your team just went 63-99 and looks to be pretty bad for the short-term future.
"We know where we were," Hill told the AP. "We know where we're going."
Advertisement - story continues below
Pitcher Dan Straily backed up Hill's assertion about the way forward for the Marlins.
"Only one team gets to win the championship every year," Straily, who started 56 games for the Marlins over the past two seasons, told the AP. "I think every year, with every team in baseball, there's a little bit of excitement for everybody to get going. There's always that hope that this could be the year."
And even if that hope dissolves by Memorial Day, Straily isn't completely wrong.
The Marlins, as the AP put it, aren't sure if 2019 is their year…or 2020 or 2021, for that matter.
Advertisement - story continues below
But the Marlins have to do something lest they be seen as a waste of time when they play in a city and an area that is overflowing with other fun things to do both indoors and out that don't involve going to watch a baseball team get their butts kicked night after night in a stadium that — when teams like the Red Sox, Yankees, or Dodgers are in town — feels like a home game for the other team.
Hill has an uphill battle on that front. The Marlins have the worst attendance in baseball and, and other than the similarly troubled Tampa Bay Rays, they hold that position in MLB's attendance cellar by a country mile.
That, in turn, creates a problem in which the Marlins' young talent gets perceived by fans as just playing to audition for ending up on the Yankees or Phillies rather than staying in Miami and becoming a beloved civic icon like Marlins front-office man Derek Jeter is in New York.
Franchise futility isn't even an excuse for not developing that homegrown celebrity, either. Just ask baseball fans in Seattle, who named a street near T-Mobile Park after Edgar Martinez and where Ken Griffey Jr. never has to pay for a meal — and that's for a franchise that hasn't made the playoffs in 17 years.
Advertisement - story continues below
Marlins Manager Don Mattingly — speaking of guys who are well-regarded by Yankees fans — had his own take on the baseball equivalent of the NBA's "trust the Process."
"They're doing what they said: Building the organization from the bottom up," Mattingly said. "You keep acquiring talent. You keep marching down that road that gets you to the point where you are competing for a chance to win a world championship every year. That's the plan. That's the goal. I think anything less than that, you don't accept it."
Whether fans accept it is a different matter. If attendance figures are anything to go by, you'll see more people on South Beach soaking up the sun than at Marlins Park getting their wallets soaked to watch losing baseball and drink overpriced beer.
Conversation