Commentary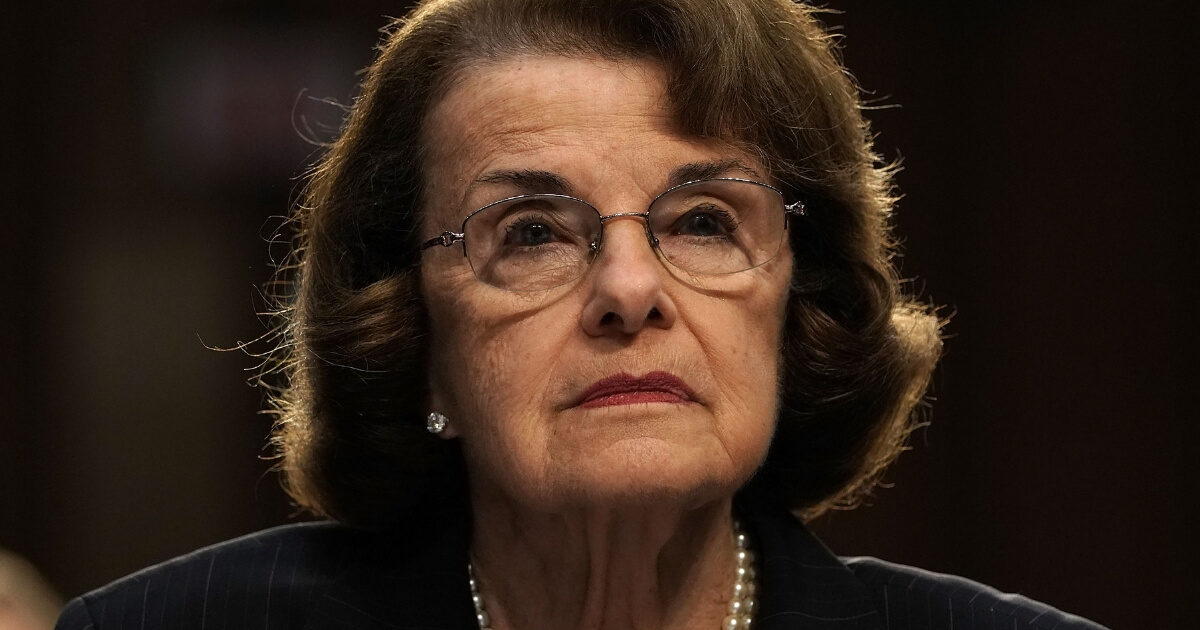 Feinstein Caught in Despicable Kavanaugh Lie? Did She Out Accuser Against Her Wishes?
We now know the identity of Brett Kavanaugh's accuser — much to that accuser's chagrin.
Christine Blasey Ford, a research psychologist in Northern California, claimed to The Washington Post that back in the early 1980s, during their high school years, "Kavanaugh pinned her to a bed on her back and groped her over her clothes, grinding his body against hers and clumsily attempting to pull off her one-piece bathing suit and the clothing she wore over it. When she tried to scream, she said, he put his hand over her mouth."
She says she wrote a letter to her representative, Democrat Anna Eshoo, describing the experience, who forwarded the letter to Sen. Dianne Feinstein in late July.
Advertisement - story continues below
"In the letter, which was read to The Post, Ford described the incident and said she expected her story to be kept confidential. She signed the letter as Christine Blasey, the name she uses professionally," The Post reported.
"Though Ford had contacted The Post, she declined to speak on the record for weeks as she grappled with concerns about what going public would mean for her and her family — and what she said was her duty as a citizen to tell the story."
So, how then did her identity come to be public? Sen. Feinstein isn't taking any of the blame here.
"It has always been Mrs. Ford's decision whether to come forward publicly," the ranking Democrat on the Senate Judiciary Committee said in a statement. "Any woman, sharing an experience involving sexual assault — particularly when it involves a politically connected man with influence authority and power — is extraordinarily difficult.
Advertisement - story continues below
Feinstein speaks pic.twitter.com/zekUVvqtJt

— Sam Stein (@samstein) September 16, 2018
"From the outset, I have believed these allegations were extremely serious and bear heavily on Judge Kavanaugh's character. However, as we have seen over the past few days, they also come at a price for the victim. I hope the attaks and shaming of her will stop and this will be treated with the seriousness it deserves.
Do you think that Dianne Feinstein is responsible for Christine Blasey Ford's outing?
"I support Mrs. Ford's decision to share her story, and now that she has, it is in the hands of the FBI to conduct an investigation. This should happen before the Senate moves forward on this nominee."
Except that the FBI has already passed on an investigation, merely adding the information to Kavanaugh's file. They were wholly aware of the identity of the individual and the nature of the accusations, as well.
For that matter, the statement that Sen. Feinstein has "believed these allegations were extremely serious and bear heavily on Judge Kavanaugh's character" isn't necessarily borne out by her behavior. She refused to bring the letter up when she met with Kavanaugh and only mentioned it when it became clear there was no other way to derail the nomination.
Advertisement - story continues below
That puts the onus here on Feinstein. Her FBI stunt and vague statement is what triggered Ford's outing and it's difficult to frame this as anything more than politics. The preponderance of Feinstein's statement — particularly the claim that "It has always been Mrs. Ford's decision whether to come forward publicly" — is a lie.
Even though she said in her infamous original statement about the letter that the "individual strongly requested confidentiality, declined to come forward or press the matter further, and I have honored that decision," she should have obviously realized the implications behind using Ford as a political pawn and what that meant for her anonymity. She went forward with this anyway.
The Post article seems to confirm this: "Ford had begun to fear she would be exposed, particularly after a BuzzFeed reporter visited her at her home and tried to speak to her as she was leaving a classroom where she teaches graduate students. Another reporter called her colleagues to ask about her."
Then each side dug in. The Republican chairman of the Judiciary Committee, Sen. Charles Grassley of Iowa, produced a letter with 65 women who attended high school with Kavanaugh that vouched for his character and said he "behaved honorably and treated women with respect." The left is now using the existence of this letter as proof of his guilt. In short, this was everything Ford says she wanted to avoid, proving women are totally disposable to the left when politics are at stake.
Advertisement - story continues below
It remains to see just where this goes. The fact that the FBI has rejected investigating this is pretty strong evidence that this is a path to nowhere for Democrats. Instead, expect to see it used as a cudgel in the coming years, the same way Anita Hill was for Clarence Thomas. In that case, however, at least you could say the alleged victim came forward on her own accord. Christine Blasey Ford didn't, but was given no choice in the matter — all thanks to Dianne Feinstein.
Conversation