News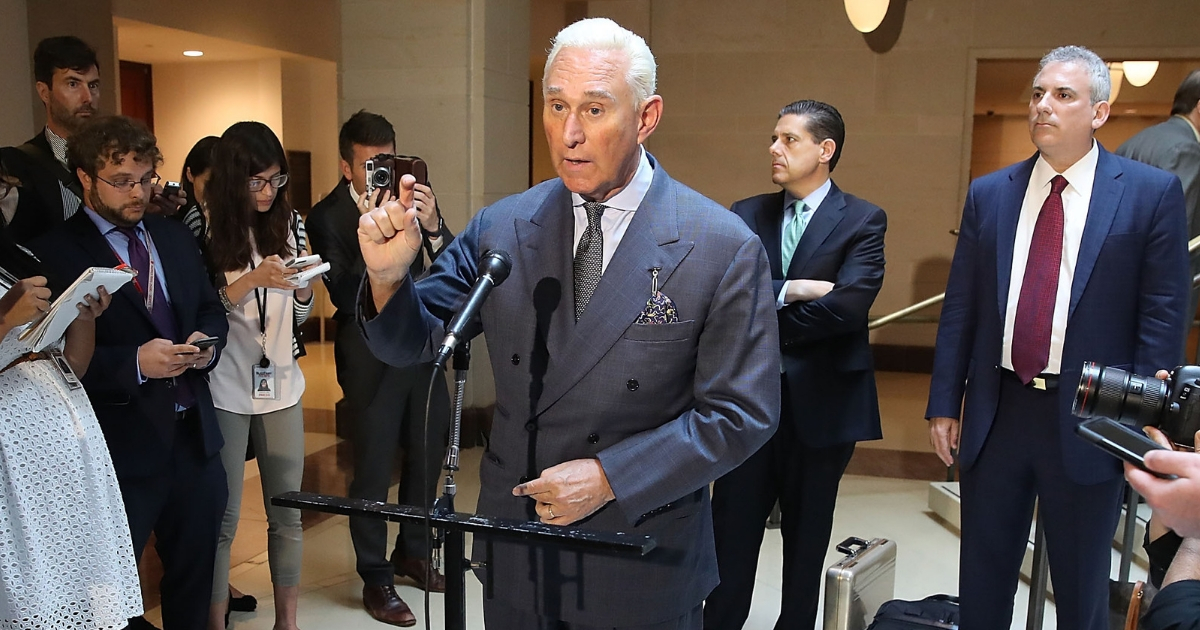 Filmmaker Backed Up Roger Stone's Claims in Mueller Grand Jury Testimony
An associate of Roger Stone's has provided the FBI and the special counsel's office with more than a year's worth of emails and text messages he exchanged with the Trump confidant and Randy Credico, the left-wing comedian who Stone claims was his source of information about WikiLeaks' plans during the 2016 campaign.
Filmmaker David Lugo, who has worked with both Stone and Credico, told The Daily Caller News Foundation that he provided the communications to the FBI during an interview at his home on Oct. 11.
He also appeared before a federal grand jury being used in the special counsel's investigation on Oct. 19.
Advertisement - story continues below
Lugo said he testified in support of Stone's claim that Credico was his conduit of sorts to WikiLeaks. He also testified that Credico made threatening remarks to him over text message and email in what he claims was an intimidation campaign.
Lugo, who co-produced Oliver Stone's 2015 film about former NSA official Bill Binney, "A Good American," told the grand jury that Credico "threatened to put a hole in my head." He added in his testimony, which was first reported by The Washington Post, that he did not feel intimidated by Credico's statement.
Special Counsel Robert Mueller's interest in speaking with Lugo suggests that the investigation continues to focus intensely on Stone, Credico, and WikiLeaks.
Mueller is investigating what Stone knew about WikiLeaks' plans to release emails stolen from Clinton campaign chairman John Podesta.
Advertisement - story continues below
Stone has said he had no prior knowledge of the content, source or specific timing of the Podesta dump, which happened on Oct. 7, 2016. He has claimed that Credico merely confirmed that WikiLeaks founder Julian Assange was planning to release information detrimental to the Clinton campaign.
Stone also told the House Intelligence Committee on Oct. 13, 2017, that Credico was a confirming source for him about WikiLeaks.
Stone has also said that Credico, who supported Bernie Sanders and Jill Stein, told him that the release would be a "bombshell" that would "roil" the campaign.
Credico's response to Stone's claim has been all over the map, though he told CNN that he testified to Mueller's grand jury on Sept. 7 that he was not Stone's back channel.
Lugo said that his testimony contradicted Credico's denials.
Advertisement - story continues below
He told TheDCNF that he told the FBI and the grand jury about a conversation he had with Credico on May 12, 2017, just days after President Donald Trump fired James Comey as FBI director.
"I'm the guy who connected Roger with the WikiLeaks stuff," Lugo recalled Credico saying. Lugo noted that the conversation occurred months before Credico entered the national spotlight.
Credico acknowledged in text messages with Lugo that he did tell Lugo that he was the Stone-Assange contact. But Credico offered an explanation in the text messages, claiming that he was embellishing because he believed that Stone was going to identify him as the "in between person" to Assange.
"The reason why I told you on May 17th [sic] 2017 because Roger had told me that he's going to name me as in between person," he said in a message to Lugo on April 12.
Advertisement - story continues below
Credico acknowledged in another text message that he told Lugo that he was Stone's conduit.
"I knew Rodger [sic] was going to name me sooner or later and so I told you that I'm the so-called back Channel," Credico wrote on May 29.
Credico went on to claim that he told reporters that he told Stone to track Assange's tweets "so he can say that that would make me a confirming source."
Advertisement - story continues below
Credico also asserted that he did not believe that Stone had committed perjury before the House Intelligence panel.
"His testimony is so vague there's no way. Nothing's going to happen to him his testimony was vague," he wrote, according to the texts, which Lugo provided to TheDCNF and investigators.
Additionally, on April 28, Credico showed up at the White House Correspondent's Dinner and seemingly embraced his notoriety as the link between Stone and Assange.
Advertisement - story continues below
He filmed himself telling attendees that he was "the guy that was the in-between guy between Assange and Roger Stone."
Lugo said that his interactions with the FBI and the grand jury led him to believe that prosecutors are investigating witness intimidation or obstruction of justice.
He said that investigators focused on an article that Lugo wrote for the blog Artvoice on May 29. In that article, Lugo recounted Credico's claim that he was Stone's backchannel.
"That was the one thing the FBI kept talking about," said Lugo. He also said investigators asked him: "Was Roger making you say these things?"
Advertisement - story continues below
Lugo said he denied being pressured and said he asked Stone to help him write the article. He provided emails to the FBI that he said supports his discussions with Stone about the article.
An attorney for Credico declined TheDCNF's request for comment, citing Credico's previous public statements. But in a comment to The Post, Credico asserted that Stone had "put [Nixon and Lugo] up to this."
Lugo "would die for Rodger [sic] Stone," he told The Post.
Reached for a response, Lugo said he has no desire to protect Stone just for Stone's sake.
Advertisement - story continues below
"What Randy is doing is a lie. He's tearing our country apart all because he's afraid of being associated with Roger Stone," Lugo told TheDCNF.
Stone, who serves as The Daily Caller's men's fashion editor, told TheDCNF that he did not instruct Lugo to write the Artvoice article. He said that Lugo broached the idea with him after he saw Credico appear on MSNBC.
"Maybe you should write something," Stone said he told Lugo.
Lugo speculated that he wound up on the FBI's radar because of Credico's grand jury testimony.
Advertisement - story continues below
He said that reporters from The Wall Street Journal and CNN unsolicitedly contacted him about Credico just days before the FBI showed up at his door.
In other correspondence, Credico and Lugo accuse each other of lying and intimidation tactics.
Lugo, who has a wife, accused Credico of being a homophobe and a hypocrite, given his public claims to be a progressive.
Jerome Corsi, a journalist who corresponded with Stone, also reportedly appeared before Mueller's grand jury on Friday. Stone claims that Corsi was his inspiration for an Aug. 21, 2016, tweet in which he claimed "it will soon [be] the Podesta's time in the barrel."
Advertisement - story continues below
Stone's critics have cited the tweet as potential evidence that he knew that WikiLeaks was going to release Podesta's pilfered emails, which WikiLeaks began publishing on Oct. 7, 2016.
But Stone has repeatedly claimed that his tweet was about John Podesta and his lobbyist brother, Tony. He's said that Corsi had told him about research on the Podesta's foreign lobbying activities. Stone claims that he instructed Corsi to craft a memo laying out his research on the Podesta brothers.
Stone also made remarks during the campaign that suggested he was in contact with Assange, who is living under asylum in the Ecuadoran embassy in London.
"I actually have communicated with Assange. I believe the next tranche of his documents pertain to the Clinton Foundation, but there's no telling what the October surprise may be," he told a group of Republicans in Florida on Aug. 8, 2016.
Advertisement - story continues below
Stone now claims that he was hyping his actual link to Assange. He has also released an email he was forwarded on July 25, 2016, in which Fox News reporter James Rosen wrote that he was told that WikiLeaks would release Clinton Foundation documents.
Another Stone associate, Tyler Nixon, testified to Mueller's grand jury last Friday, TheDCNF first reported. Nixon, an attorney for Stone, said that he also testified in support of Stone.
Nixon said he testified that he was in a conversation with Stone and Credico in mid-November 2017 in which Credico suggested that he was Stone's link to Assange. But Nixon said Credico did not want to be identified as Stone's source because doing so might upset his liberal friends.
"I can't admit this. I can't say this," Nixon recalls Credico saying.
Advertisement - story continues below
A version of this article appeared on The Daily Caller News Foundation website.
Conversation