Commentary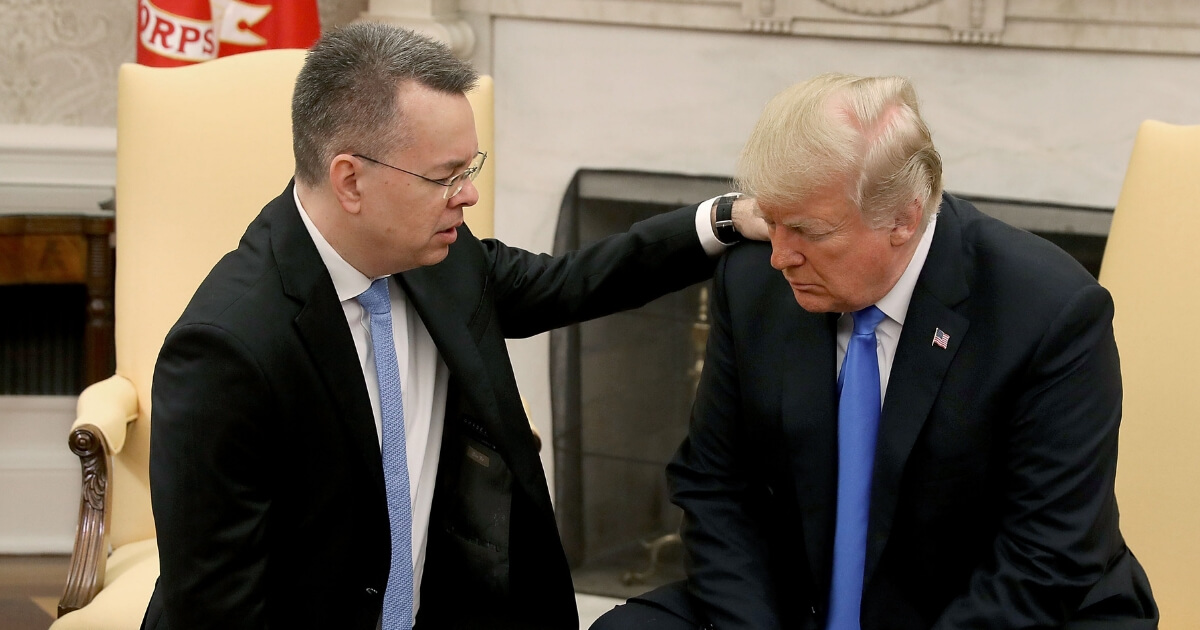 Watch: Freed American Pastor Has Incredible Prayer Moment with Trump in Oval Office
It didn't take long for Andrew Brunson, the pastor freed from Turkish custody, to make his way to the Oval Office. And when he got there, he engaged in a viral moment of prayer with the chief executive who helped free him.
Brunson, the leader of a small Turkish church, had been in Turkish custody for 21 months on a charge of "Christianization" in the wake of a failed 2016 coup. According to Fox News, the 50-year-old pastor was charged with ties to a prohibited group and faced additional charges of terrorism and treason.
In 2017, the government of Turkish strongman Recep Tayyip Erdogan suggested that Brunson could be exchanged for American-based Turkish cleric Fethullah Gulen, an opposition figure Erdogan's government blames for the 2016 coup. That deal never gained any traction. The Turkish government's case was based on testimony from witness Levent Kalkan. While two new witnesses were called by the government at Brunson's trial Friday, both didn't back up his story and one didn't even know Brunson.
Advertisement - story continues below
While Brunson was convicted of the charges — which carried up to 35 years in jail — he was released immediately and allowed to return to the United States. A day later, he was in the Oval Office with President Trump.
Brunson told the president that "you really fought for us, unusually so, from the time you took office." Trump's administration had, among other initiatives aimed at securing the pastor's release, levied sanctions on Turkey in response to Brunson's captivity. The sanctions affected certain Turkish officials and goods and ended up taking a major chunk out of the value of the country's currency.
The pastor also thanked legislators from both parties who had helped pressure for the pastor's release.
"We're so grateful to so many people in Congress who stood with us, who prayed for us, who fought for us," he said.
Advertisement - story continues below
During the White House visit, Brunson also said he wanted to pray for the president.
"We pray for you often as a family," he told the president and assembled reporters. "My wife and I pray for you."
Do you think Donald Trump's efforts secured Pastor Brunson's release?
"Well, thank you. I probably need it more than anybody in this room," the president quipped. "So that would be very nice, thank you."
The pastor prayed to God to give Trump "supernatural wisdom to accomplish all the plans you have for this country and for him."
Advertisement - story continues below
As for Trump's part, he thanked both Congress and the Turkish president for their part in the release of Brunson.
"If ever there was a bipartisan effort, this was it," Trump told the assemblage, which included some senators and administration officials, including Secretary of State Mike Pompeo.
Trump did, however, get in a dig at the prior administration: "We do not pay ransom in this country, at least any longer," the president said.
As for Erdogan, while Trump thanked the leader "for his help," he insisted that "no deal" was made to get Brunson.
Advertisement - story continues below
There was NO DEAL made with Turkey for the release and return of Pastor Andrew Brunson. I don't make deals for hostages. There was, however, great appreciation on behalf of the United States, which will lead to good, perhaps great, relations between the United States & Turkey!

— Donald J. Trump (@realDonaldTrump) October 13, 2018
Whether the sanctions will be lifted is anyone's guess at this time. That would seem to be Turkey's main goal at the moment, as echoed by a speech by Erdogan at the United Nations last month in which he likened the sanctions to "weapons."
As for Fethullah Gulen, the president's very specific talk of "no deal" being reached makes it unlikely that Gulen's extradition is even considered negotiable anymore, if it ever was. Such a move would undermine the Trump administration's stance on the pastor's release, even if it happens sometime in the distant future.
Whatever the case may be, Pastor Brunson is back home. That's something we can all share a word — or a prayer — of thanks about.
Conversation