Commentary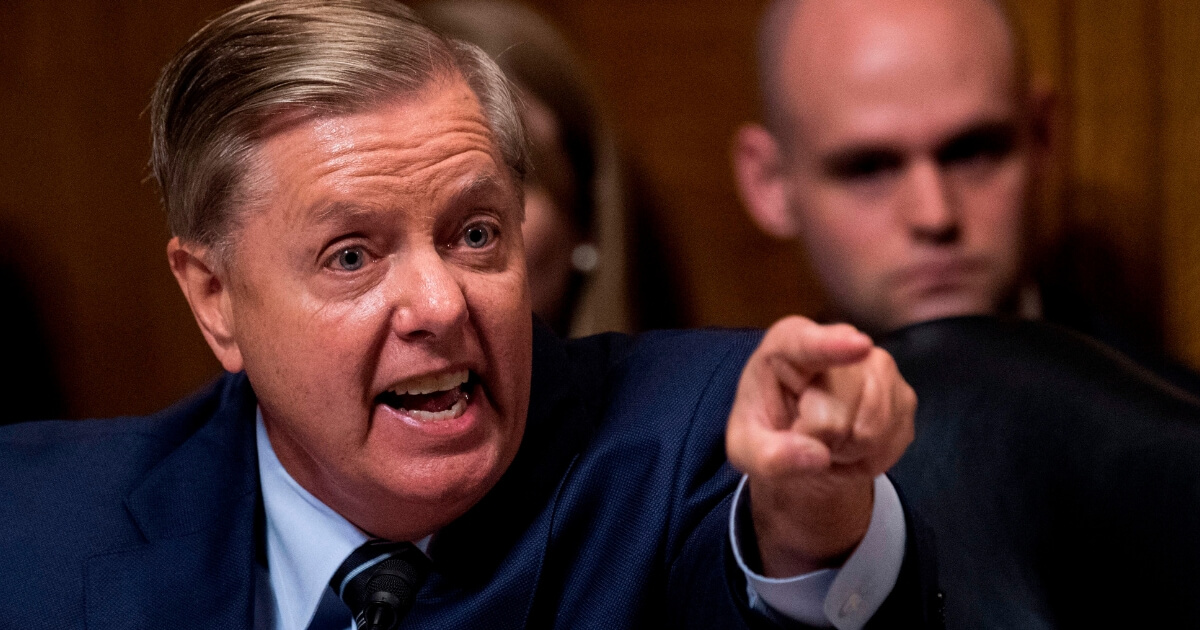 Graham Ruthlessly Fires Back After Being Told To 'Shut Up' During Kavanaugh Hearing
Should somebody be ignored or minimized, just because of their race and gender?
Almost everybody — liberals included — would answer "no" to that question. Yet that's exactly what has been happening over the past few days … and the culprits have been Democrats.
Yes, one of the most blatant displays of sexism in politics was just shown by Democrat Senator Mazie Hirono of Hawaii.
Advertisement - story continues below
In a rant that can only be described as sanctimonious, the liberal senator literally told men to "shut up" on camera.
"Guess who's perpetuating these kinds of actions … it's the men in this country!" Hirono declared, referring to unproven allegations against Brett Kavanaugh raised by liberal activist Christine Blasey Ford.
"And I just want to say to the men in this country, 'Just shut up and step up!'" the Democrat senator nearly yelled.
Advertisement - story continues below
Welcome to open-mindedness and tolerance in 2018: Blame all problems on one gender, blame all men for an allegation that hasn't even been proven, and tell everyone of that gender to "shut up."
Imagine for just a moment if a conservative male had done the inverse, and ranted about how women caused all the world's problems and needed to close their mouths. There would be blood in the streets.
Do you think the Kavanaugh hearings were handled poorly by the Senate?
Thankfully, one person who didn't sit down quietly was South Carolina Senator Lindsey Graham. During a contentious Senate Judiciary Committee meeting to unravel the unproven allegations against Kavanaugh, the well-known senator pushed back against the sexism coming from Demcorats.
"I know I am a single white male from South Carolina, and I am told I should shut up, but I will not shut up," he declared as cameras rolled.
"Because I got here the same way everybody else did: The people in South Carolina voted for me and Senator Scott to be their voice — men and women," he continued.
Advertisement - story continues below
Lindsey Graham:

"I know I am a single white male from North Carolina, and I am told I should shut up, but I will not shut up."

Sen. Mazie Hirono said men in this country need to "just shut up and step up last week.

Rekt. pic.twitter.com/WPD80jIVO8

— Benny (@bennyjohnson) September 28, 2018
That bold statement was one of many that put Graham in the spotlight over the past few days, as he seemed to find his voice after being seen as a somewhat weak Republican by many conservatives.
"Based on what I heard today, you could not get a search warrant or an arrest warrant, because you don't know the location, you don't know the time, you don't have any corroboration," the South Carolina senator scolded Kavanaugh's opponents based on extremely weak evidence.
"She said she's 100 percent certain it did happen, I bet you Judge Kavanaugh will say 'I'm 100 percent sure I didn't do it,' the people named say they don't know what Ms. Ford is talking about, she can't tell us how she got home or how she got there," Graham continued, running through the facts.
Advertisement - story continues below
That, in a nutshell, is the real problem with both the Kavanaugh controversy and Hirono's declaration for men to "shut up."
Both sides seem to believe what they are saying. Blasey Ford, though her accusations are very vague, most likely did experience some disturbing trauma at a party when she was a teenager.
And Kavanaugh, backed by witness statements and evidence like his detailed calendars, has every acceptable reason to deny the accusations against him.
What is not acceptable is ignoring one side because of their gender. Always believing a female — evidence be damned — in every case is just as appalling as never believing them, yet that is essentially what Hirono and so many other liberals want to happen when they tell one gender to "shut up."
Advertisement - story continues below
One only has to look at disturbing cases like the Duke lacrosse incident or University of Virginia rape hoax to realize that both genders are human, and yes, women are absolutely capable of grave deception and false accusations. It isn't a one way street.
Here's a newsflash for the left: We already have a method of unraveling accusations when two people have opposing claims. It's called due process.
It begins with a presumption of innocence, and the burden of proof is on the accuser. We use facts, witnesses, and evidence to evaluate claims — and the beauty of this system is that the gender of the participants doesn't matter, because true justice is blind and unbiased.
As offensive and sexist as it is, Hirono's order for men to "shut up" isn't the real outrage here.
Advertisement - story continues below
What's more terrifying is that a growing number of liberals don't even believe in the core tenants of justice like due process and presumption of innocence — and that should alarm every liberty-loving American.
Conversation