Commentary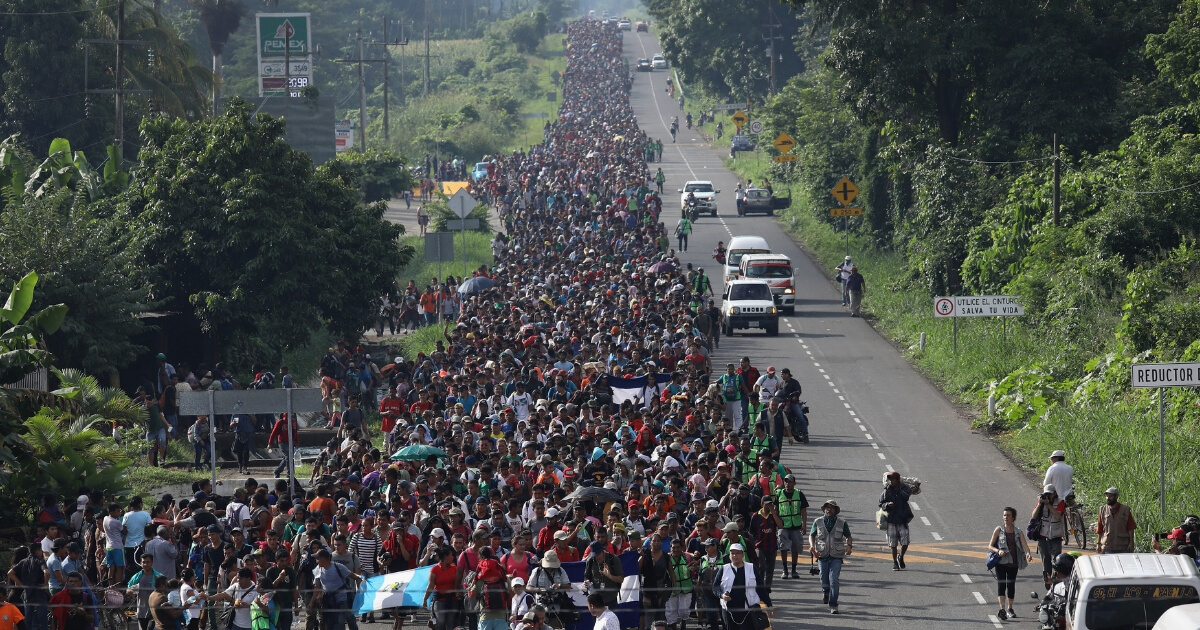 Harmless Caravan? Second Group Just Broke Through Mexico Armed with Explosives
While the first caravan of illegal immigrants is quickly moving toward the United States, a second caravan just broke through the Mexican border after a violent encounter with the Mexican Police.
Hundreds of migrants are following in the footsteps of the first caravan, a giant group of thousands of illegal immigrants from Central America, as they travel through Guatemala and into Mexico.
On Monday, the second group of illegal immigrants clashed with Mexican authorities after they crossed through the Suchiate River from Guatemala into Mexico.
Advertisement - story continues below
#BREAKING Hundreds of Honduran migrants cross river into Mexico pic.twitter.com/Dt7v0WLm6x

— AFP news agency (@AFP) October 29, 2018
As Mexican police attempted to handle the migrants, they threw rocks and used sticks to attack the authorities, according to the Associated Press.
Should Mexico try harder to stop the caravans?
Advertisement - story continues below
Authorities also reported that some of the illegal immigrants even used glass bottles and fireworks to break through. Some were even carrying guns and firebombs.
Mexico's Interior Department said in a statement that two Hondurans, ages 17 and 22, were arrested for attempting to shoot at police.
President Donald Trump has been mocked by the establishment media for saying the caravans are harboring some criminals.
Reporter: "What evidence do you have that these are hardened criminals that are coming to the United States?"

President Trump: "Oh, please. Please. Don't be a baby. Okay? Take a look…I didn't say in all cases. But in many cases, these are hardened criminals." pic.twitter.com/KyycWvQj7f

— NBC News (@NBCNews) October 20, 2018
"Trump has not referenced any evidence for his claims of criminality. We do know that many migrants have said they are fleeing terrible gang violence, with some fearing for their lives," The Guardian wrote.
Advertisement - story continues below
Unfortunately for the left, there is now irrefutable proof that there are violent criminals traveling with the caravan.
Peaceful people who are simply fleeing violence don't carry explosives and try to shoot at police officers.
Mexico's interior minister said federal police and immigration agents were attacked with rocks, glass bottles and explosives by the migrant caravan pic.twitter.com/luCyfZsrlV

— Jack Posobiec 🇺🇸 (@JackPosobiec) October 30, 2018
Advertisement - story continues below
On Sunday, one day before the violent clash, Raul A. Reyes parroted the Guardian's claims in an op-ed for CNN.
"In fact, the people who join such caravans often band together to protect themselves from hardened criminals, like drug cartels and human traffickers," Reyes wrote. "Many people in the last big caravan, in April, were women and children fleeing violence in their countries of origin."
The caravan does include some women and children, but Mexican Interior Secretary Alfonso Navarrete Prida said the migrants were placing the elderly, pregnant women, and children at the front of the group when they were storming the Mexican border, The AP reported.
The left's characterization of the caravan as a peaceful group of migrants is falling apart.
Conversation