News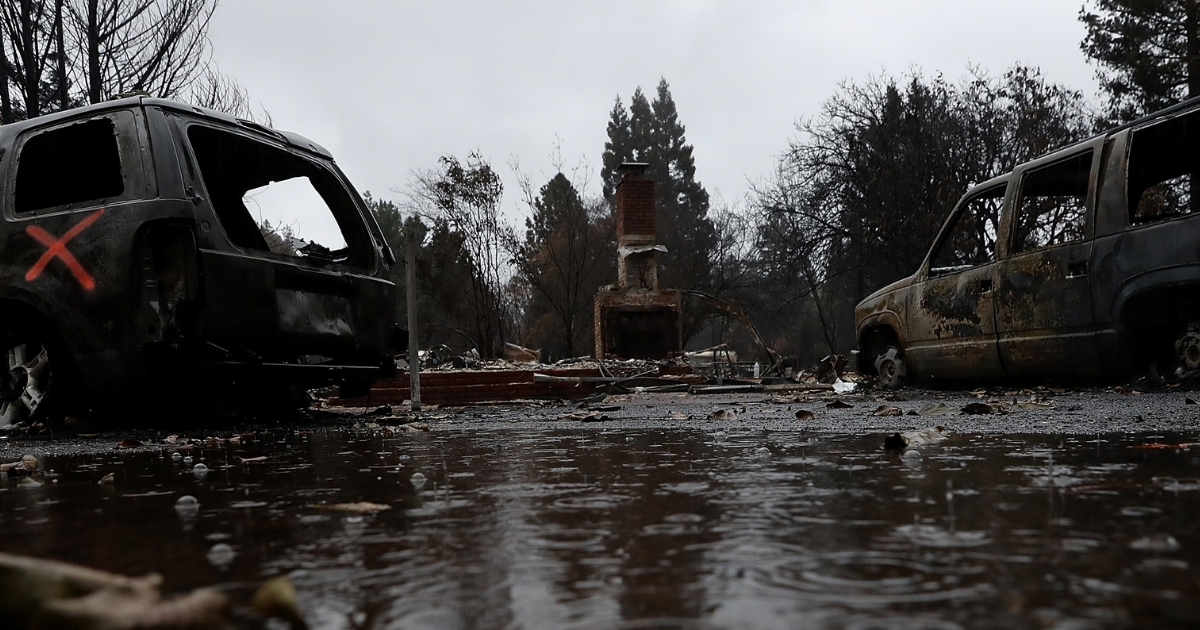 Heavy Rain Is Helping Contain California's Deadliest Wildfire
Heavy rains in northern California are helping firefighters contain what has now become the deadliest wildfire in the state's history.
The rain is giving firefighters sorely needed relief as they continue to battle Camp Fire, a raging wildfire in the northern region of the state that has killed at least 84 people and has caused billions in damage.
An inch-and-a-half of rain came down on Wednesday, a level of water that experts say was the perfect amount — not too little, but not too much.
Advertisement - story continues below
"We needed it to come in and rain, and rain not too heavy," National Weather Service meteorologist Bill Rasch explained.
Camp Fire is now 95 percent contained, according to the California Department of Forestry and Fire Protection. Firefighters will be given extra relief as rain continues to pour down on the region. Two to four inches of rain were forecast to hit the upper portion of Camp Fire by Friday morning, and rain is expected to continue through Saturday.
However, while the rain is helping clear smoke and extinguish flames, is it also causing other problems. The combination of burned soil and heavy rain brings the deadly threat of flooding and mudslides.
Meteorologists are now closely monitoring the amount of rainfall in the region and warning residents to be careful.
Advertisement - story continues below
"Rainfall that would normally be absorbed will run off extremely quickly after a wildfire, as burned soil can be as water-repellent as pavement," said the National Weather Service. "If you can look uphill from where you are and see a burnt-out area, you are at risk."
A flash flood watch remains in effect until Friday morning for nearly one million people living in Northern California.
In the southern part of the state, officials announced the Woolsey Fire was 100 percent contained. That fire had destroyed nearly 100,000 acres of land — a region so wide that is was visible by NASA's Terra satellite in space.
As the wildfires rage on, officials continue to pass blame on what — or who — was exactly responsible. President Donald Trump has relentlessly pointed to California's forest management as a reason for the fires' extra devastation. Many in the state have blamed climate change.
However, it is likely that the state's biggest electric utility company will be held responsible. Pacific Gas and Electric reported a power outage in a neighborhood close to where Camp Fire began. PG&E's stock has tumbled as investors fear the company will be held responsible for the deadly fire.
Advertisement - story continues below
Content created by The Daily Caller News Foundation is available without charge to any eligible news publisher that can provide a large audience. For licensing opportunities of our original content, please contact licensing@dailycallernewsfoundation.org.
A version of this article appeared on The Daily Caller News Foundation website.
Conversation