Sports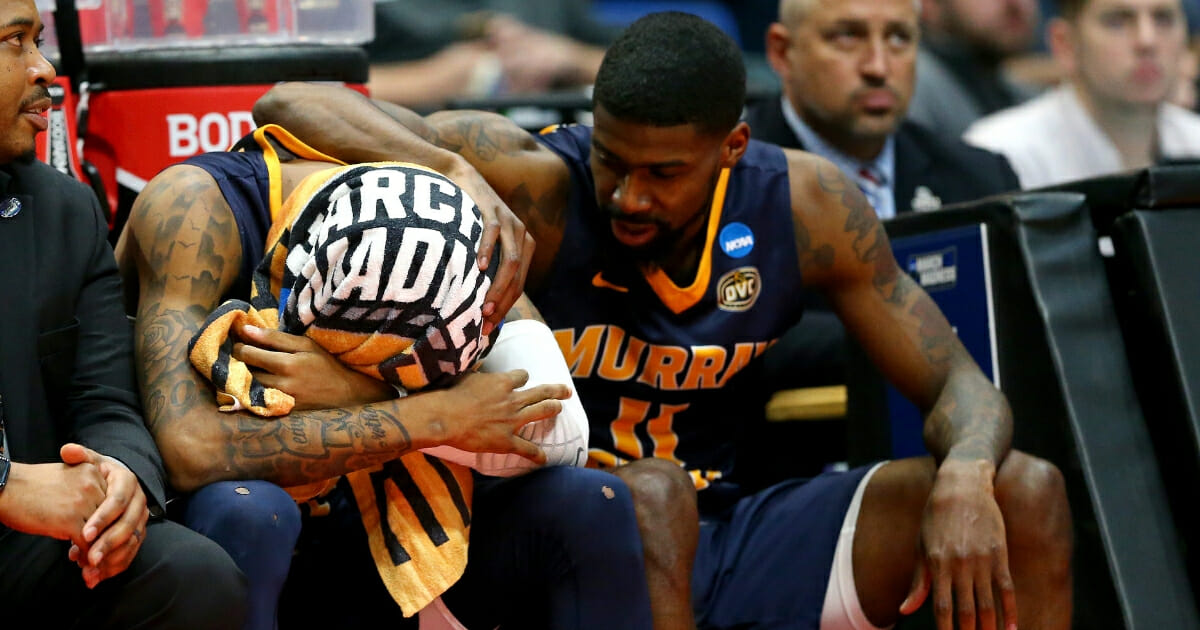 After Humbling Defeat, NCAA Tourney's Breakout Star Returns To Court for Awesome Gesture
After Murray State was eliminated in the second round of the NCAA men's basketball championship tournament, many expected star sophomore Ja Morant to reveal his plans for next season.
Whether he goes pro or remains at school is sure to generate headlines, but it's another act that Morant did which is making news and went viral.
Following the Racers' 90-62 loss to Florida State, Murray returned to the court to give away his game-worn shoes to a young fan sitting courtside. He then posed for a picture with the boy.
Advertisement - story continues below
Before he headed to the bus, Ja Morant went back out into the arena to give his shoes to a young boy. pic.twitter.com/j3BsQ61Qhr

— Matt Norlander (@MattNorlander) March 24, 2019
Signed 'em too, of course. pic.twitter.com/woIdkbTKnT

— Matt Norlander (@MattNorlander) March 24, 2019
Advertisement - story continues below
Even though the boy could probably fit both feet inside one shoe, he wore them with pride after the game.
The young fan that Ja Morant gave his shoes too last night hasn't taken them off since it was gifted ?

(via @MattNorlander of @CBSSports) pic.twitter.com/DeX4u6trcM

— B/R Kicks (@brkicks) March 24, 2019
Do you think Ja Morant will be playing in the NBA next season?
According to Sports Illustrated, the boy and his family came as Purdue fans and were on hand to root on the Boilermakers who played Villanova right afterwards.
But you can be assured that they are now Morant fans, as are many that witnessed him this season and in the tournament.
Advertisement - story continues below
In Morant's second career NCAA Tournament game he posted a triple-double with 17 points, 16 assists and 11 rebounds. It was just the ninth triple-double in NCAA Tournament history.
Morant scored 28 points in the Second Round game against FSU but he didn't get as much help from his teammates. The rest of Murray State combined for just 34 points as the Racers posted their lowest point total of the season.
As SI notes, Morant averaged 24.5 points and 10 assists per game to become the first player in NCAA history to average at least 20 points and 10 assists per game in a season.
He was named the Ohio Valley Conference Player of the Year and is also a John R. Wooden Award finalist.
Advertisement - story continues below
Morant is now faced with a decision on if he should return to school or enter the NBA Draft. If he goes pro he is expected to be a top-five pick, but he says he hasn't made a decision yet.
"That time will come," Morant told ESPN. "My focus is not on that right now. It's just celebrating this — what a great season we had — with my teammates."
Morant was caught on camera with a towel over his head in the waning seconds of Murray State's loss and was visibly emotional.
"Ja Morant has a brilliant career ahead of him."

Murray State star gets emotional after tournament run ends against FSU. Morant finished with 28 PTS, 5 REB, 4 AST. #MarchMadness pic.twitter.com/9qRjABJJsA

— Bleacher Report (@BleacherReport) March 24, 2019
Advertisement - story continues below
"I would say I was just hurt — not being able to take the floor with these guys for the rest of the season, for another game, or possibly two, three, four," Morant said of his emotional response. "But it's been a great season. I really was just thinking back on what all we have accomplished this year, and I'd say I was more hurt not being able to play with these guys for the remainder of the season."
If Morant does enter the NBA Draft, he has until June 10 to withdraw his name and return to school if he wants to. The draft will then be held on June 20.
Conversation