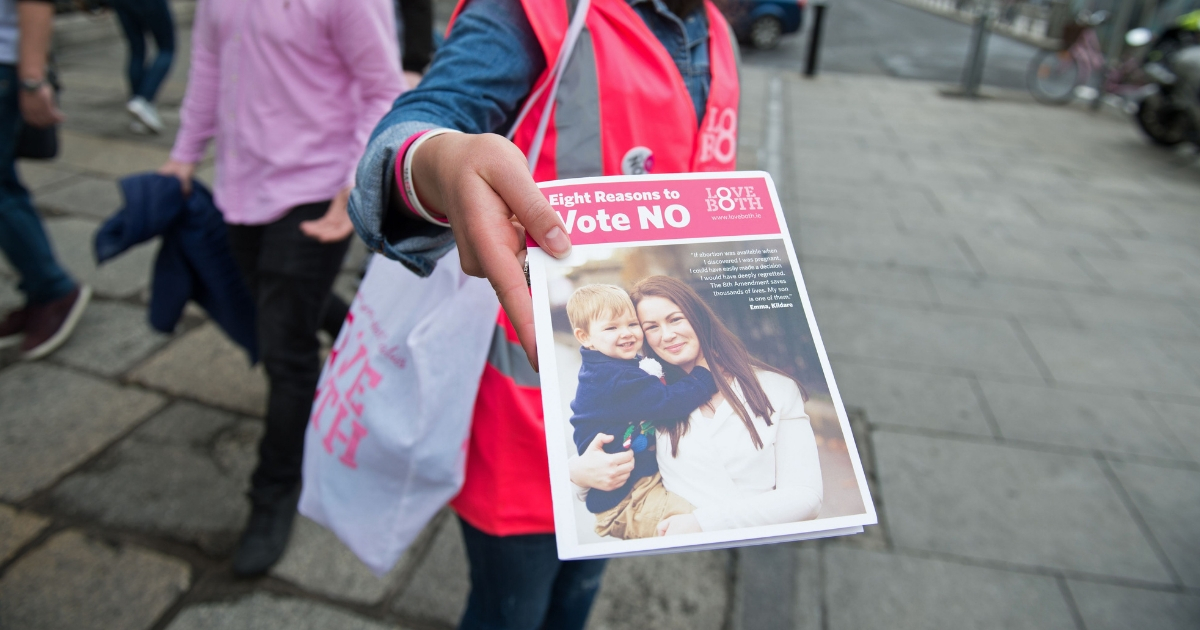 Ireland Removes Their 8th Amendment in Effort To Stop Protecting Unborn Children
Ireland officially scrapped the 8th Amendment to its constitution this week, heeding the will of voters who wanted it changed to pave the way for legal abortions.
In May, Ireland's voters approved eliminating the amendment, which placed the rights of an unborn child on an equal footing with the child's mother, effectively banning abortions. On Tuesday, Irish President Michael D. Higgins signed referendum into law, CNN reported.
Although the action was greeted with cheers by many in Ireland, activist Devin Sena of the Human Defense Initiative said in an email to The Western Journal that this was no victory.
Advertisement - story continues below
"The removal of Ireland's 8th Amendment is a step back for human rights. A nation that once protected the human right to life of both the mother and her child, is now forwarding the idea that more powerful women can strip rights from weaker women in the womb."
HEARTBREAKING:

The 8th Amendment to Ireland's Constitution that protected BOTH children in the womb and their mothers was removed today.

A step back for human rights. pic.twitter.com/ILwqdVCWaK

— Devin Sena (@DevinSenaUI) September 18, 2018
Sena also said that Americans should not shrug off the new law simply because it does not directly impact the United States.
"It is crucial for Americans to push back against the stripping of human rights from Irish children in the womb. Throughout history, the United States of America has been a leader on the world stage. Therefore, we must tirelessly advocate for the protection of the most innocent members of our human family," Sena said. "If we become a nation that protects human rights for all, other nations will promptly follow."
Advertisement - story continues below
Ireland formally repeals amendment banning abortion – KXLY https://t.co/4VbGncPjtJ

— Robin Marty (@robinmarty) September 20, 2018
Irish Health Minister Simon Harris, who is responsible for drafting legislation that allows abortion in Ireland, said this week that his goal is to make abortion free, USA Today reported.
Does this new Irish law sadden you?
Under legislation that would be submitted next month and which could be in place by the end of the year, Ireland's existing national health service would foot the bill for all costs, he said.
"Yes, it is my intention that the services will be free," he said, according to the Irish Examiner.
"I've said from the start that I don't want cost to be a barrier, because if cost is a barrier you get into a situation where one of two things happen, you get abortion clinics to develop or you can see people having to continue to travel," he said.
Advertisement - story continues below
"I want this to be provided as part of our healthcare system, our public healthcare system and part of our primary healthcare system," he added.
Pro-life groups said they were disappointed with the rush to push the availability of abortions.
"Today's committee hearings brought into sharp focus the extreme nature of the abortion law about to be introduced. It's a definite rude awakening for anyone who thought the law would be somewhat restrictive," said Dr. Ruth Cullen of the Pro Life Campaign
"It is clear Health Minister Simon Harris and others in government have no interest in hearing perspectives other than ones that zealously back abortion. It is going to take time but the public will realize the full extent of the charade that is going on when the reality of what the abortion law permits starts to sink in," she said.
Advertisement - story continues below
As noted by the BBC, Ireland's decision to allow abortions puts it in contrast with its neighbor, Northern Ireland, which still bans abortion. Northern Ireland is governed by England although allowed some autonomy. Abortion supporters have called upon the English government to change Northern Ireland's laws.
Sena said that regardless of the geography, his group's fight for life will go on.
"The Human Defense Initiative will continue to fiercely fight to affirm human dignity and protection for every member of our human family — no matter how small," he said.
Conversation