News
Ivy League Orientation Packet Tells Students Whether They're 'Privileged' or 'Marginalized'
Cornell University student leaders were given packets about privilege and oppression, from race to sexual orientation to English-speaking abilities, prior to orientation week for freshman students.
Those who are "slender; perceived as attractive; handsome; beautiful; etc.," are considered "privileged," according to the document obtained by Campus Reform from a concerned student.
Meanwhile, people "of size; particularly tall or short; perceived as unattractive; etc." are "marginalized or oppressed in U.S. context," the document said.
Advertisement - story continues below
"Over the course of three weeks, Campus Reform gave Cornell University multiple opportunities to confirm or deny the packet was distributed," Campus Reform wrote Wednesday. "University spokesman John Carberry eventually responded to Campus Reform on Wednesday but did not deny the student's accounts, saying that Cornell 'will not be participating' or commenting on the issue."
The document is split into three sections. The leftmost part is a list of 15 categories, including age, ethnicity, religion or spirituality and marital or parental status. The middle section is labeled as "Groups That Experience Privilege In The U.S. Context." The rightmost section features "Groups That Are Marginalized Or Oppressed In The U.S. Context."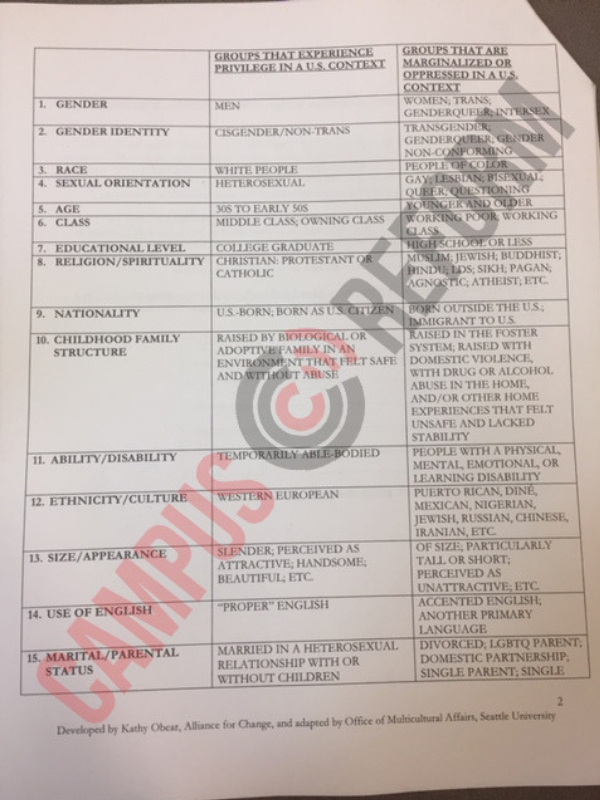 Those who are white, male, in their 30s to 50s or users of "proper" English are all considered privileged.
Advertisement - story continues below
Oppressed groups include women, LGBTQ individuals, people who use "accented English" and those who are single, according to the document.
Cornell's orientation period was between Aug. 17 and Aug. 22 to get newcomers accustomed to the campus through mandatory and optional events.
It was unclear who gave the students the packet.
Are you considered "oppressed" under any of categories on this document?
This is not the first time the topic of oppression has come up at the university. Cornell student Letitia Chai presented her honors thesis in her bra and underwear to resist oppressive dress codes in her "Acting in Public" class in May, The Daily Caller News Foundation previously reported.
Advertisement - story continues below
That class, led by professor Rebekah Maggor, did not have specific dress codes other than for students to dress for "the persona they will represent," according to the course syllabus.
Carberry and Cornell's New Student Program did not immediately respond to TheDCNF's request for comment.
Content created by The Daily Caller News Foundation is available without charge to any eligible news publisher that can provide a large audience. For licensing opportunities of our original content, please contact licensing@dailycallernewsfoundation.org.
A version of this article appeared on The Daily Caller News Foundation website.
Conversation