News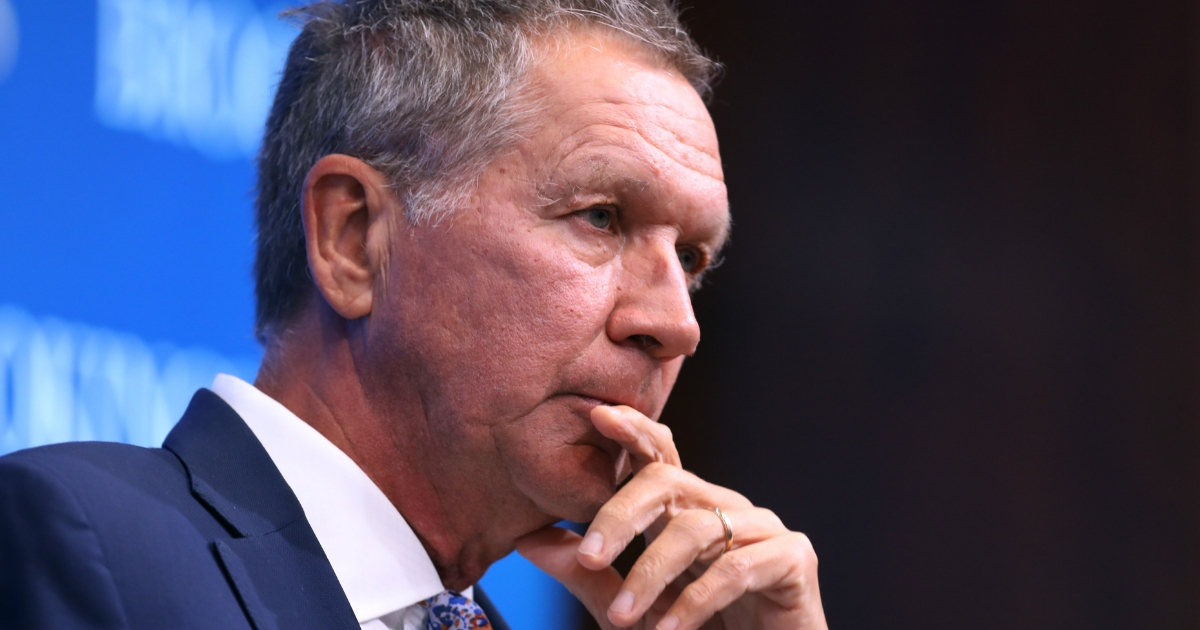 John Kasich Angers Fellow Republicans by Promising To Veto Pro-Life and Gun Rights Bills
Ohio Republican Gov. John Kasich told reporters Monday that he will veto both a bill banning abortions in the presence of an unborn baby's heartbeat as well as a bill eliminating the duty to retreat before using deadly force.
Kasich told reporters that he still opposes the "heartbeat bill" abortion ban and the "stand your ground" gun rights legislation, and will veto both measures if they reach his desk, The Columbus Dispatch reported Tuesday.
The Ohio House of Representatives passed House Bill 258, also called the heartbeat bill, in a 58-35 vote on Nov. 15, according to Cleveland.com.
Advertisement - story continues below
The bill bans abortions upon the presence of a baby's heartbeat and makes exceptions only in cases where the mother's life is in danger. No exceptions for rape, incest or baby abnormalities are included in the bill.
A heartbeat typically becomes detectable between six and nine weeks gestation. The heartbeat bill is commonly known as the six-week abortion ban.
"Bills such as these are a reminder of the medical realities of life and that abortion ends a unique creation in the womb, something that we in the pro-life movement reflect on daily," Students for Life of America President Kristen Hawkins told The Daily Caller News Foundation in an email Friday.
A number of Democrats oppose the bill, especially given that it includes no exceptions for rape or incest.
Advertisement - story continues below
"Victims of rape should not have additional control of their bodies taken away from them," Democratic state Rep. Nickie Antonio said, according to Cleveland.com. "It should be a survivor's decision to make."
Kasich vetoed a similar "heartbeat bill" in 2016. It would have been the most restrictive U.S. abortion law if it had been signed.
Arkansas, North Dakota and Iowa have passed similar heartbeat abortion bans but have faced injunctions and court orders preventing them from enforcing the bans.
The Ohio House also passed House Bill 228 on Nov. 14, stripping from the law the "duty to retreat" before using deadly force when presented with a threat, according to The Dispatch.
Critics fear the bill will escalate tension-filled situations and introduce deadly force where other better solutions might be possible, while proponents argue the legislation will give victims a better chance to protect themselves in violent scenarios.
Advertisement - story continues below
Kasich's impending veto on House Bill 228 follows a number of recent shootings, including mass shootings at a Jewish synagogue in Pittsburgh, country bar in California and hospital in Chicago.
The Ohio Senate must pass both measures before they head to Kasich's desk. If the measures pass by wide enough margins, they can override Kasich's veto power.
So sad. Blood on his hands.

— Tina Novack (@TinaNovack) November 21, 2018
Advertisement - story continues below
Ohio bans abortions after 20 weeks and in other cases, including when a child will be born with Down syndrome. Kasich signed House Bill 214 in December 2017, effectively banning doctors from aborting babies testing positive for the congenital disorder.
Kasich did not immediately respond to TheDCNF's request for comment.
Content created by The Daily Caller News Foundation is available without charge to any eligible news publisher that can provide a large audience. For licensing opportunities of our original content, please contact licensing@dailycallernewsfoundation.org.
A version of this article appeared on The Daily Caller News Foundation website.
Conversation