Commentary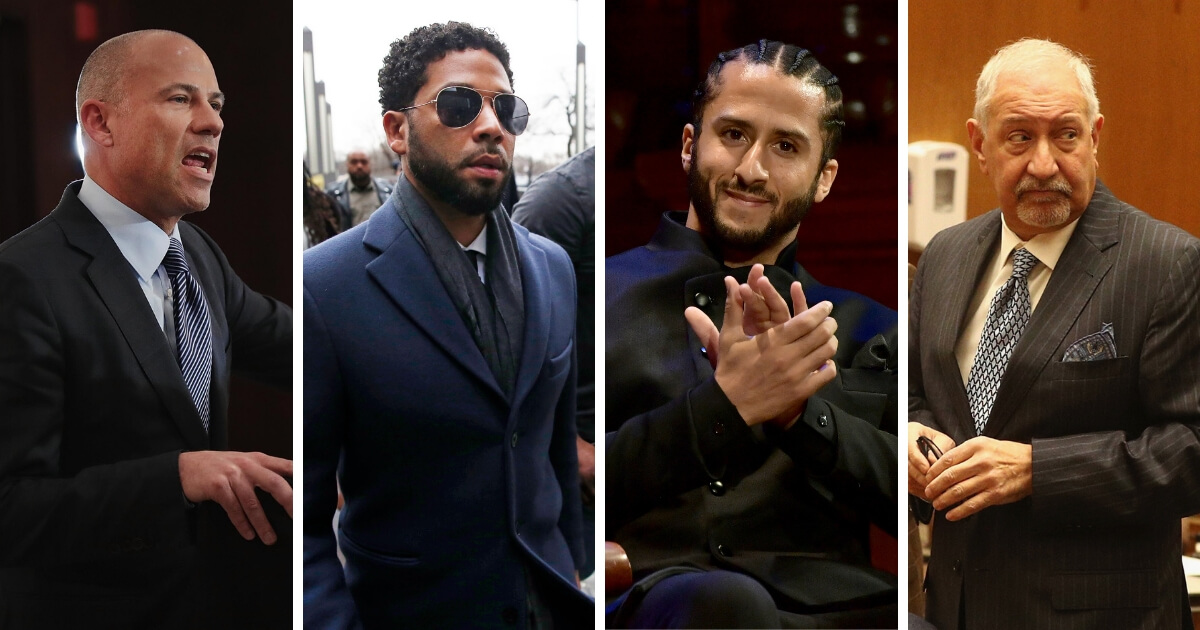 Jussie Smollett, Kaepernick Names Come Up As Avenatti Disaster Continues To Spread
Liberals and the anti-Trump crowd in general are having an extremely bad day.
First, the much-anticipated report by Special Counsel Robert Mueller finally dropped, but it is about the exact opposite of what Democrats hoped for. While many on the left pinned their hopes of impeaching President Trump on that report, it turns out that there was no collusion between the president and Russia.
That put liberals into a foul mood on Monday, but their headaches were just starting. Now anti-Trump attack dog Michael Avenatti has been arrested on serious charges of fraud and extortion — and even more liberal names are being linked to his downfall.
Advertisement - story continues below
Avenatti, the shady attorney most famous for representing Stormy Daniels and mulling a 2020 run against Trump, isn't alone. Another prominent liberal has been named as a co-conspirator in the same case, and his Rolodex reads like a who's-who list of people who despise the president.
"The alleged co-conspirator in an extortion case against celebrity lawyer Michael Avenatti is believed to be CNN legal analyst Mark Geragos," The Washington Examiner reported on Monday.
A Wall Street Journal article (behind a paywall) appeared to confirm this, although the court documents which are now available online purposely hide the second conspirator's name and refer to him only as "CC-1."
There's a good chance you haven't heard of Geragos, but it's almost certain that you've heard of his clients.
Advertisement - story continues below
"One of the best-known criminal defense lawyers in America, Geragos' clients have included footballer Colin Kaepernick, the late singer Michael Jackson … jailed Clinton associate Susan McDougal, murderer Scott Peterson, former hockey player Scott Barney, and actor Jussie Smollett," The Examiner pointed out.
Do you notice a bit of a pattern? It's a safe bet that the names Kaepernick and Smollett jumped out at you. They, along with Avenatti, are near the top of the list of public figures who made headlines for scrapping with Trump while pushing liberal and social justice agendas.
Do you think anti-Trump fervor was part of Avenatti's behavior?
Kaepernick, of course, sparked a long controversy in the NFL for his kneeling antics on the field during the national anthem, as well as his slamming of the president in the media.
Smollett is the disgraced liberal actor who is facing charges of his own after he allegedly carried out a hate-crime hoax and tried to pin a nonexistent racist and homophobic attack on Trump supporters. Chicago police didn't buy his bogus story.
To be clear, those names do not appear to be directly involved in the Avenatti extortion scandal — it's their equally leftist lawyer Geragos who is implicated.
Advertisement - story continues below
But it is definitely worth noting the trend of the last few days: Some of the most outspoken and arrogant anti-Trumpers seem to have egg on their faces, if not piles of skeletons in their closets. And a shocking number of prominent leftists all seem to share a handful of lawyers who could be disbarred and even jailed in the near future.
None of this, of course, means that being a liberal who opposes President Trump makes someone more likely to be a criminal. What it might suggest, however, is that being driven by disdain for Trump and a fervor for activist liberalism just might cloud one's judgment.
It doesn't take much of a stretch to consider that blindly going down the path of far-left social justice makes it a lot easier to swallow false narratives. And if anything, Monday's lesson is that those narratives can quickly fall apart — even if they've been repeated over and over.
The president colluded with Russia to win the election. Avenatti is a hero taking on Trump. His client Stormy Daniels should be held up as role model. Jussie Smollett is an innocent victim in a hateful country, just like oh-so-oppressed Colin Kaepernick before him. All of those lines were pushed hard by the left, and each one fell apart in epic fashion.
Advertisement - story continues below
You'd think that followers of a political movement which is so often dashed to pieces by reality would take a step back once in a while and wonder whether they're actually on the right side.
Unfortunately, there doesn't seem to be any such soul-searching on the left … and that means Avenatti and Geragos won't be the last to let their fervor be their own demise.
Conversation