Commentary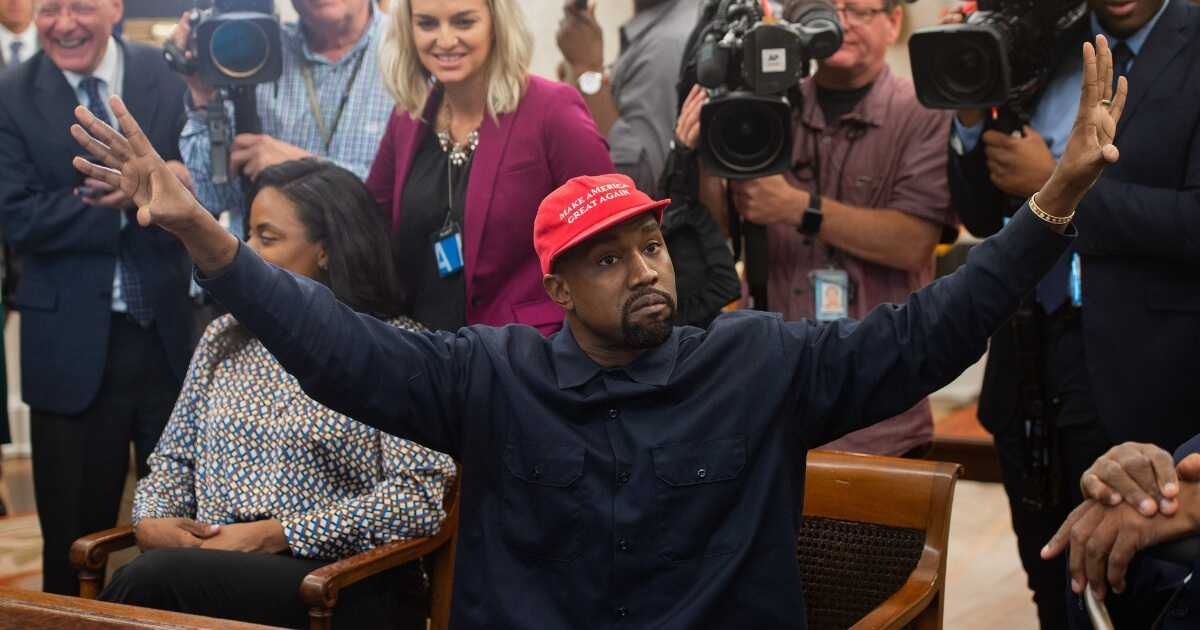 Down with Dems: Kanye Debuts 'Blexit' Black Exit Campaign at White House Black Leadership Conference
The left and the media have done everything they can to silence Kanye West, but it looks like he won't go away quietly any time soon.
On Saturday, the controversial rap star announced his role in Blexit: A "black exit" from the liberalism that is being promoted by the musician and partners including Candace Owens.
Part social movement, part website and part clothing line, Blexit's goal is to show black Americans that they don't need to vote Democrat, and they're not alone in rejecting the leftist party.
Advertisement - story continues below
.@KanyeWest designed these "Blexit" t-shirts for @RealCandaceO's new "Blexit" movement. They were handed out at #YBLS2018 pic.twitter.com/fh4IT6lVut

— Nikki Schwab (@NikkiSchwab) October 27, 2018
Owens, the sharp-witted young woman who has become a staple of cable news, may be the face of the movement but there is no doubt that West is its soul.
In an interview with The New York Post, Owens pointed to West as a key part of the project.
Advertisement - story continues below
"Blexit is a renaissance and I am blessed to say that this logo, these colors, were created by my dear friend and fellow superhero Kanye West," she said.
She also credited the famous musician as someone who "has taken one of the boldest steps in America to open a conversation we have needed to have."
Do you think this "Blexit" movement is going to catch on?
Indeed, it's unlikely that Owens would be such a prominent voice if not for West. In April, the rapper made a surprise endorsement of the young black conservative on Twitter.
"I love the way Candace Owens thinks," he posted. That was enough to ignite a firestorm.
"It was a blessing in disguise because there were so many people paying attention to me and my message," Owens explained to Breitbart News about being noticed by West. "We also needed to know how serious Kanye was about really fixing this issues in our communities."
Advertisement - story continues below
Both the rapper and his equally famous wife, Kim Kardashian, have met with President Trump. Video of West expressing his love and admiration for the president — even hugging him in the Oval Office — quickly went viral.
So did more recent video of young black Americans cheering and chanting "USA!" as they met with the president and Donald Trump Jr. at the White House. Owens was at the center of that high-energy event, but she said West was also there "in spirit."
Check out the energy & passion

The largest ever young conservative black summit started tonight

I am sure @CNN @MSNBC @CBS @ABC will all be covering this, right?

This is an incredible gathering and worthy of national coverage

The movement is growing! @TPUSA @RealCandaceO pic.twitter.com/cfHtsyD0N9

— Donald Trump Jr. (@DonaldJTrumpJr) October 26, 2018
Advertisement - story continues below
The idea of Blexit is to channel that energy into a movement. One section of its marquee website — Blexit.com — shows inspiring videos of black Americans telling their stories about leaving the Democrat party and becoming free thinkers.
Another section shows facts that the left would rather not talk about, including the crime rate in African American inner cities and the racist history of the Democrat party.
"We needed an online platform that could show and prove to black people that they don't have to be Democrats and that they are not alone," Owens explained.
A social website and a clothing line may not be all it takes to change the country, but by simply sparking important conversations, it's definitely a start.
Conversation