News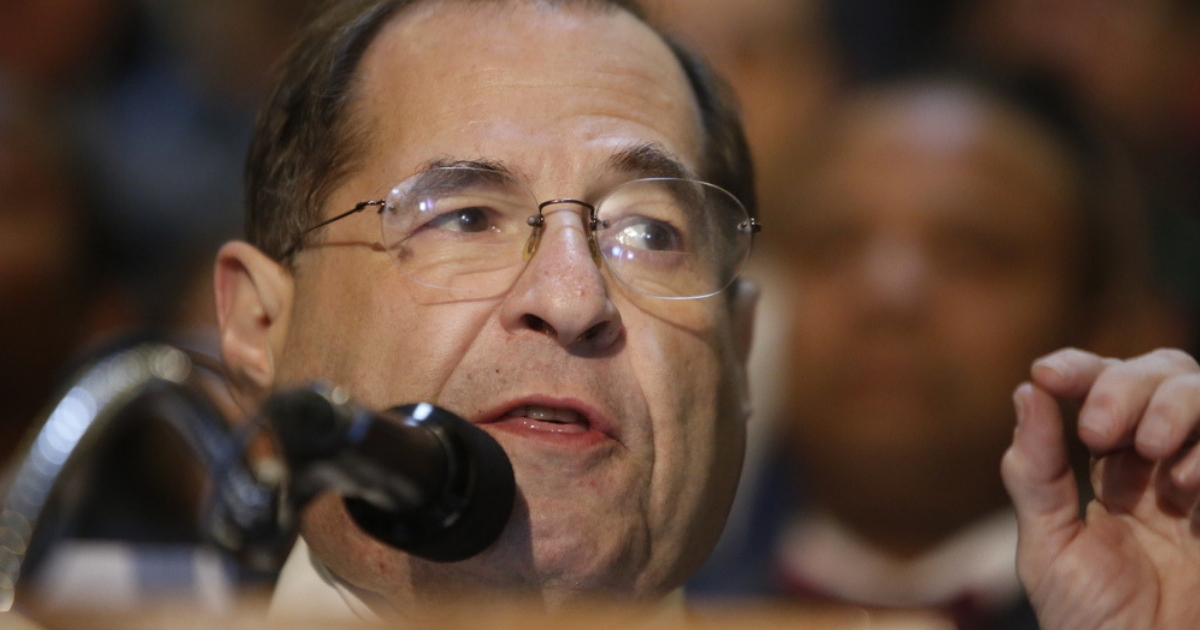 Likely House Judiciary Committee Chair Already Wants To Quash FBI, DOJ Investigation
The Republican-led effort to investigate the Department of Justice for bias against President Donald Trump will be brought to a close next month when Democrats assume control of the House, according to one top Democrat.
Congressman Jerrold Nadler of New York, who is expected to be chair of the House Judiciary Committee, said there is no need to look at what the Justice Department and FBI were up to during the 2016 presidential campaign.
Nadler was involved in Friday's hearing in which former FBI Director James Comey offered limited testimony behind closed doors. When Nadler emerged, he was asked about whether he would halt the Justice Department probe.
Advertisement - story continues below
"Yes, because it is a waste of time to start with," Nadler said, according to The Hill.
"The entire purpose of this investigation is to be a diversion of the real investigation, which is Mueller. There is no evidence of bias at the FBI and this other nonsense they are talking about," he said.
Police-state advocate, and all around radical far-leftist, Jerry Nadler promises to abuse his authority and squash any investigations to his political allies when he takes power. #Corruption https://t.co/PQld4DsNGK

— Dan Bongino (@dbongino) December 7, 2018
Advertisement - story continues below
The investigation into the FBI and Justice Department was launched in October 2017 with a focus on the FBI probe into Hillary Clinton's emails as well as possible politically focused activity against Trump on the part of FBI agents.
Nadler has made it clear that once Democrats take control of the panel, they will focus on investigating Trump.
"We have a president who lies incessantly, who surrounds himself with people who lie incessantly, and the key fact now is that the time when he can get away with lying to the American people and evade accountability is coming to an end." – @MeetThePress 12/2/18 pic.twitter.com/JBhmd2KOME

— (((Rep. Nadler))) (@RepJerryNadler) December 3, 2018
Former federal prosecutor Andrew McCarthy, Saturday on "Cavuto Live," said Nadler's decision was a foregone conclusion.
"I don't think it's justified, but it's to be expected," McCarthy said.
Advertisement - story continues below
"The Democrats' political position has always been that the investigation of the investigators is a distraction and something that's being concocted in order to undermine the credibility of Mueller's investigation," he said.
McCarthy noted that Trump can ensure that everything Republicans gathered in their investigation is made public.
Is there enough evidence to continue investigating the actions of the FBI and DOJ?
Advertisement - story continues below
"And then what gets done with it at that point, we'll see," McCarthy said, noting that Democrats only control one branch of Congress. "The Senate could continue to investigate it, even if the Democrats won't investigate it in the House."
McCarthy further noted that despite the political posturing, the Justice Department's inspector general is investigating the extent of any political tinge that colored the actions of the department.
"Which would suggest the inspector general doesn't think this is a bunch of 'nonsense,' even if Jerry Nadler does," he said.
Conversation