Commentary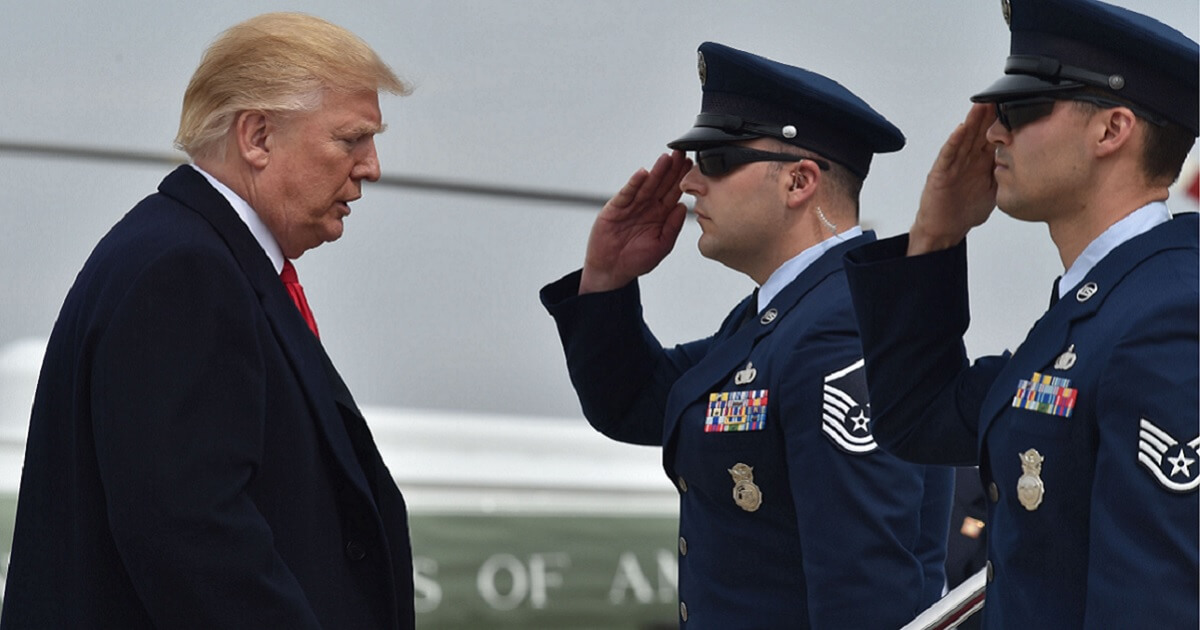 Make American Weapons Great Again: Trump Wants No More Chinese Parts
A cornerstone of Donald Trump's presidency is his focus on Making America Great Again via placing "America First" in all things, and that applies just as much to our nation's military and defense industries as it does to other forms of manufacturing and production.
As such, Trump ordered his administration in 2017 to undergo a comprehensive review of the nation's defense-related industrial and manufacturing base. That extensive review was recently completed and submitted to the White House, according to an official statement released on Friday.
"In order to maintain America's military supremacy, we must always be on the cutting edge," Trump said in the statement. That means the industrial and manufacturing base that supports our nation's military supremacy must also be on the "cutting edge" as well.
Advertisement - story continues below
The report issued to the White House identified roughly 300 distinct risks to the industrial and manufacturing base that supports the U.S. military, and provided a variety of recommendations and solutions to address those risks going forward.
Some of those recommendations included "Expanding direct investment in the industrial base to address critical bottlenecks, support fragile suppliers, and mitigate single points-of-failure," accelerating and encouraging the growth of more STEM skills (science, technology, engineering and math), and exploring joint industrial-base efforts with allies and partners internationally.
The website American Military News reported that a primary recommendation of the report — and one that will be a focus of the Pentagon moving forward — is an increased investment in domestic industrial and manufacturing production, with a goal of reducing the country's reliance on foreign-made parts for the weapons and equipment used by the military.
Specifically, that means reducing the military's reliance on Chinese-made products. According to American Military News, China was mentioned 232 times in the 146-page report, which is largely classified due to its frank discussion of America's supply chain vulnerabilities.
Advertisement - story continues below
China is virtually the only producer of certain chemicals that are necessary for the production of various bombs and missiles, meaning those weapons could no longer be produced if something were to change or disrupt the current supply chain.
Aside from China, the U.S. has also grown reliant on obtaining certain carbon fibers for missiles, satellites and space rockets from Europe and Japan, as well as special vacuum tubes for night vision googles that come mostly from Germany, American Military News reported.
Do you support strengthening the country's defense-related industrial base?
"The assessment recognizes the global nature of our supply chains and really addresses the need for strengthening alliances and partnerships so that we can jointly address industrial base risk," said Ellen Lord, the Defense Department's undersecretary for acquisition and sustainment, during a Pentagon briefing on Thursday, according to the website Defense One.
Ideally, though, the Pentagon would like to transition away from a reliance on foreign-manufactured chemicals and parts for various weapons systems, preferring instead to have those components manufactured domestically.
Ensuring that critical components of the weaponry used to defend the nation and national interests are always readily available would seemingly be a consequential element of national security.
Advertisement - story continues below
Retired Air Force Gen. Hawk Carlisle, now president and CEO of the National Defense Industrial Association, a trade group that took part in the review, said in a statement that the findings are critically important.
"Reliance on single producers within the supply chain, dependence on unstable or unfriendly foreign suppliers for critical components, and misplaced presumption of continued preeminence of American military superiority are examples of findings that should be immediately addressed," the statement said, according to Defense One.
With the report and recommendations now in hand, the Pentagon can begin to figure out how to address the various solutions through the budgetary process, whether that means shifting around previously allocated funds or making special requests for more money that can be devoted to specific issues.
Hopefully, this comprehensive report will result in an expansion and strengthening of the defense-related industrial and manufacturing base in America, not only because it will help improve the economy and gross domestic product, but also because it will help keep us all safer in the event of major geopolitical changes and shifts in alliances and partnerships.
Conversation