Sports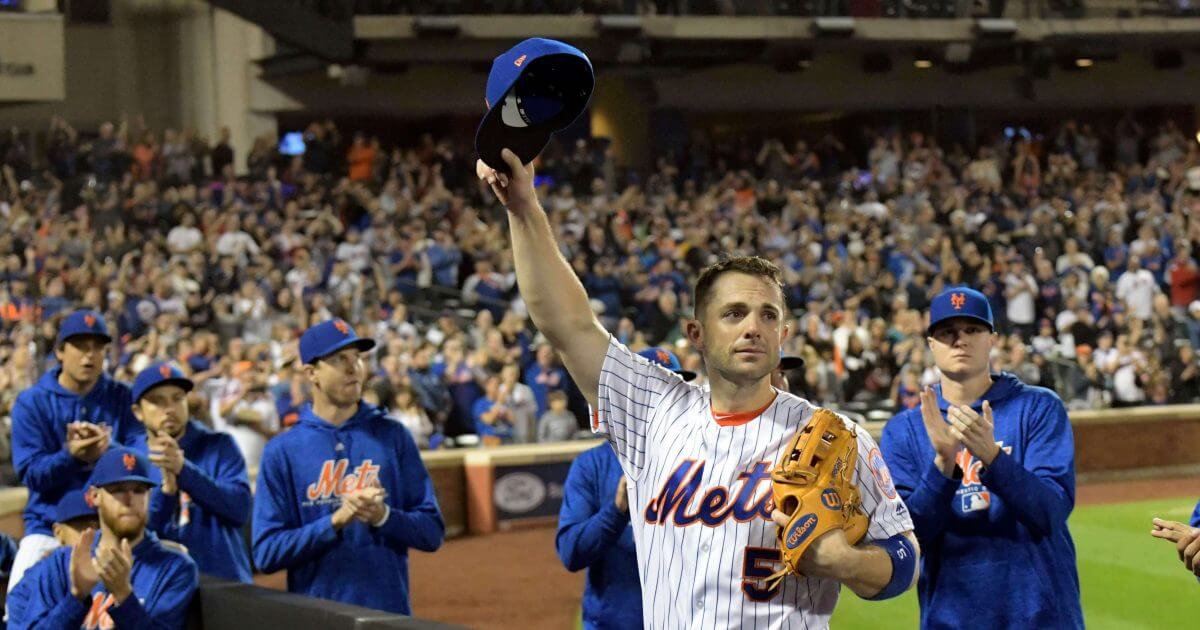 Watch: Mets Star Gives Emotional Farewell in Final Home Game - 'This Is Love'
With midnight approaching after 13 innings of mostly scoreless baseball, David Wright was handed the microphone before a full house at Citi Field.
"Everybody stayed, which is amazing," he said later. "It's crazy."
Much like the last few years of his truncated career, Wright's finale was no fairytale at the plate.
Advertisement - story continues below
Adoration, appreciation, respect. Those were the tokens he took home.
"This is love"

David Wright addresses the crowd at Citi Field: pic.twitter.com/iLYqA3MpxH

— SNY (@SNYtv) September 30, 2018
Wright walked off to a long standing ovation before a sellout crowd Saturday night in his farewell game for the New York Mets.
"This was surreal," he said. "It hit me right in the heart when I took the field for the first time and heard the fans cheer, and that is something that I will always remember."
Advertisement - story continues below
The team captain went 0 for 1 with a walk against the Miami Marlins during New York's 1-0 victory in 13 innings. He was removed after two plate appearances as planned, and on defense he handled a one-hopper to third base with no problem.
When the game finally ended, Wright joined teammates as they ran onto the field to swarm Austin Jackson, who hit the winning double. Then they all watched from the dugout together, some holding their own kids, as the Mets played a tribute to Wright on the ballpark video board. After that, he addressed the crowd in a speech that lasted a little more than two minutes.
Is David Wright the best third baseman in Mets history?
"I think I'm all out of tears, so I think we're good to go with that," he said. "This is love."
Wright, who fouled out to first base his final time up, took his position before the top of the fifth inning. Mets manager Mickey Callaway then came out of the dugout to make a lineup change, and Wright began his slow stroll off the field.
As fans chanted his name and cheered for more than three minutes, Wright saluted them by touching the bill of his cap and patting his chest repeatedly. He went down the line and hugged all his teammates just in front of the Mets' dugout, with Marlins players standing and applauding from across the field.
Advertisement - story continues below
"David deserved this day. That's for sure," Callaway said.
With watery eyes, Wright took a bow, blew a kiss to the crowd of 43,928 and came out of the dugout for a curtain call before heading up the runway toward the Mets' clubhouse, followed by several teammates.
Once he was out of sight, fans chanted "Thank you, David!"
"I should be thanking them, for everything they allowed me to experience these last 14 or 15 years," Wright said later.
Advertisement - story continues below
His stellar career cut short by neck, back and shoulder injuries that required surgery, the 35-year-old Wright completed an arduous comeback by returning to the majors this week for the first time since May 27, 2016.
Unable to fully overcome his physical setbacks, he said he expects Saturday to be his last major league appearance even though his contract runs through 2020.
"I can't sit here and tell you that I'm good with where I'm at right now. That would be a lie and that would be false because, you know, you love something so much and you want to continue that," Wright said. "But tonight was special."
Wright was reinstated from the disabled list Tuesday and finally made it back into a big league game Friday night as a pinch-hitter. He grounded out on the only pitch he saw in his first plate appearance in nearly 2½ years, then batted third in a ceremonial start Saturday that was in the works for weeks.
Advertisement - story continues below
With family and friends on hand, the seven-time All-Star crouched behind home plate to scoop up an honorary first ball tossed by the oldest of his two daughters, 2-year-old Olivia Shea, who wore a Lil Wright jersey with his No. 5 on the back.
Highlights of Wright's career played on the video board just before the first pitch. He bounded out to third base alone, followed by longtime teammate and buddy Jose Reyes, who started alongside Wright at shortstop for the first time since Sept. 28, 2011.
The pair embraced several times on the field and soaked in applause during their 878th start together, most by any two players in team history, according to the Elias Sports Bureau.
"It brought back a lot of memories," Wright said.
Advertisement - story continues below
Tugging at heartstrings all night, the Mets accompanied a video montage of Wright in his finale with music from "The Natural" a few innings later.
Reyes doubled leading off the first and reached third on Jeff McNeil's sacrifice bunt, setting up an RBI opportunity for Wright. With the Marlins playing their infield in, Wright fouled off a 91 mph fastball and drew a full-count walk from rookie Trevor Richards.
"I wish I could have gotten a hit or found a hole or something, but at least I have an on-base percentage this year," Wright said, drawing laughs.
Wright was immediately erased on a double play. He fouled out on the second pitch he saw leading off the fourth, with first baseman Peter O'Brien making a not-so-easy catch near the retaining wall that turned him into the target of loud boos all night.
Advertisement - story continues below
"I'm hated here. I'm OK with that," O'Brien said.
Still grinning, a disappointed Wright trudged slowly back to the dugout.
"I feel bad for the guy — but I don't feel bad for the guy," Wright said, eliciting more laughs.
Wright's big night was big news in New York City, where Mayor Bill de Blasio in a morning tweet proclaimed it David Wright Day "in honor of (hashtag)OurCaptain."
Advertisement - story continues below
SNY, the television home of the Mets, programmed Wright highlights, interviews and features that ran all day beginning at 10 a.m.
Even the crosstown rival Yankees took out a full-page ad Friday in the New York Post congratulating Wright on "a distinguished career."
"This is a pretty amazing night," said Mets chief operating officer Jeff Wilpon, who presented Wright with the framed proclamation after the game. "This is one of those things that you're never going to forget. There's not many people like David Wright in this world."
The Citi Field gates opened early at 4:30 p.m. so fans could watch Wright and the Mets take batting practice. The star of the show knocked a few balls over the fence, waved to the crowd and signed autographs.
Advertisement - story continues below
The club's career leader in hits, RBIs, runs and several other categories, Wright was drafted by the Mets and has spent his entire career with them. For years he's been the face of the franchise — and sometimes its most visible spokesman — for a team that often sorely needed the positive image he always portrayed.
If there's ever been a Mr. Met without the big head, David Wright is it.
"His grind just to get back to this spot has been unbelievable — and most people wouldn't do it," Callaway said before the game. "We're doing something special for David not because of the numbers he put up, but because of the person he is."
The Western Journal has reviewed this Associated Press story and may have altered it prior to publication to ensure that it meets our editorial standards.
Conversation