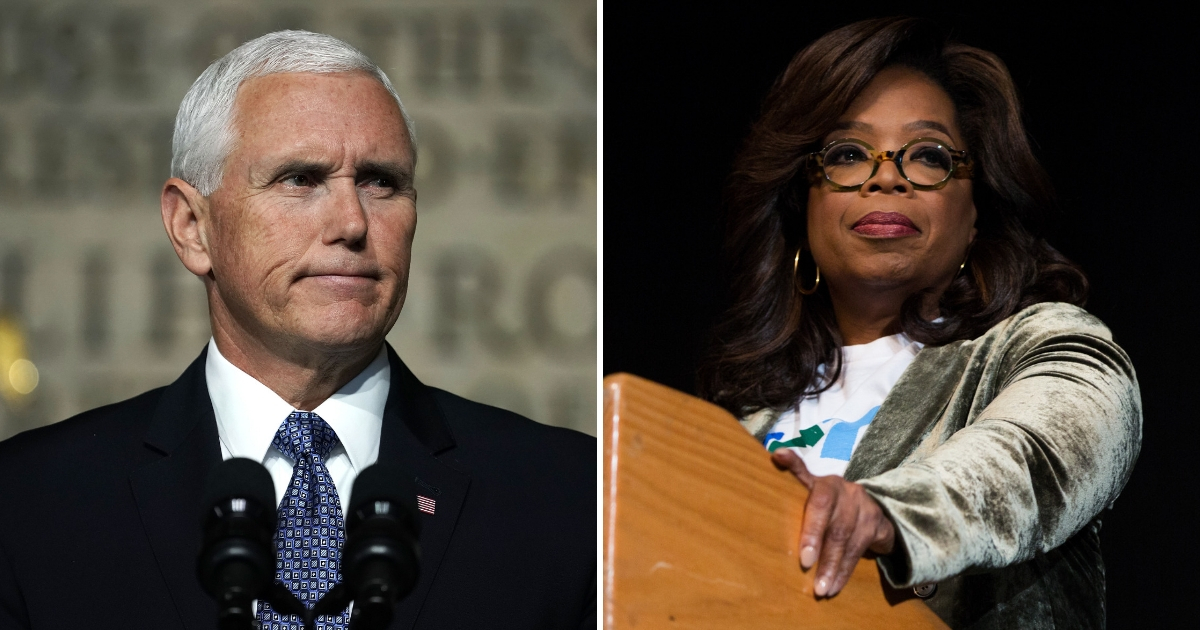 Mike Pence Tells Oprah 'This Ain't Hollywood' as They Support Dueling Candidates
Vice President Mike Pence reminded audiences that "This ain't Hollywood" during a rally for Republican gubernatorial candidate Brian Kemp in Dalton, Georgia, Thursday on the same day that Oprah Winfrey campaigned for Democratic candidate Stacey Abrams.
"I heard Oprah is in town today. I heard Will Ferrell was going door-to-door the other day. I'd like to remind Stacey and Oprah and Will Ferrell, I'm kind of a big deal, too," Pence said according to The Atlanta Journal-Constitution.
"And I got a message for all of Stacey Abrams's liberal Hollywood friends: This ain't Hollywood. This is Georgia. And Georgia wants a governor that's going to put Georgia values and Georgia first. And Brian Kemp is going to do just that."
Advertisement - story continues below
Abrams announced Winfrey would campaign for her at two town hall events in the Georgia towns of Marietta and Decatur Thursday, Abrams wrote on Twitter Wednesday.
The big-name appearances come after a Tuesday FOX 5 poll showed Abrams and Kemp in a "statistical dead heat."
Abrams at 48.1 percent and Kemp at 47.2 percent with a 3.9 percent margin of error. The poll was conducted Sunday and Monday and interviewed 623 Georgia voters.
Pence also hammered Abrams for comments she made Oct. 16 that implied working in Georgia's agricultural sector was not valuable.
Advertisement - story continues below
"Brian Kemp's going to fight for Georgia's farmers, ranchers and producers," Pence said in Dalton Thursday. "His opponent, I'm told, actually said . people shouldn't have to go into agriculture to make a living in Georgia."
The remark was met with boos from the rally-goers.
Winfrey joined other celebs who have supported Abrams, including rapper Common and actor Will Ferrell.
Abrams could become the first black American female governor in the U.S. if she beats Kemp, who is currently Georgia's secretary of state.
Even more public figures will stop by Georgia ahead of Abrams and Kemp's tight race.
Advertisement - story continues below
President Donald Trump will host a rally with Kemp in Macon Sunday, reported The Atlanta Journal-Constitution. Former President Barack Obama will appear with Abrams at a get-out-the-vote rally in Atlanta Friday, reported The Hill.
RealClearPolitics shows Kemp ahead by the statistically insignificant amount of 1.4 points in its poll average. More than 1.5 million Georgians have already voted, reported the Associated Press Thursday.
A version of this article appeared on The Daily Caller News Foundation website.
Conversation