News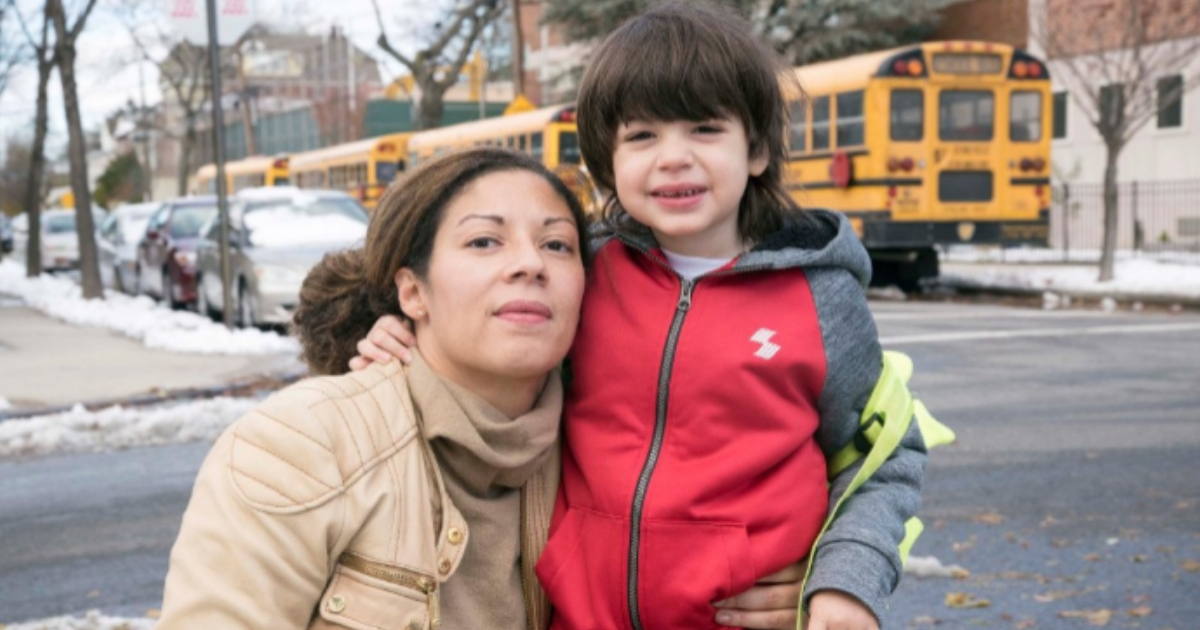 This Mom Wouldn't Let Anything Stop Her from Saving Her Special Needs Son on 'Bus Ride from Hell'
Special needs children ended a day of school with hours of torment on bus rides that lasted forever due to a storm that slammed New York City on Nov. 15.
But for one mom, nothing was going to keep her from rescuing her son.
Christina Christie spent five hours trying to break through the logjams of traffic and snow-clogged streets to reach the bus that held her five-year-old son, John, the New York Post reported.
Advertisement - story continues below
In the end, she had to ditch her car and rescue her son on foot.
"It was just sheer desperation at that point," she said. "I was going to be that crazy mom."
This mom stopped at nothing to rescue special needs son on bus ride from hell https://t.co/FcAWrljKfz pic.twitter.com/qXghfL6qQo

— New York Post (@nypost) November 17, 2018
Advertisement - story continues below
Her son was not alone. New York City Council Member Ben Kallos cited the context for Christie's rescue by citing another instance like it, WPIX reported.
"These children left their school in Manhattan shortly after 2 p.m. and didn't make it home until well after midnight the following day, more than 10 hours later," he said in a statement. "Five children had to spend more than 10 hours without a bathroom, 10 hours without a meal, 10 hours stuck on a bus."
Should the parents sue over this?
Christie, who works in Manhattan, found out at about 6 p.m. that the bus carrying her son and six other students was stuck and had not moved in hours. All the students attend Cook School in the East Village, a private school for children with special needs.
"I just wanted to get to him," Christie said. "I was getting really concerned."
After hours of going nowhere fast, she and the bus both finally reached the Bronx at about 1 a.m. But there was too much traffic for Christie to drive through it.
Advertisement - story continues below
She drove up on the sidewalk, locked the car and left it to walk an hour to reach the bus, one of many stranded on New York City streets that night.
"I knew there was a police precinct a few blocks away," she said. "We needed to warm up and calm down, so we headed over there."
After a police officer helped get her to her car, she and her son reached home at about 4 a.m.
Christie claims the adults did not seem to understand — or care — what was happening to the children.
Advertisement - story continues below
"It just felt like no one was paying attention," she said.
Carla Pratt, whose 14-year-old daughter was also on the long-delayed bus, said her daughter did not get home until 3:45 a.m.
When the girl called her mother, "I heard nothing but crying and screaming on the phone when she called me," Pratt said.
Pratt said she was disgusted by the lack of compassion by the adults on the bus.
Advertisement - story continues below
"The bus matron refused to let me know what was happening," she said. "This was a crisis. There was no empathy for these kids, no humanity."
She said her daughter had to urinate in a plastic bag, and that the students were never fed.
"They just didn't handle this well," she said.
Several parents emulated Christie and went out in the storm to get their children, the Daily News reported.
Advertisement - story continues below
Some mothers and fathers took matters into their own hands and set out to rescue their kids.
"It was too much, I went to go get my son myself," said Bronx mom Judilka Lalane, 52, whose 20-year-old son, Justin, has autism. "I walked to get him in the snow."
At 10 p.m., eight hours after school got out, she found his bus was still half a mile away.
"I knew he was hungry and wanted to use the bathroom," Lalane said. "I had to go."
Advertisement - story continues below
Christie said that her son had one thing to say when they were home and safe.
"Mommy, no more school tomorrow, OK?" she quoted him as saying
Conversation