Commentary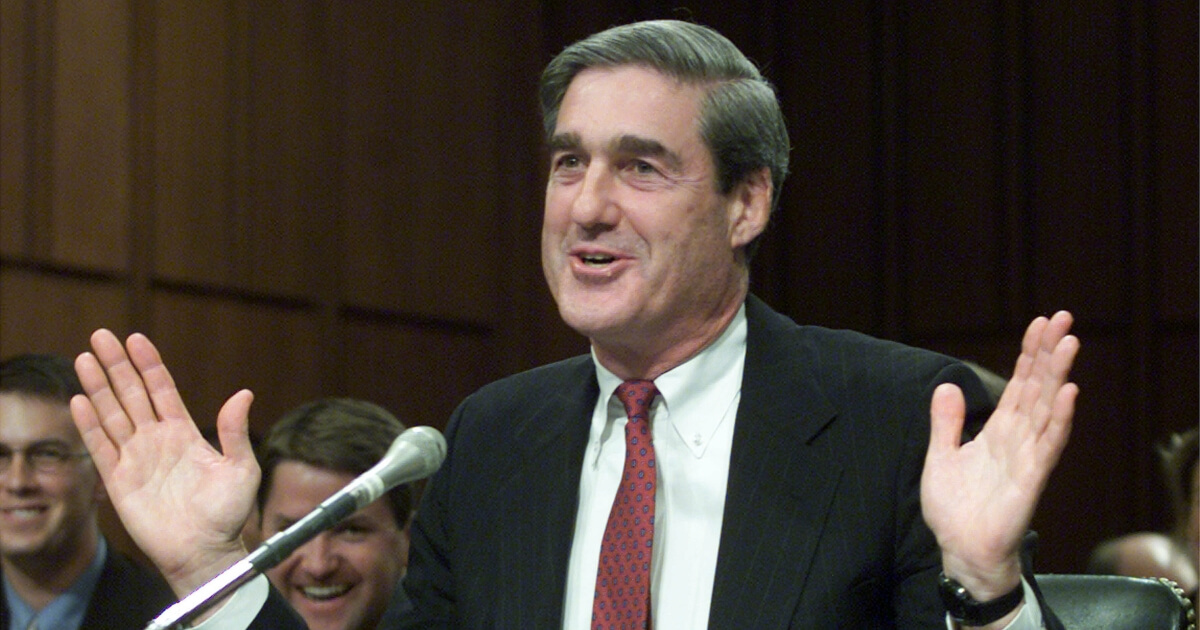 Mueller Dragged to FISA Court 17 Years Ago To Answer for FBI's Cheating on Warrants: [Report]
Republicans including President Donald Trump have recently been mocked for suggesting that the so-called "deep state" may have abused federal power for political reasons, but it seems the FBI has a long history of doing just that.
As you may remember, many of the "Russian collusion" claims leveled against Trump — including those being examined by Special Counsel Robert Mueller — hinge on FISA warrants.
Under the Foreign Intelligence Surveillance Act, federal agencies are prohibited from conducting surveillance on American citizens, and even accidental monitoring of a U.S. person is taken very seriously.
Advertisement - story continues below
….FISA abuse, Christopher Steele & his phony and corrupt Dossier, the Clinton Foundation, illegal surveillance of Trump Campaign, Russian collusion by Dems – and so much more. Open up the papers & documents without redaction? Come on Jeff, you can do it, the country is waiting!

— Donald J. Trump (@realDonaldTrump) August 24, 2018
There is mounting evidence that officials who did not want to see Trump become president exaggerated or openly lied to a FISA court in order to conduct surveillance on the candidate's associates … and information that may have been obtained through false pretenses is now at the heart of Mueller's investigation.
But incredibly, it may not have been the first time those abuses happened, and Mueller himself should be very familiar with past FBI overreach.
Advertisement - story continues below
In a scathing Op-Ed piece published by The Hill on Wednesday, investigative journalist John Solomon alleged that the FBI was called out on past blunders involving FISA.
"Robert Mueller, the former FBI director and current special prosecutor in the Russia case, once was hauled before the nation's secret intelligence court to address a large number of instances in which the FBI cheated on sensitive surveillance warrant," Solomon wrote, citing congressional sources.
Do you think the Mueller investigation will ever end?
According to Solomon, then-FBI Director Mueller was called before the FISA court in the early 2000s to face questions about how the the law enforcement agency was bending the rules to obtain improper surveillance warrants.
In other words, they were lying to go spying.
"The episode is taking on new significance as Mueller moves into the final stages of his Russia probe while evidence mounts that the FBI work preceding his appointment as special prosecutor may have involved improprieties in the securing of a FISA warrant to spy on Donald Trump's campaign in the final weeks of the 2016 campaign," Solomon explained.
Advertisement - story continues below
He drew a direct connection between the alleged FISA abuses that enabled the FBI to wiretap Trump Tower and similar practices going back to the 9/11 era.
"The sin that plagued the FBI two decades ago, and that now lingers over the Russia case, involves the omission of material facts by agents applying for FISA warrants in sensitive counterterrorism and counterintelligence cases," Solomon said.
"Trisha Anderson, who recently stepped down as the FBI's principal deputy general counsel, told House investigators late last year in an interview that early in Mueller's FBI tenure, nearly two decades ago, the FISC summoned the new director to appear before the judges to address concerns about extensive cheating on FISA warrants," the respected reporter continued.
It was the federal equivalent of being sent to the principal's office. By that FBI official's own admission, a "pattern" of abuses had occurred where the Bureau acted as if it was above the rules on spying.
Advertisement - story continues below
"It preceded my time with the FBI but as I understood it, there was a pattern of some incidents of omission that were of concern to the FISA court that resulted in former Director Mueller actually appearing before the FISA court," Anderson testified to Congress.
Remember, Anderson was not some random person, but one of the main legal experts for the entire FBI.
"A declassified FISC order from 2002 gives a glimpse into how serious the omissions were: In one case the FBI failed to tell the court that the person they were seeking a FISA warrant to surveil was, in fact, one of their own informants," Solomon pointed out.
Such abuses point to purposeful deception by FBI officials to get around the pesky limits imposed by FISA — limits that were enacted to safeguard the rights of American citizens.
Advertisement - story continues below
Had those been isolated incidents, they might just be footnotes from the chaotic post-9/11 world. But it looks very likely that the FBI didn't learn its lesson, and kept ignoring FISA regulations if it suited them.
"(W)e now know the FBI, in 2016, omitted significant information from the application for the FISA warrant that allowed it to spy on Trump campaign adviser Carter Page in hopes of finding evidence of collusion between Russia and the GOP presidential nominee's campaign," Solomon wrote.
He went on to detail a list of evidence where the FBI apparently tripped over itself to misrepresent information for FISA warrants, basically acting as if their efforts against Trump and his associates justified lying to that powerful court.
"Yet, thanks to Anderson's recounting of the episode from 16-plus years ago, we now know the FISA judges don't tolerate omissions of material facts and were angry enough in an earlier time to haul the FBI director into court to make their point. Anderson testified Mueller got to see that lesson up close and personal," continued Solomon.
Advertisement - story continues below
It's worth noting that Mueller himself may have kept his hands clean during his time as head of the Bureau. He was called in to assure officials that past abuses would stop, not to answer for something that he had personally overseen.
However, that may throw a major wrench in the hopes of liberals that the Mueller investigation will spell the end of Trump. If anything, this latest information makes the FBI look even more guilty, as there is no way for them to deny that they knew about how serious FISA abuses are.
Finally, there is the possibility that Mueller is just as frustrated about what happened with the FBI's handling of Trump as most conservatives.
As someone who was forced to clean house almost 20 years ago, there's a chance that his report will call out the Bureau for again veering off course and abusing its power.
Advertisement - story continues below
Hopefully, Mueller still has enough integrity and decency left to do the right thing and call out abuses if they occurred.
If nothing else, the evidence suggests that no matter what you call it, the "deep state" is not new, and it is very real.
Conversation