Commentary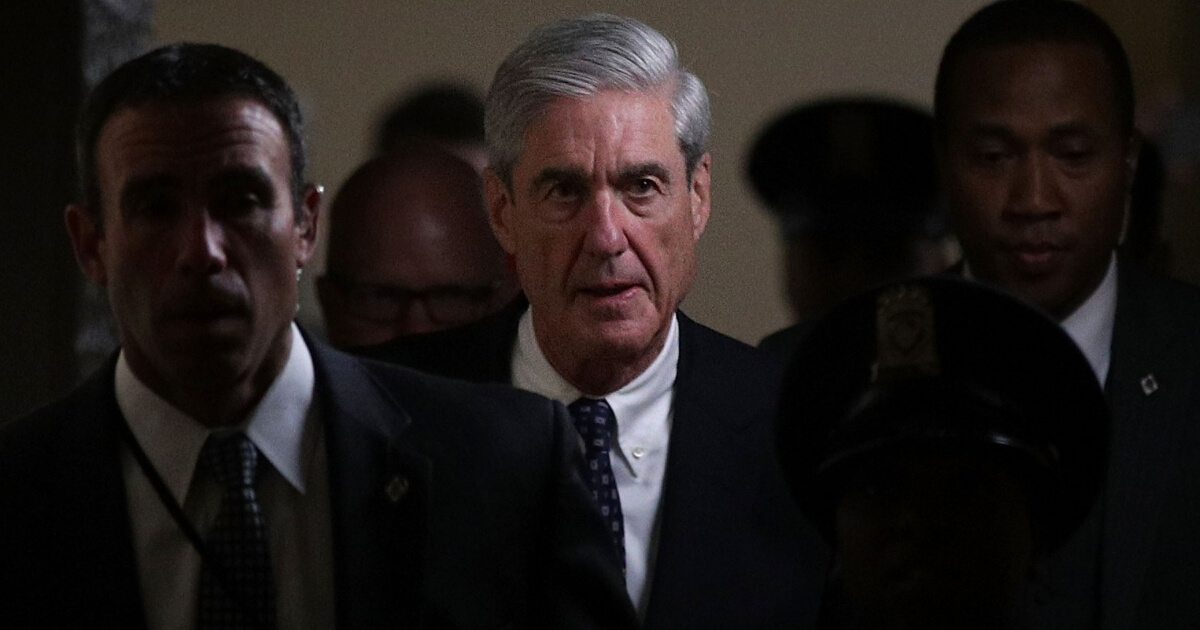 Mueller Previously Cost Taxpayers Millions in Settlements
Now as ever, Special Counsel Robert Mueller remains the unimpeachable core of the left's ineluctable march toward impeachment. He's a man of honor. He's like Joe Friday and Cincinnatus rolled into one.
And he played a rather dubious role in two cases that caused the FBI to pay out $107 million to several individuals.
What, you say? You don't remember this? Well, if you haven't heard the stories of Louie Greco, Henry Tameleo, Peter Limone, Joe Salvati and Steven Hatfill, let me fill you in.
Advertisement - story continues below
In a Daily Caller article published in June, Boston radio legend Howie Carr recalled how then-FBI Director Mueller vehemently opposed the pardon of four men who were wrongly convicted because the evidence showing they likely weren't guilty was merely "fodder for cross-examination."
"Four years later, the four men, or their estates, were awarded $102 million by a federal judge in Boston for their wrongful decades-long imprisonment due to FBI misconduct," Carr wrote.
Greco, Tameleo, Limone and Salvati had all been convicted in the Chelsea, Massachusetts, murder of Edward "Teddy" Deegan, described by Carr as "a small-time hoodlum," during a bank robbery.
"Within days of the murder, Boston FBI agents knew the identities of the actual murderers, and reported the information to J. Edgar Hoover in Washington," Carr wrote. "But they allowed a Mob hitman they had flipped, Joseph Barboza, to settle some old scores by falsely testifying that the four men had taken part in the gangland murder he had helped arrange with others."
Advertisement - story continues below
That was in 1967. In the intervening years, the truth began spilling out. Greco, a decorated World War II veteran, had been in Florida when the murder was committed. An FBI agent had openly bragged about framing him, according to a Boston gangster who testified before Congress, saying, "How does Louie Greco like going from Miami to death row? He wasn't even there!"
Greco died in 1995 after serving 28 years.
Do you think Mueller has acted fairly as special counsel?
"For 35 years, the FBI refused to release the evidence exonerating the wrongfully imprisoned men on the grounds of 'national security,'" Carr wrote. "It was finally released in 2000 as part of an investigation into corruption in the Boston office of the FBI."
Even after that and a state pardon, however, Mueller said he didn't know if the men weren't guilty — even though his own FBI had concluded they weren't the killers decades prior.
"This does not necessarily mean, however, that Limone or any of the other defendants is innocent — it merely means that they are entitled to a new trial," Mueller said, even while acknowledging that the reports on the FBI's actions contained "impeachable material."
Advertisement - story continues below
Despite Mueller's protestations, the men won a $102 million settlement.
"Even after the facts of the FBI cover-up were revealed, the FBI continued the cover-up with the approval and authorization of Director Robert Mueller III," Michael Albano, a former member of the Massachusetts parole board and mayor of Springfield who worked to free the innocent men, told Carr.
That same kind of indifference to the facts was shown again in the case of Steven Hatfill.
Hatfill might be a bit more familiar to readers. After the anthrax attacks that followed 9/11, Hatfill — then a virologist at the U.S. Army Medical Research Institute of Infectious Diseases at Fort Detrick — became a prime suspect.
Advertisement - story continues below
"Despite the jihadist slogans accompanying the mailed anthrax, it had nothing to do with Saddam Hussein or any foreign element," Carl Cannon wrote for RealClearPolitics back in 2017, around the time of Mueller's appointment.
According to Cannon, "the FBI ignored a 2002 tip from a scientific colleague of the actual anthrax killer, who turned out to be a Fort Detrick scientist named Bruce Edwards Ivins; the reason is that they had quickly obsessed on an innocent man named Steven Hatfill; the bureau was bullied into focusing on the government scientist by Democratic Sen. Patrick Leahy (whose office, along with that of Senate Majority Leader Tom Daschle, was targeted by an anthrax-laced letter) and was duped into focusing on Hatfill by two sources — a conspiracy-minded college professor with a political agenda who'd never met Hatfill and by Nicholas Kristof, who put his conspiracy theories in (The New York Times) while mocking the FBI for not arresting Hatfill.
"In truth, Hatfill was an implausible suspect from the outset. He was a virologist who never handled anthrax, which is a bacterium. (Ivins, by contrast, shared ownership of anthrax patents, was diagnosed as having paranoid personality disorder, and had a habit of stalking and threatening people with anonymous letters — including the woman who provided the long-ignored tip to the FBI).
"So what evidence did the FBI have against Hatfill? There was none, so the agency did a Hail Mary, importing two bloodhounds from California whose handlers claimed could sniff the scent of the killer on the anthrax-tainted letters. These dogs were shown to Hatfill, who promptly petted them. When the dogs responded favorably, their handlers told the FBI that they'd 'alerted' on Hatfill and that he must be the killer."
Advertisement - story continues below
So where does Mueller come in? Despite the paucity of the evidence, "Mueller, who micromanaged the anthrax case and fell in love with the dubious dog evidence, personally assured (Attorney General John) Ashcroft and presumably George W. Bush that in Steven Hatfill the bureau had its man," Cannon wrote.
James Comey, then the deputy FBI director, "was asked by a skeptical Deputy Secretary of Defense Paul Wolfowitz if Hatfill was another Richard Jewell — the security guard wrongly accused of the Atlanta Olympics bombing. Comey replied that he was 'absolutely certain' they weren't making a mistake."
How did that work out?
"In 2008, after Ivins committed suicide as he was about to be apprehended for his crimes, and the Justice Department had formally exonerated Hatfill — and paid him $5.82 million in a legal settlement — Mueller could not be bothered to walk across the street to attend the press conference announcing the case's resolution," Cannon wrote. "When reporters did ask him about it, Mueller was graceless. 'I do not apologize for any aspect of the investigation,' he said, adding that it would be erroneous 'to say there were mistakes.'"
Advertisement - story continues below
In other words, when he finds his man, he doesn't make mistakes — even when they're not guilty.
While this isn't to say that he will end up acting the same way in the Donald Trump investigation (and let's face facts, this has almost zero to do with Russia anymore), ask yourself whether this is a man with unimpeachable credentials. Indeed, in two very high-profile cases, Mueller decided that his hunches meant more than the evidence. We'll have to wait to see his report and how well-corroborated it is, but who's to say it won't happen again?
Conversation