News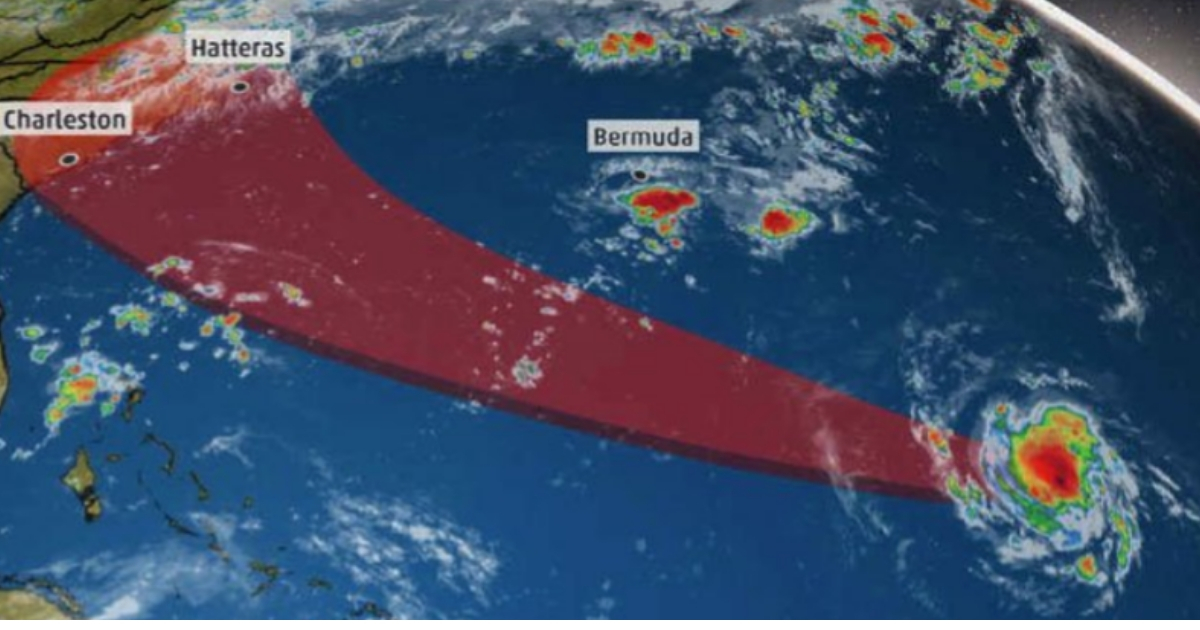 Multiple States Declare State of Emergency as Florence Threatens Coast
Tropical Storm Florence is now forecast to become a major hurricane that will slam the East Coast of the United States some time Thursday, according to the National Hurricane Center.
The NHC issued a bulletin early Sunday saying that Florence was expected to reach hurricane force later Sunday.
"On the forecast track, the center of Florence will move over the southwestern Atlantic Ocean between Bermuda and the Bahamas Tuesday and Wednesday, and approach the southeastern U.S. coast on Thursday," the bulletin said, noting that swells from the storm are already touching beaches along the coast.
Advertisement - story continues below
"Florence is forecast to become a major hurricane on Monday," the bulletin added.
North Carolina, South Carolina and Virgina have all issued alerts to prepare for the storm.
#Florence is expected to rapidly intensify soon and poses a major danger to the Southeast coast later this week: https://t.co/y826cBlOdi pic.twitter.com/MsVKN6MDoi

— The Weather Channel (@weatherchannel) September 9, 2018
"Residents and interests living along and near the Carolina coast and even up toward the Virginia Capes should closely monitor Florence and be ready to put their hurricane plan in place," said Dan Kottlowski of AccuWeather. "If you do not have a hurricane plan in place, do so immediately."

Advertisement - story continues below

Do you fear the impact of a hurricane like this?

CNN meteorologist Allison Chinchar said adjacent areas should also be prepared.

"It looks like now that (computer model) consensus really kind of puts it between Georgia and North Carolina," she said, according to CNN.

"If you live anywhere along the East Coast, you want to be paying attention, because even if you (aren't at) the main landfall point, you're still likely to have impacts," she said. These impacts could include heavy rain.
The latest look at the earliest reasonable arrival times/probabilities for Tropical Storm Force Winds associated with #Florence. Probabilities continue to increase from northwest to southeast in #NCwx. Preparation window continues to decrease. https://t.co/2SQKH6G0vB pic.twitter.com/NFsVcXNdEF

— NWS Raleigh (@NWSRaleigh) September 9, 2018
North Carolina Gov. Roy Cooper declared a state of emergency Friday, and said the state would do all it could to help farmers harvest crops in the days before any possible landfall, Fox News reported.
South Carolina Gov. Henry McMaster made his emergency declaration Saturday, calling Florence "a very unpredictable hurricane."
Advertisement - story continues below
"This is not an evacuation. It is way too early for that," McMaster said. "We know that it's coming and we know that we need to take precautions. We are preparing for the worst and, of course, hoping for the best. Being prepared is always the best strategy," he said.
Virginia Gov. Ralph Northam declared a state of emergency in his state late Saturday night.
Florence is not the only active storm in and around the Atlantic Ocean. Remnants of Tropical Storm Gordon are expected to dump rain across the Northeast Sunday night and into Monday. Tropical Storm Isaac is on track to hit the southern Caribbean next week some time, ABC reported.
In the Pacific, Hurricane Olivia could impact Hawaii next week.
Conversation