Sports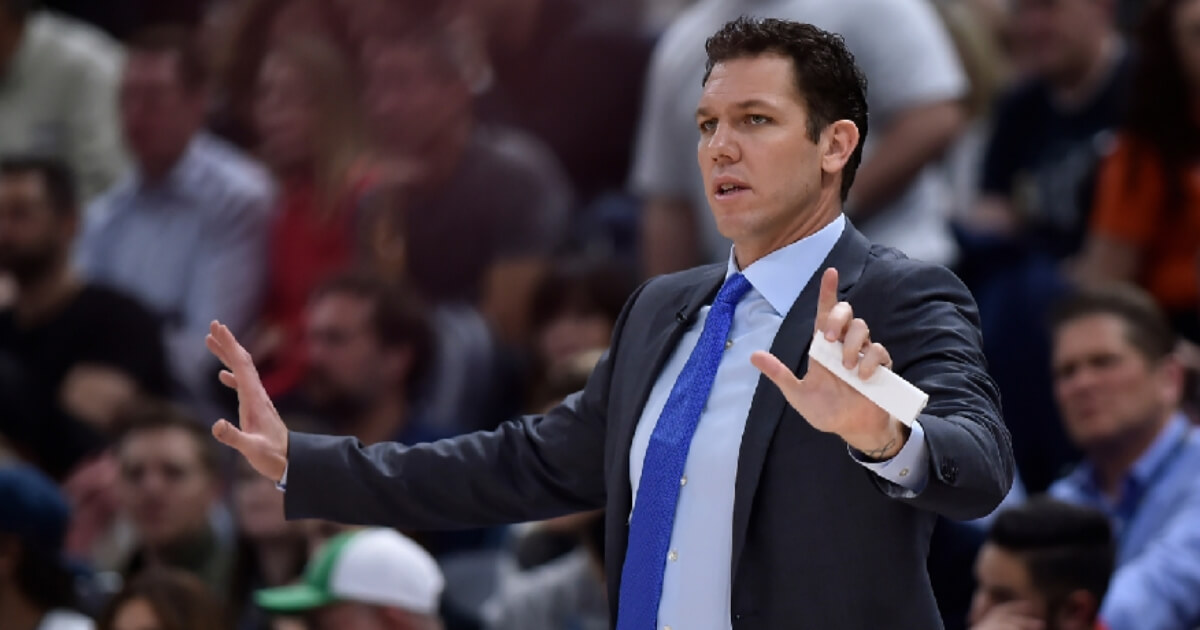 The Mutiny's Begun: Lakers Vets Reportedly Turning on Their Coach
How did Phil Jackson, winner of 11 NBA championships, achieve such legendary coaching success? His approach to the game was certainly part of it, but it helped that he coached Michael Jordan, Shaquille O'Neal and Kobe Bryant at various points in his career. That's because in many ways, a coach is only as good as his players.
Luke Walton, taking over for Steve Kerr during Kerr's absence from the Golden State Warriors at the start of the 2015-16 season, put up a 39-4 record that actually surpassed Kerr's 34-5 mark that year with Stephen Curry, Klay Thompson, Draymond Green and 2015 NBA Finals MVP Andre Iguodala on the roster.
This year, with LeBron James and a burning garbage fire for a roster, Walton's Lakers are 27-26 after getting smacked 115-101 by the Warriors on Saturday night. Los Angeles is tenth in the Western Conference, and they've gone a wretched 6-12 (including the loss to Golden State) in games that James has sat out due to a groin injury he suffered in December.
Advertisement - story continues below
Now, The Athletic's Shams Charania reported Sunday that tensions in the locker room have reached a boiling point, as the roster beyond James looks for someone to blame.
"Several veterans — including Michael Beasley — had an emotionally-charged verbal exchange with head coach Luke Walton postgame tonight," Charania wrote on Twitter," citing league sources. "It stopped short of turning physical."
James is notorious as a coach-killer. During his first run in Cleveland, the Cavaliers fired Mike Brown after a 61-21 season in 2009-10 because owner Dan Gilbert believed it would help keep James in Cleveland. James, of course, ended up taking his talents to South Beach anyway.
Advertisement - story continues below
When James went back to Cleveland in 2014, he clashed with David Blatt. Eventually, Blatt was replaced with the more malleable Tyronn Lue, whose authority James was able to easily step over.
Since Walton is a legitimate NBA basketball coach who got 35 wins out of a G-League team (the 2017-18 Lakers) over 82 games and 39 out of a bunch of All-Stars in 43 games, he's not going to just play Igor to James' Dr. Frankenstein and let him act as player-coach.
Will the Lakers make the playoffs?
Making matters worse is the ongoing Anthony Davis trade debacle.
The situation surrounding the Pelicans superstar, who shares an agent (Rich Paul) with James and reportedly plans to sign with Los Angeles once he's a free agent in 2020, has laid bare just how awful the Lakers' roster truly is.
The Pelicans don't want Lonzo Ball, Kyle Kuzma, Brandon Ingram, any of the Lakers' draft picks, an autographed basketball from Magic Johnson or whatever else Los Angeles is offering in return.
Advertisement - story continues below
In fact, Charania reported that the Pelicans do not consider "two talented young players plus Rajon Rondo or Lance Stephenson" to be a "remotely serious" offer.
The Lakers' veterans, including Rondo, Stephenson and Beasley, have seen the writing on the wall. They know that team management doesn't value them even as James sold them on coming to Los Angeles to win a title.
And as such, three notoriously volatile, hotheaded players are being (surprise!) volatile and hotheaded.
Advertisement - story continues below
Of course, NBA Twitter is having all kinds of fun with this ongoing stink bomb of a situation:
Unfortunately for Lakers fans, there's really no silver lining.
Advertisement - story continues below
Their team is a Roland Emmerich movie, the coach appears to have lost the locker room and the 16-year veteran who played hurt in the 2018 Finals can't stay healthy and is looking a little bit like Kobe Bryant in 2013.
Plus, an NBA team with a disgruntled superstar they can't keep won't even take the Lakers' "young talent" in a fire sale unless they throw in enough first-round draft picks to make Ted Stepien roll over in his grave.
If nothing else, and the Lakers can't do a deal before Thursday's trade deadline, their team chemistry is going to be the most hilariously entertaining story in sports for the rest of the season.
And if Walton gets fired, he gets the silver lining of never again having to coach in that locker room.
Conversation