Sports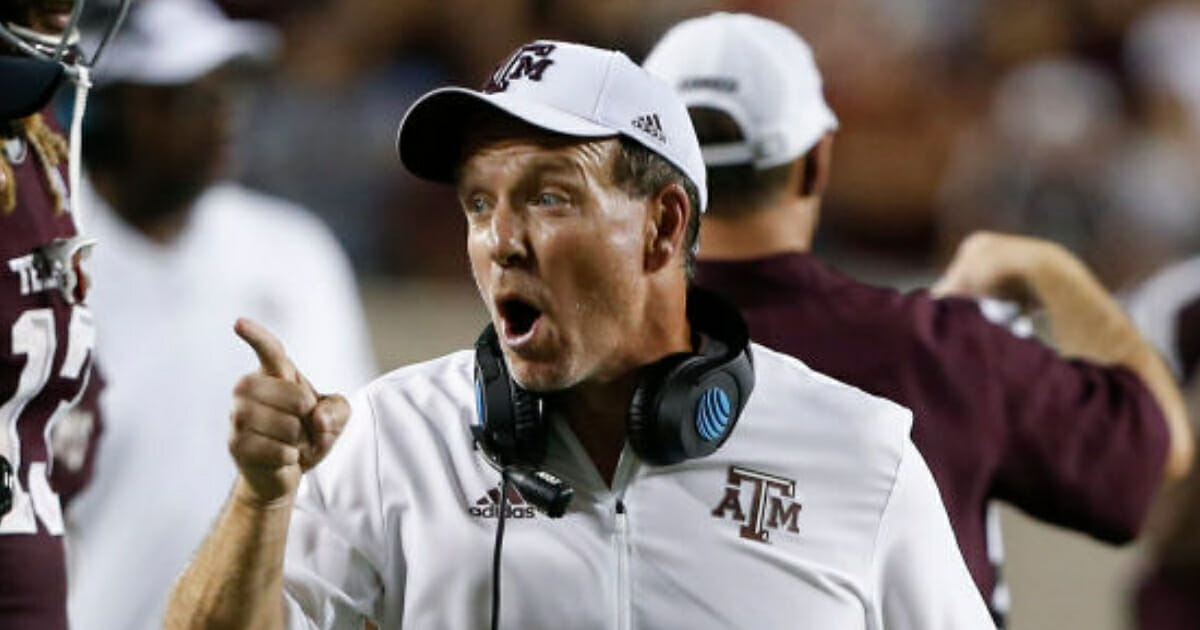 NCAA Coach Jimbo Fisher Sparks Instant Controversy After Grabbing His Player
Abusive coaches and "toxic environments" have dominated the news cycle in NCAA football this season.
Maryland head coach D.J. Durkin lost his job when the full extent of just how brutal he was to his players saw the light of day in the media, a culture so awful that it literally killed one of the kids in Durkin's charge.
History is a lot less kind to Indiana basketball coach Bobby Knight than it used to be, as what used to be called "tough love" is now simply known as what it is: bullying.
Advertisement - story continues below
Enter Texas A&M coach Jimbo Fisher, who finds himself in a heap of controversy after grabbing Tyrel Dodson's face mask on the sideline in Saturday's win over Arkansas and doing to his player what would be a 15-yard penalty and automatic first down if done by someone on the actual field of play.
Do you believe Jimbo Fisher's actions were wrong?
Fisher's so-called illegal actions were brought about by foul play on Dodson's part, which for some might just mean this is a case of the punishment fitting the crime.
Dodson had been shoving one of Arkansas' players in a bit of a pileup of players on the field, and his coach noticed and decided to apply the discipline.
Advertisement - story continues below
ESPN analyst Emmanuel Acho not only got a good video clip of the incident out onto social media, but castigated Fisher for his actions in a tweet.
So we just gonna let Jimbo Fisher get away with treating his player like a rag doll
pic.twitter.com/PbecEn4nJs

— Emmanuel Acho (@thEMANacho) September 29, 2018
Fans, however, weren't quite as convinced that Fisher had stepped out of line. Thomas Goldkamp of 24/7 Sports had other ideas about whether Fisher's actions were OK.
So we just gonna let a football coach be a football coach? https://t.co/8znWRdIZJ2

— Thomas Goldkamp (@ThomasGoldkamp) September 29, 2018
Which, in turn, has drawn the battle lines and created a clear argument to be hashed out.
After all, the court of public opinion matters, and it remains to be seen whether football fans, especially those who do not root for the Aggies, decide that Fisher is a monster.
Advertisement - story continues below
Fisher, meanwhile, explained that his intent was to knock some sense into his own guy before Dodson went out there and got himself ejected or suspended, costing the team a chance to actually win football games.
"I don't need (Dodson) out there pushing and shoving, getting in a fight in the game," Fisher said. "Learn to put your pride away and go on the sideline. There ain't no sense to go out there and push and shove and do dumb things out there when you're locked in on the game. He plays great. He's a heck of a player for us."
"Emotions get in football. It's an emotional game," Fisher added. "But you've got to play intelligently. You got to play to win. That's one of our team leaders. That's a guy we count on for everything, make calls, do everything. That guy is critical."
And Dodson, for his part, defended his coach, saying that he himself was in the wrong and Fisher was right to get in his face about it.
Advertisement - story continues below
I'm in. Coach fisher is an amazing coach, he did the right thing. I let my emotions get the best of me at that certain moment. My teammates and this University needs me. That's why he was so upset! He'll have my back no matter what.
AGS WIN ??

— Tyrel Dodson (@tdots25) September 29, 2018
We'll see whether the bit of extreme coaching had any effect as the Aggies' season rolls on.
Conversation