Sports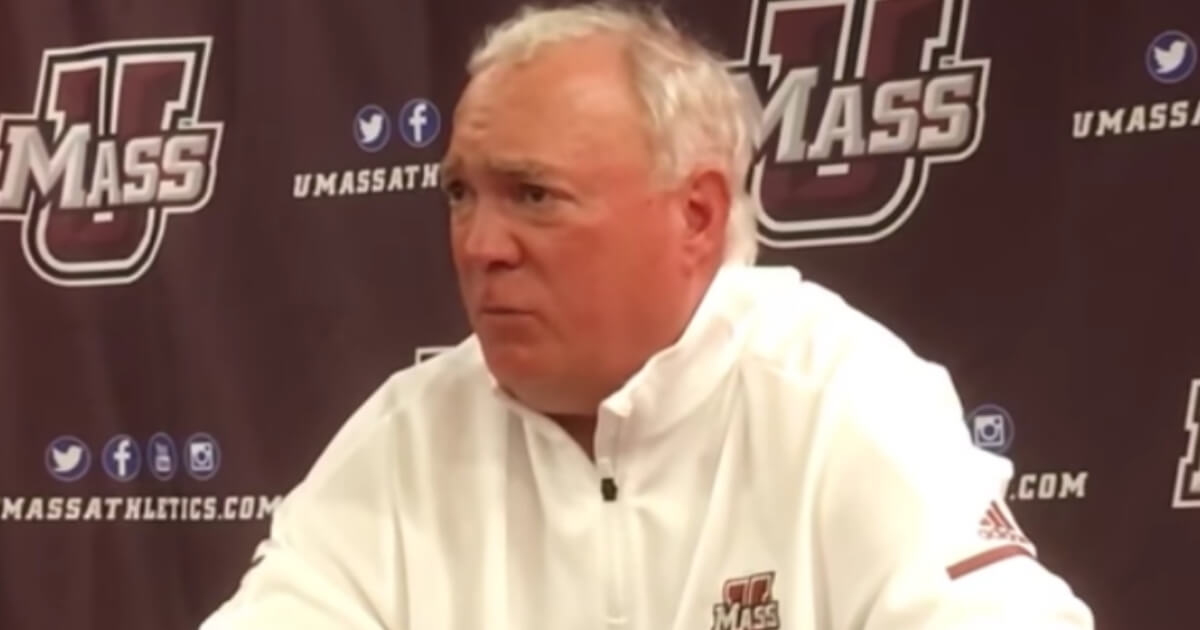 NCAA Coach Suspended After Calling Referee's Decision 'Rape'
In a world where political correctness runs rampant and people get offended over the smallest perceived slight, it takes some real effort to say something genuinely offensive.
But Mark Whipple, head football coach at the University of Massachusetts, managed to do just that immediately after the Minutemen's 58-42 loss to the Ohio Bobcats on Saturday.
Specifically — and in defiance of common sense considering what a firestorm the word has created in the news for the past couple of weeks — Whipple compared a defensive pass interference non-call to rape.
Advertisement - story continues below
On the postgame show, Whipple said, "We had a chance there with 16 down and (the officials) rape us, and he picks up the flag. So our guys fought. They have a good team and they were home, and I thought our guys were certainly ready to play because we went up 14-nothing. We just have to get ready for next week. We didn't make enough plays to beat a team like that."
Of course, if your team scored 42 points, you made enough plays on offense; it's the defense that couldn't make plays.
But political correctness aside, Whipple could have picked any word in the English language — any number of which carry sexual connotations — and he picked the one that's got everyone on edge right now? Bad form, coach. That call was as bad as the ones you made for the defense in the game.
Whipple, of course, realizing that his superiors at the school were about to hit him with a pretty big "dude, not cool" for his words, apologized Sunday.
Advertisement - story continues below
"I am deeply sorry for the word I used on Saturday to describe a play in our game," the coach said. "It is unacceptable to make use of the word 'rape' in the way I did and I am very sorry for doing so. It represents a lack of responsibility on my part as the leader of this program and a member of this university's community, and I am disappointed with myself that I made this comparison when commenting after our game."
Which, as mea culpas go, would seem to smooth things over, hence the relatively light punishment of a one-game suspension.
Is a one-game suspension a fair punishment for Coach Whipple's choice of words?
The school itself had its share of things to say as well.
As athletic director Ryan Bamford said, "On behalf of our department, I deeply apologize for the comments made by head coach Mark Whipple on Saturday after our game at Ohio. His reference to rape was highly inappropriate, insensitive and inexcusable under any circumstance. Coach Whipple's comments don't reflect the values of this institution, our athletics department or football program. Mark is disappointed in himself and understands the serious error in judgement."
The Minutemen's next opponent is South Florida — coming off its third straight bowl appearance and second consecutive double-digit win season — on Saturday. The Bulls are currently 4-0, while UMass stands at 2-4.
Advertisement - story continues below
The Minutemen have Oct. 13 off, which means Whipple will return to the sideline Oct. 20, when the squad faces off against the Coastal Carolina Chanticleers, who currently sit at 3-2 overall and 1-1 in the Sun Belt Conference.
Meanwhile, the lesson from Whipple's linguistic misstep echoes through college football and the broader sports landscape.
There are a lot of words you can use to describe a referee unfairly treating your team. There are plenty of downright vulgar terms you can use to describe that act, some of them sexual in nature.
But to say your team got raped? There's a line, and we just saw someone cross it.
Conversation