Commentary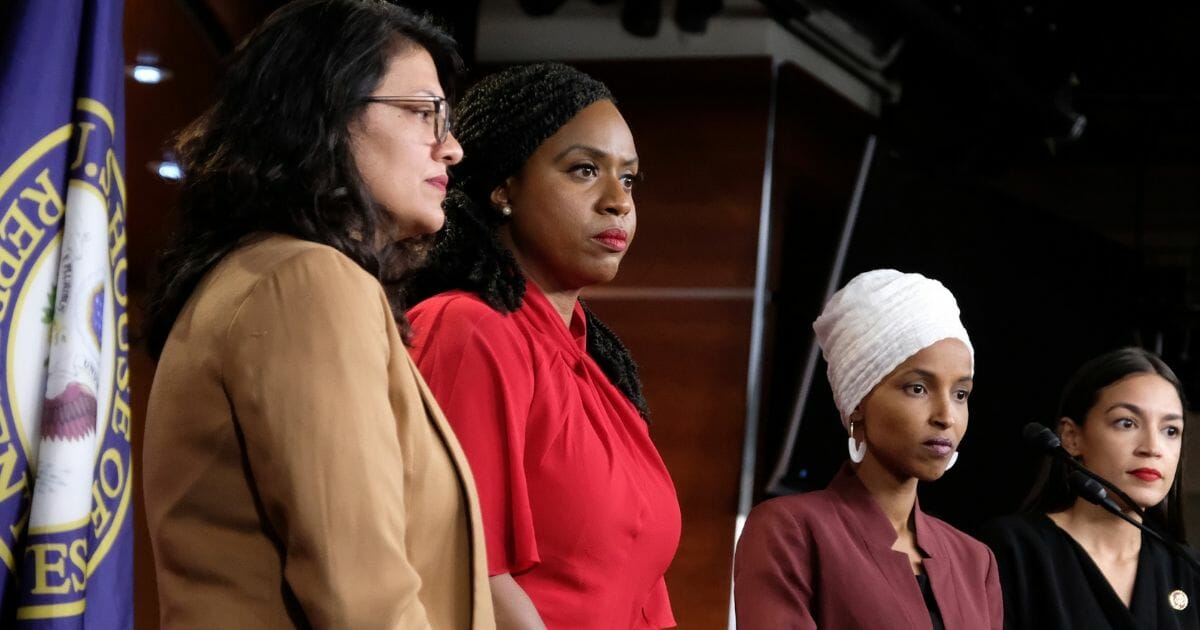 New Poll Shreds 'Squad,' Even ICE More Popular Than 4 Congresswomen
According to recent polling, "the squad" of four outspoken leftist congresswomen are "toxic" to the Democratic Party and far less popular among voters than the liberal establishment media has portrayed them to be.
The group of freshmen representatives — comprised of Alexandria Ocasio-Cortez of New York, Ilhan Omar of Minnesota, Rashida Tlaib of Michigan, and Ayanna Pressley of Massachusetts — had dismal approval numbers in the left-leaning poll. That likely explains recent efforts by top House Democratic leaders like Speaker Nancy Pelosi to distance themselves from the group.
One of the key rallying cries of "the squad" — aside from hating President Donald Trump with a visceral passion — is their incessant call for the abolition of the U.S. Immigration and Customs Enforcement agency.
Advertisement - story continues below
The squad members have repeatedly likened ICE agents to Nazi storm troopers rounding up innocent people and referred to temporary migrant detention facilities operated by ICE to be akin to Nazi-era "concentration camps."
According to the poll results, however, it would appear that the squad's efforts to demonize ICE and spur public sentiment toward abolishing the agency has been largely ineffective. In fact, the federal agents who enforce immigration laws received a higher approval rating than any of the four squad members.
A mid-July poll by The Economist/YouGov of 1,500 adult U.S. citizens, more than three-quarters of whom were registered voters, asked where the respondents stood in terms of their opinion on ICE and, separately, the four members of "the squad."
ICE was viewed "very" favorably by 27 percent and "somewhat" favorably by 15 percent, for a combined favorable score of 42 percent, with an equal combined unfavorable rating and 17 percent who were "not sure" how they felt about the agency.
Advertisement - story continues below
As for whether respondents supported or opposed the calls to abolish ICE and replace it with a different agency, a combined 33 percent either "strongly" or "somewhat" supported such a move, while a combined 43 percent were either "strongly" or "somewhat" opposed to abolishing ICE, with 25 percent unsure.
Just a few questions later in the poll, respondents were provided with a list of names of rising Democratic Party stars — including the four members of the squad — and were asked whether they had a favorable or unfavorable opinion of each individual.
Is Ocasio-Cortez's 'squad' far less popular than they think they are?
Ocasio-Cortez had a combined "very" and "somewhat" favorable rating of 33 percent compared to a combined unfavorable rating of 41 percent. Twenty-six percent of respondents checked "don't know" as their answer.
Omar was viewed favorably by a combined 25 percent of respondents while a combined 34 percent viewed her unfavorably, and 41 percent didn't know.
Meanwhile, Tlaib received a combined favorable rating from 24 percent and a combined unfavorable rating from 31 percent, with 45 percent unsure.
Advertisement - story continues below
Pressley had a favorable rating of 22 percent and an unfavorable rating of 18 percent and 60 percent who were unsure.
It is worth noting that this particular poll tends to lean a little bit toward the left, with 32 percent of respondents identifying as Democrats as compared to 27 percent who identified as Republicans and 26 percent who labeled themselves independent.
Regardless, even with more Democrats than Republicans weighing in on the questions, "the squad" fared far worse among respondents than the ICE agency did, proving they have failed miserably in their goal of isolating, demonizing and ultimately getting rid of the immigration enforcement agency.
All this in spite of the ample glowing coverage Ocasio-Cortez and her crew receive from the media — a media that studiously avoids digging into any of the alleged misdeeds by squad members and blatantly ignores the incendiary remarks that have already incited some to lash out violently against ICE.
Advertisement - story continues below
Whether the results of this poll prompt "the squad" to ease back on their hyperbolic rhetoric or will simply be ignored by them remains to be seen. But it should be obvious to everyone that the group is not nearly as popular and influential as they believe themselves to be.
Conversation