Commentary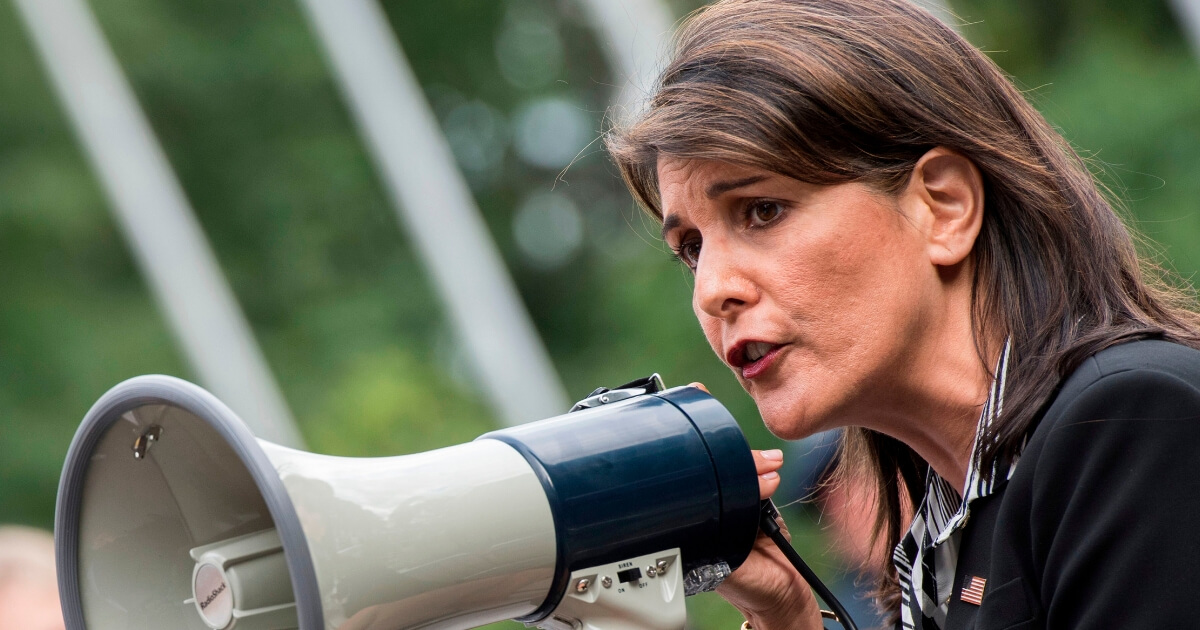 Nikki Haley Joins Protesters Outside UN, Issues 'Loud' Message to Socialist President
An amazing scene unfolded in New York City on Friday when Nikki Haley, the U.S. ambassador to the United Nations, literally joined a group of anti-socialist protesters from Venezuela.
The almost unbelievable event happened after Haley, the former Republican governor of South Carolina, left the protection of her car and stepped out to talk with the South American protesters who were rallying against far-left President Nicolas Maduro near the UN headquarters.
According to Fox News, the Venezuelans were surprised that Haley showed up, and began cheering. The ambassador used a megaphone to address the crowd, and delivered a personal message of support from her and President Donald Trump.
Advertisement - story continues below
"We need your voices to be loud, and I will tell you going to tell you the United States voice is going to be very loud," Haley stated.
She also recalled a recent trip she took to South America, where she witnessed the poverty of socialist Venezuela: its president, Maduro, is living a rich life as his people starve.
"I can tell you that I talked with President Trump and he is fired up about this. He is angry at Maduro. His comments were we are not just going to let the Maduro regime backed by Cuba hurt the Venezuelan people any more," Haley told the fired-up crowd.
Advertisement - story continues below
"So I will tell you I'm going to be loud, President Trump is going to be loud the United States is going to be loud and Maduro will hear us because we won't stop talking until we see Maduro go keep your voices loud," the ambassador promised.
Haley's decision to personally meet with the crowd — possibly putting herself at risk in the process — deflates the leftist narrative that the Trump administration turns a blind eye to Latin Americans.
Do you think it's time for Maduro to be replaced in Venezuela?
In fact, it can easily be argued that it is liberals who are throwing Hispanics under the bus by failing to loudly criticize the appalling conditions of socialist Venezuela.
"It was very important because it gives us the strength to keep going," one Venezuelan immigrant named Roma Flores told Fox News about the ambassador's unexpected appearance.
"Ambassador Haley's steady support to desperate, helpless crying pleads of the Venezuelan people, gives us strong hope for the restoration of democracy, peace and freedom in a country hijacked by a criminal organization with drub trafficking and terrorist ties," echoed Isaias Medina, a former Venezuelan diplomat who recently resigned in protest.
Advertisement - story continues below
"Soon with the help from our friends, we shall break the chains of Maduro's tyranny," he continued.
President Maduro, for his part, has shrugged off any blame for the shocking poverty in his nation, a country rich in natural resources like oil.
"Maduro spoke at the UN General Assembly for nearly over forty minutes Wednesday night, where he likened himself to Nelson Mandela and condemned the U.S. for his country's many ills," explained Fox.
Meanwhile, basic necessities like toilet paper and food have become scarce in Venezuela, and hyperinflation has rendered its currency worthless.
Advertisement - story continues below
Once again, the picture that liberals paint of an uncaring, elitist administration doesn't match reality. The people of Venezuela did not ask for the socialist nightmare in which they are now living, but with people like Haley taking action, that darkness could soon be lifted.
Conversation