Sports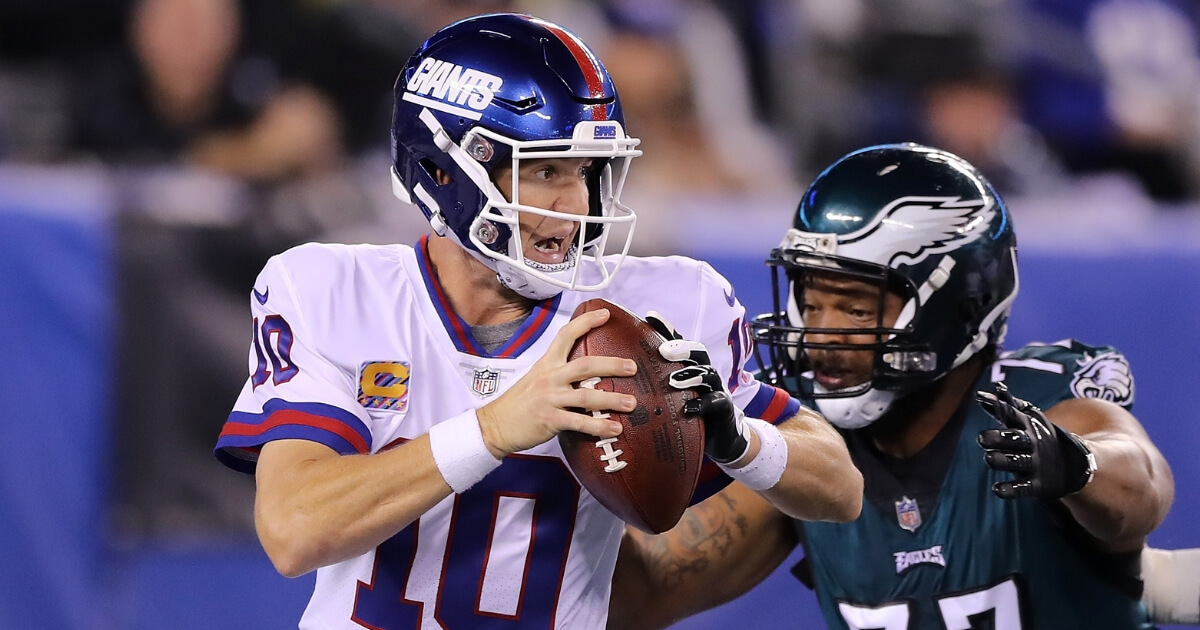 NY Giants Are Reportedly Losing All Faith in Eli Manning
When the New York Giants passed on a highly regarded quarterback class and drafted running back Saquon Barkley second overall in April, it sent a clear message both to the team and to the league that 37-year-old Eli Manning was still the team's quarterback of the immediate future.
The Giants went all-in thinking they had pocket aces with Manning healthy and their wide receiving corps back from injuries.
Turns out those pocket aces were more like 7-2 unsuited.
Advertisement - story continues below
The Giants are 1-5 after losing to the Eagles 34-13 Thursday night, and the locker room cracks first exposed by Odell Beckham Jr. last week have turned into full-on 1906 in San Francisco-level earthquake rifts.
ESPN's Jordan Raanan reported that Manning had completely lost the locker room even before that ugly defeat.
Heading into the game, Manning was 32nd in yards per completion at 10.31, 27th in touchdown percentage at 3.2, and 29th in passing yards minus yards after the catch per attempt.
Manning looks washed up, a once-cannon arm reduced to one of those novelty guns that pops out a flag that says "Bang!" when you pull the trigger.
Advertisement - story continues below
"All you have to do is watch him," one NFL executive told Raanan. "Don't think about what his name is. Just watch him. Don't make excuses. It's blatant and obvious."
Is Eli Manning completely washed up?
One player privately said that Manning is useless against Cover 2 defenses because he simply doesn't have the strength to put the deep ball into the gap created by the safeties, normally the best way to defeat that defensive scheme.
Manning's inability to throw the deep ball means that defenses can cheat up on passing downs, effectively removing the ability the Giants would otherwise have to use Barkley to keep the defense honest.
Throw in a lousy offensive line, and New York's offensive struggles shouldn't come as a surprise.
Manning, meanwhile, remains defiant.
Advertisement - story continues below
"I feel good. I feel like I can play at a high level," Manning told ESPN. "I can make all the throws and play this game at a high level and lead this team."
One rival executive compared the Giants trying to build around Manning to Pat Riley deciding to build the Miami Heat around Dwyane Wade, who has acknowledged that this will be his final season in basketball.
It's the kind of move that might have worked in 2006, but in 2018 it leaves you wondering if someone put the 2006 version of Riley or Giants GM Dave Gettleman into a time machine.
Coach Pat Shurmur is enabling this behavior, publicly giving every vote of confidence to his embattled signal-caller the way younger family members insist Grandpa can still drive fine after he ran over two construction barrels and five traffic cones.
Advertisement - story continues below
Beckham, meanwhile, has not been shy voicing his opinion.
"I don't know," Beckham said when asked about the issue at quarterback. "Like I said, I feel like he's not going to get out the pocket. He's not — we know Eli's not running it. But is it a matter of time issue? Can he still throw it? Yeah, but it's been pretty safe, and it's been, you know … cool catching shallow (routes) and trying to take it to the house. But I'm, you know, I want to go over the top of somebody."
Maybe the best encapsulation of Manning's decline comes from another unnamed league source via ESPN:
"Players watch the tape. They know the deal."
Advertisement - story continues below
And the deal is that the Giants likely will get the first crack at Alabama's Tua Tagovailoa or whoever else comes out of college as the top-rated signal caller in the 2019 draft if Manning keeps playing the way he has this season.
Conversation